Storm Forecast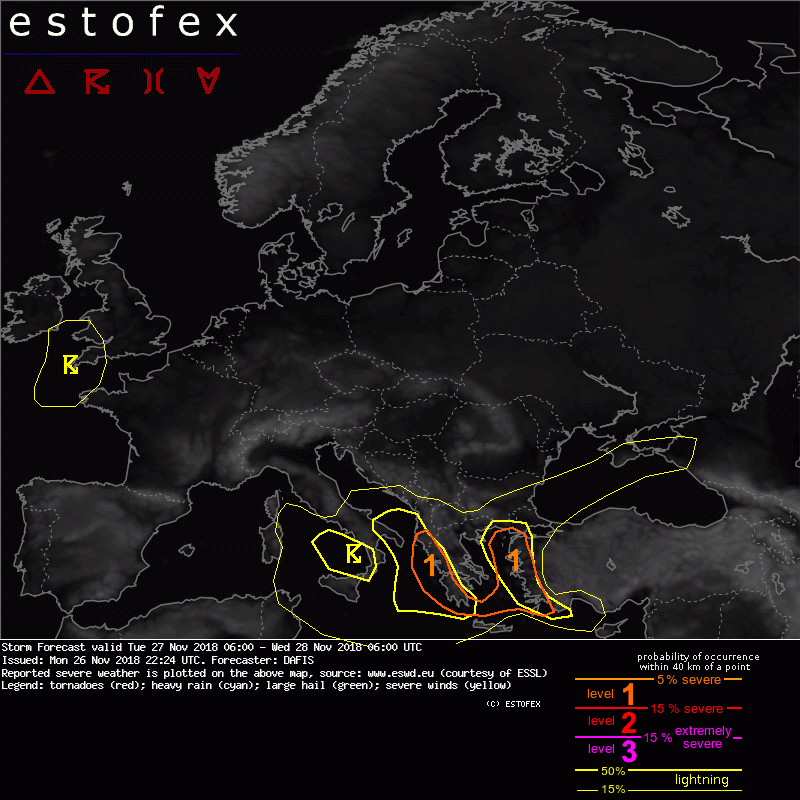 Storm Forecast
Valid: Tue 27 Nov 2018 06:00 to Wed 28 Nov 2018 06:00 UTC
Issued: Mon 26 Nov 2018 22:24
Forecaster: DAFIS
A level 1 was issued for parts of Albania, Greece, and Turkey mainly for excessive rainfall, large hail, severe wind gusts, and tornadoes.

SYNOPSIS

Cold air masses over continental Europe and warm/moist air masses over the Mediterranean create a zone of strong baroclinicity with a jet-stream placed over the Mediterranean. A developing trough over Italy with substantial PVA and numerous short-wave disturbances around its main axis will affect Central and East Mediterranean basin.
Moreover, an intensifying ridge over the Atlantic is propagating east until Wednesday morning, while a short-wave trough south of Iceland will slide on the leading edge of the ridge, creating an extreme jet-streak. Ireland and UK may experience some thunderstorms, but the main threat will be non-convective severe wind gusts on Wednesday.
The rest parts of the continent lie below cold and dry air masses with stable conditions.

DISCUSSION

.... Greece, Turkey, and Albania ....

South Balkans and Turkey are below the right exit of a jet-stream where numerous thunderstorms are expected. The south-westerly flow in Central Mediterranean brings unstable air masses towards Greece and Albania during the first half of Tuesday 27/11, where thunderstorms will mostly develop near orographic features. Enhanced upslope flow in mountain ranges increase the threat for floods, due to persistent convective rainfall. NWP models show meager CAPE values but strong DLS, with the most organized storm cells to be able to produce severe wind gusts. Tornado threat is limited due to the limited low-level directional wind shear and low CAPE, but local modification of the wind field due to orographic features may assist the development of some short-lived waterspouts or landspouts.

After 12z, a surface cold front will cross Greece and will be later over the Aegean Sea, enhanced with moisture and increasing wind speeds. Strong south-westerly flow in the west coasts of Turkey will also be dangerous to enhance precipitation and result in flash floods. The GFS model shows a little more CAPE than in the Ionian Sea and if we also consider the enhanced wind field, with LL directional shear, tornadoes may pose a threat for the island of the Aegean Sea and coasts of Turkey. Large hail cannot also be ruled out into this strongly sheared environment with steep lapse rates.