Storm Forecast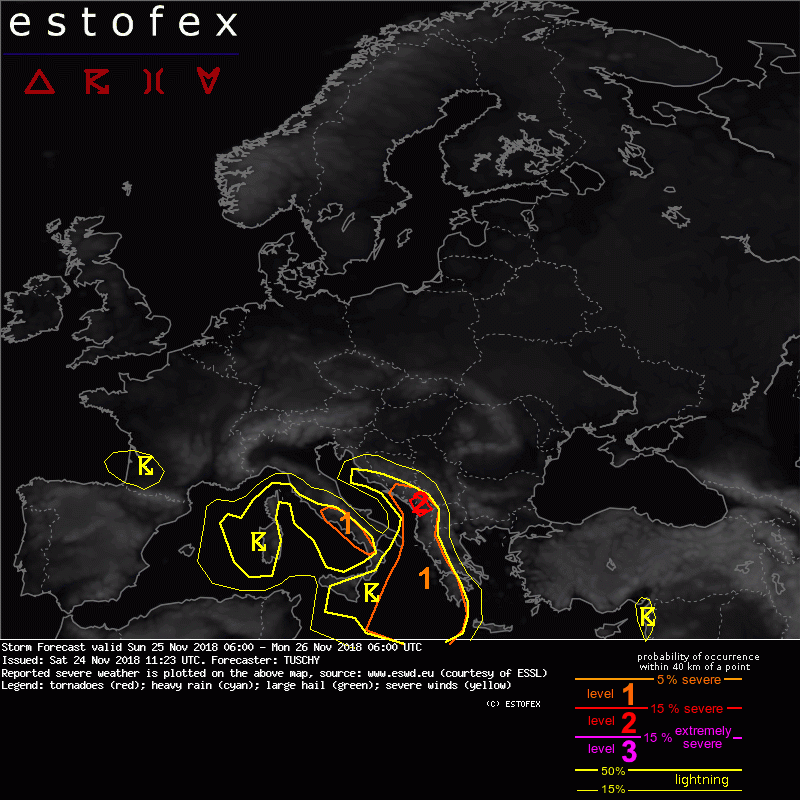 Storm Forecast
Valid: Sun 25 Nov 2018 06:00 to Mon 26 Nov 2018 06:00 UTC
Issued: Sat 24 Nov 2018 11:23
Forecaster: TUSCHY
A level 2 was issued across parts of the SE Adriatic Sea mainly for excessive rain.

A level 1 surrounds the level 2 and was issued due to excessive rain and a low-end tornado, large hail and severe wind gust threat.

A level 1 was issued for parts of SW Italy mainly for excessive rain.

SYNOPSIS

A strong anticyclone over Iceland causes an ongoing split flow regime over Europe. So far, the southern branch over S Europe featured an high amplitude wave pattern with two troughs over SW and SE Europe respectively and a ridge in-between. However this stable pattern starts to weaken and shifts east with lower amplitude waves starting to impact SW Europe.
Cold and dry air infiltrates over N Europe with an ongoing northerly flow regime and this dry air affects also CNTRL and E Europe with some improvement of the LL moisture.

Any thunderstorm activity therefore remains confined to the W and CNTRL Mediterranean.


DISCUSSION

... W/CNTRL Mediterranean ...

A complex mid-level flow pattern exists as a strong impulse exits the S Bay of Biscay and affects the NW Mediterranean Sea as a digging negative tilted trough in response to a strong upper jet along its SW quadrant. A weaker leading wave ahead of this impulse lifts NE from S Italy to the S/CNTRL-Balkan States while deamplifying. Finally a third wave over Tunisia moves E and starts to phase with the digging trough over Sicily and results in a pronounced trough to impact Italy, the Adriatic and Ionian Sea during the night. This results in the following thunderstorm chances:

... Adriatic and Ionian Sea ...

The described pattern ensures a persistent SW-erly flow pattern with onshore flow along the E coasts of the Adriatic and Ionian Sea. The air mass is moderately unstable with 400-800 J/kg SBCAPE (locally higher values towards the Ionian Sea) and mostly weak shear (again values increase to 15-20 m/s over the Ionian Sea and surroundings). During daytime, the LL wind field features values in the 15-20 m/s range over the Adriatic Sea and less to the south with reverse conditions during the night.

Hence during daytime the main hazard will be excessive rain over far N Albania as long as the LL winds advects the unstable and moist air mass ashore. An isolated waterspout risk exists. Further south over the Ionian Sea an increase in thunderstorm activity is forecast and upscale growth into clusters can be expected. Isolated severe wind gusts, large hail and heavy rain will be the main hazard.
During the night the excessive rainfall risk shifts gradually towards NW/W Greece as a slowly SE-ward propagating MCS impacts the coastal areas. An isolated tornado threat exists as LL shear increases along the coasts.
Models diverge with any specific QPF maximum despite the one over NW Albania and hence only a small level 2 was issued. However mesoscale conditions (like temporal training) can also cause local level 2 conditions for rain in the broad level 1 area (e.g. NW Greece). Confidence however is too low for adding another level 2.

... Gulf of Lion to the Tyrrhenian Sea ...

During the start of the forecast, scattered thunderstorms are forecast to continue from the previous night over the Tyrrhenian Sea as long as the LL depression remains offshore. With its "landfall" around noon, the risk of repeatedly onshore moving thunderstorms diminishes along the W facing coasts of CNTRL/S Italy. A broad level 1 was issued for excessive rain and an isolated tornado threat.

Accompanied by the passing trough, a forced line of convection is forecast to form along the SE ward racing cold front. The main risk will be gusty winds and graupel. This activity affects the Tyrrhenian Sea during the night.