Storm Forecast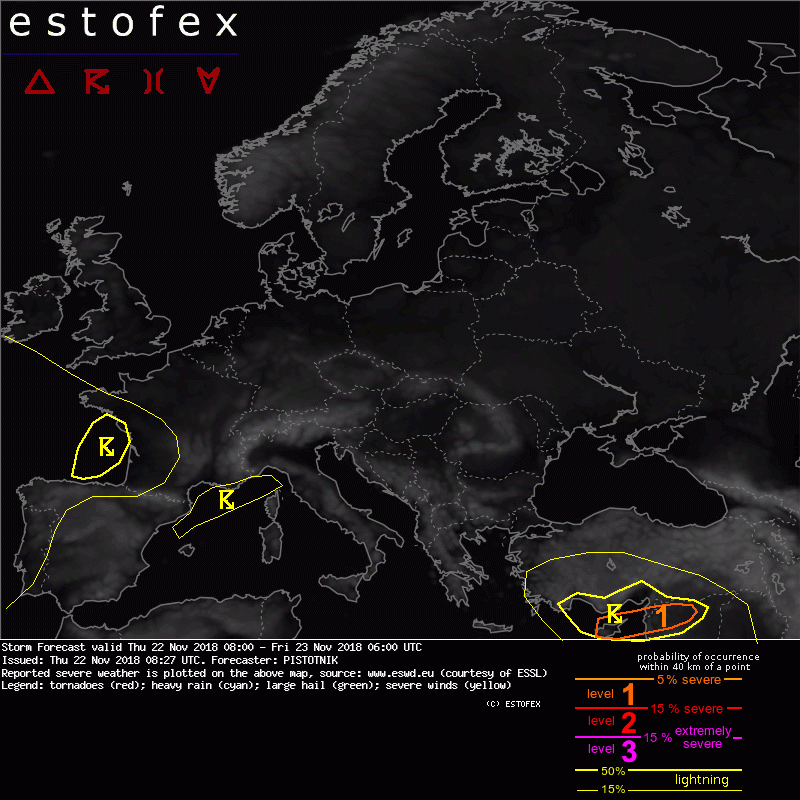 Storm Forecast
Valid: Thu 22 Nov 2018 08:00 to Fri 23 Nov 2018 06:00 UTC
Issued: Thu 22 Nov 2018 08:27
Forecaster: PISTOTNIK
A level 1 is issued for Cyprus and parts of Syria mainly for flash floods and large hail.

SYNOPSIS

The blocking pattern weakens a bit, but an extended anticyclone still stretches from Iceland to Romania. Very cold air is present to the northeast of this belt. The recent intrusion of continental cold air into the rest of the continent has been worked over and has stimuated a large cyclone over the eastern Atlantic, which has aged but still causes unsettled conditions with scattered thundery showers in western Europe.
A strong mid-level jet stream runs across the western and central Mediterranean region.

DISCUSSION

... far-east Mediterranean into Syria ...

The recent episode of Mediterranean convection continues to move east, following a travelling short-wave trough that causes lift of moderately unstable air with CAPE on the order of 1000 J/kg. The departure of the mid-level jet towards the south and convective overturning across lower levels have reduced vertical wind shear to values that are barely supportive for storm organization (10 m/s across the lowest 3 km).
Scattered thunderstorms will be active across the far-east Mediterranean Sea, Cyprus and coastal areas of Syria throughout the forecast period in form of single cells, mutlicells and loosely organized storm clusters. The main risks are isolated flash floods and marginally large hail when storms move onshore in Cyprus or Syria. During daytime, convection may also form further inland.

... west Mediterranean ...

Forecast models show patches of a few hundred J/kg of CAPE under strong vertical wind shear beneath the mid-level jet (>15 m/s across the lowest 3 km). Synoptic subsidence makes convective initiation unlikely during much of this forecast period. Isolated, partly embedded storms could form close to the Catalan, French and Ligurian coast overnight, when the Atlantic trough extends into Iberia and synoptic lift takes over. Low clouds tops will limit the lightning activiy as well as the severe weather risk.