Storm Forecast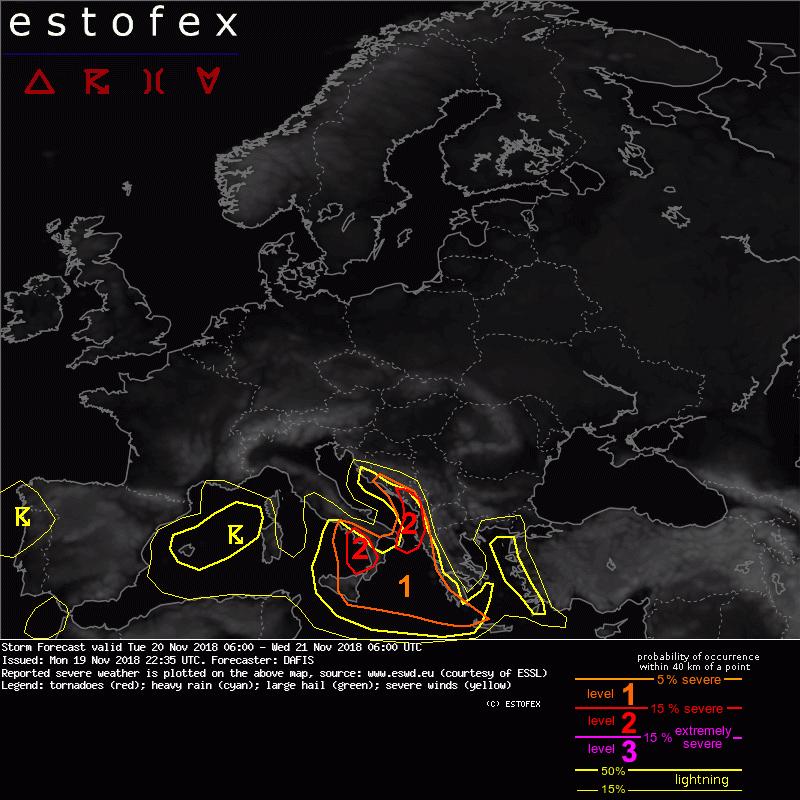 Storm Forecast
Valid: Tue 20 Nov 2018 06:00 to Wed 21 Nov 2018 06:00 UTC
Issued: Mon 19 Nov 2018 22:35
Forecaster: DAFIS
Two level 2 areas were issued for S Italy, extreme S Croatia, Bosnia and Herzegovina, Montenegro, Albania, and extreme NW Greece for excessive precipitation, severe wind gusts, large hail and tornadoes.

A level 1 area surrounds the two level-2 areas for isolated severe weather events with the same threats.

SYNOPSIS

A strong baroclinic zone has been formed in N Mediterranean as a cold outbreak over continental Europe is propagating west and the subtropical jet-stream is intensifying over the Mediterranean. The strong southwesterly flow over C Mediterranean advects the elevated mixed layer from Africa north and enhances instability above already unstable moisture-rich air masses over the sea. South Italy and SW Balkans will be the hot-spot for severe deep convection and non-convective excessive precipitation on Tuesday 20/11.
Central and West Europe are under the influence of the cold air masses originated from Russia and several countries will experience snow showers under the cold-drop that is associated with strong PVA. Finally, a strong high-pressure system has formed over Scandinavia but with signs of dissipating the following days.


DISCUSSION

.... South Italy ....

A low-level vortex is situated in W Mediterranean with its warm front currently near the west coasts of Italy, producing several thunderstorms. Ongoing convection in the morning of Tuesday will become more intense as the cold front approaches from the Tyrrhenian Sea. The presence of a mid-level jet increases the DLS up to 25 m/s or even more according to the GFS solution, overlapping with some hundreds of MLCAPE. Storms will be able to produce all kinds of severe weather into this highly-sheared and moist environment. Storms will dissipate quickly in the afternoon but isolated and non-severe cells may continue to form even later at the cold section of the system. Waterspouts can be developed near the Tyrrhenian coasts in the afternoon when the wind field becomes weaker.

.... SW Balkans ....

The same frontal systems that will affect S Italy will propagate east, reaching the Adriatic Sea with a decreased threat of severe hail (due to saturated vertical profiles and skinny CAPE) but with an increased tornado threat. Especially in the strait of Otranto, coasts of Albania and Montenegro, veering winds will create high low-level helicity and MLCAPE of more than 1000 J/kg so as storms may become even supercells able to create tornadoes apart from severe wind gusts, excessive rainfall, and hail. During the night of Tuesday, the weakening mid-level flow will decrease the threats for severe convection, but non-convective excessive precipitation will continue to pose a serious threat locally. The strong south-southwesterly flow will dissipate by the morning of Wednesday 21/11, but a few storms will be still able to produce some waterspouts in the Ionian and Adriatic coasts.