Storm Forecast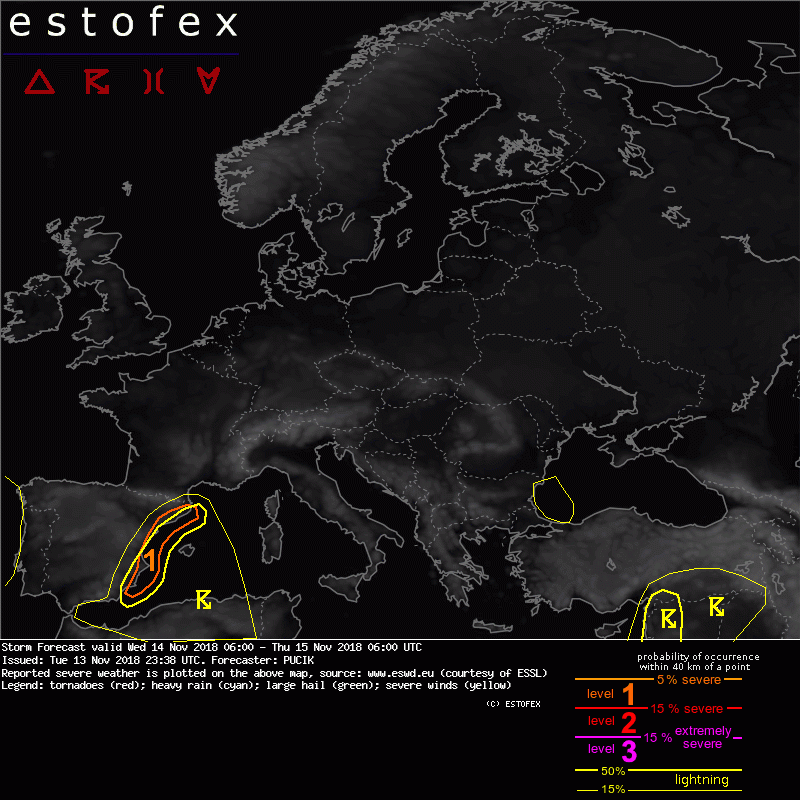 Storm Forecast
Valid: Wed 14 Nov 2018 06:00 to Thu 15 Nov 2018 06:00 UTC
Issued: Tue 13 Nov 2018 23:38
Forecaster: PUCIK
A level 1 was issued across E Spain mainly for excessive rainfall.

SYNOPSIS and DISCUSSION

As a ridge at mid-troposhere builds from the Central Mediterranean towards S Scandinavia, an omega-type blocking situations will begin to develop across Europe. Strongly meridional flow around the ridge will result in southerly flow across western part of Europe with a subtle cyclonic vortex over the Balearic Sea. On the eastern flank of the ridge, a pronounced vortex will move in northerly flow from Poland towards Romania and the Black Sea, merging with a low centered over northern Turkey. Lack of lower tropospheric moisture will limit the thunderstorm potential over much of eastern Europe, perhaps except for the extreme eastern Mediterranean and Syria.

More abundant thunderstorm activity is forecast over the eastern coastline of Spain, where CAPE on the order of hundreds of J/kg is forecast to develop underneat steepening mid-tropospheric lapse rates within the subtle vortex. Activity should be confined mostly to the overnight and early morning hours, as moist easterly flow initiates convection as it encounters local terrain. Forecast profiles suggest high relative humidity throughout much of the troposphere, and combined with low LCLs, will promote high rainfall efficiency. Thus, Level 1 was introduced for this area.