Storm Forecast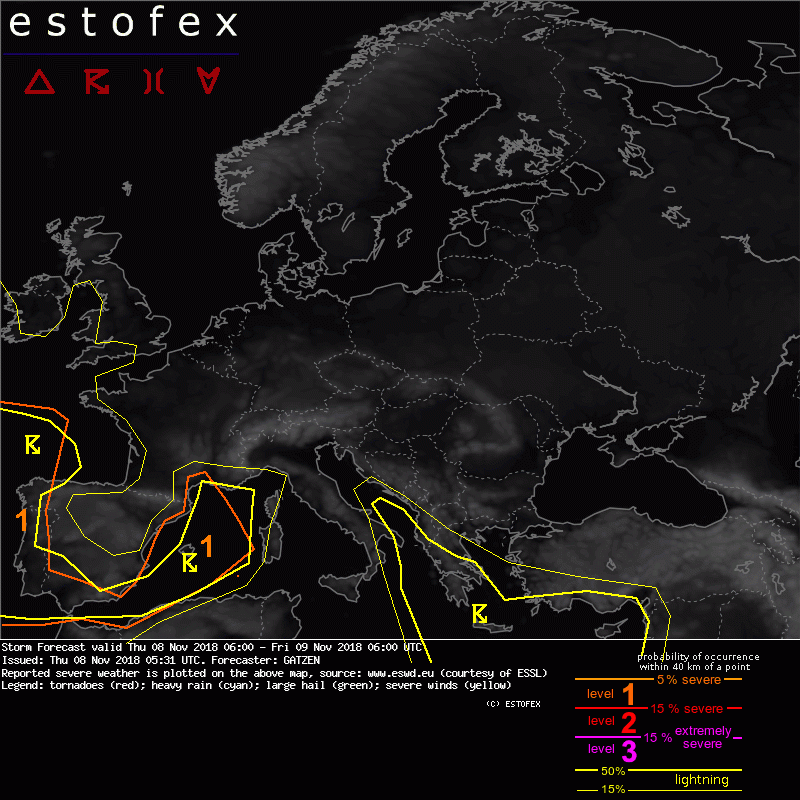 Storm Forecast
Valid: Thu 08 Nov 2018 06:00 to Fri 09 Nov 2018 06:00 UTC
Issued: Thu 08 Nov 2018 05:31
Forecaster: GATZEN
A level 1 was issued fort he Bay of Biscay region, north-western Spain, Portugal, and the west Mediterranean mainly for severe wind gusts, excessive rain, and tornadoes.

SYNOPSIS

Almost stationary east-European high ridges into Scandinavia. Upstream Atlantic trough weakens gradually with the main vort-max lifting across the North Sea and British Isles and a amplified trough axis progressing over western Europe while its southern portion starts to cut off into the west Mediterranean. Downstream, another cut-off slowly moves south-east at the flank of low geopotential over the Black Sea and Turkey, crossing Greece. At lower levels, dry air masses dominate eastern Europe, whereas maritime air masses spread into western Europe where it partly overlaps with steep lapse rates. However, models predict only marginal CAPE here. Best potential for storms exist across the Mediterranean, where rich moisture overlaps with steep lapse rates over the north-east and the west Mediterranean.

DISCUSSION

Bay of Biscay to west Mediterranean

A strongly-forced situation evolves over south-western Europe with a well-developed trough axis crossing Iberia, the Bay of Biscay, and western France. It is associated with rather steep lapse rates that overlap with a moist low-level air mass that is advected onshore over western and southern Iberia. Thunderstorms are forecast to spread east into the Bay of Biscay and into western and southern Iberia during the morning hours. With strong vertical wind shear, some linear organized storms are forecast, capable of producing severe wind gusts and possibly a tornado given about 10 m/s 0-1 km vertical wind shear over north-western Spain and over Portugal. During the day, weak low-level moisture over central Iberia will lead to weaker instability and storms may decay along the trough axis, before re-developing over the west Mediterranean Sea late in the period. Then, tornadoes are not ruled out again given low LCL heights, but weak low-level vertical wind shear will limit the potential. Furthermore, excessive precipitation may occur locally.

Aegean, Greece, and surroundings

With the passage of the cut-off trough, rich low-level moisture overlaps with steep lapse rates and lift below the main vort-max. Thunderstorms are forecast to move eastward during the period. Vertical wind shear is rather weak. Given rather high precipitable water, storms may produce excessive rain locally. Additionally, a waterspout or two are not ruled out. Threat seems to be to marginal for a level 1 threat, though.