Storm Forecast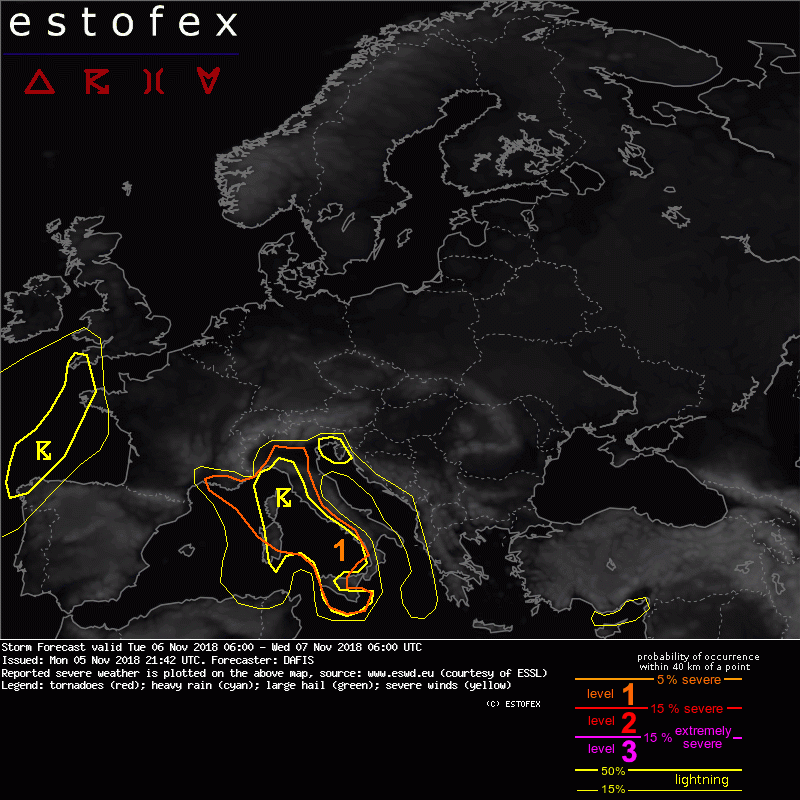 Storm Forecast
Valid: Tue 06 Nov 2018 06:00 to Wed 07 Nov 2018 06:00 UTC
Issued: Mon 05 Nov 2018 21:42
Forecaster: DAFIS
A level 1 was issued for parts of SE France, Italy and Malta mainly for excessive precipitation, severe convective wind gusts, and tornadoes.

SYNOPSIS

Very warm air masses have climbed up to NE Europe, with 16 deg Celcius at 850 hPa up to 50 N, thanks to a strong and persistent ridge, creating strong inversions in the Balkans and all the way north to the Baltic States. The high-pressure system with its center somewhere between Poland and Ukraine is extended from the surface to the upper troposphere and ensures stable conditions. On the other hand, a long-wave trough is found in the latest model outputs in W Europe, with an axis between Ireland and Spain, and will get a slight negative tilt on Tuesday 06/11, bringing warm and moist air masses towards the coasts of the Gulfs of Lion and Genoa. Several thunderstorms are expected in Central Mediterranean, as well as in the Gulf of Biscay later during the night of Tuesday and morning of Wednesday 07/11 as another trough is approaching from the Atlantic.

DISCUSSION

.... France, Italy, and Malta ....

Once again, a trough enters the W Mediterranean, pushing unstable air masses towards S France and W Italy. The jet-stream wrapped around the leading edge and eastern sector of the trough will create some 20-25 m/s DLS which will overlap with 400-800 J/kg MLCAPE and thunderstorms may become organized. DLS is expected to increase to 30 m/s onshore SE France and NW Italy, where persistent south flow and large-scale ascend will produce, mostly non-convective, precipitating features able to produce flash floods and given the recent history of severe weather in the region, landslides are almost certain. Nevertheless, NWP models forecast meager CAPE, but the cold air masses over the warm sea surface will result in steep low-level lapse rates, and along with the weak low-level and veering winds, the threat of tornadogenesis is high, especially for waterspouts near the coasts and near the core of the trough in the Gulfs of Lion and Genoa.