Storm Forecast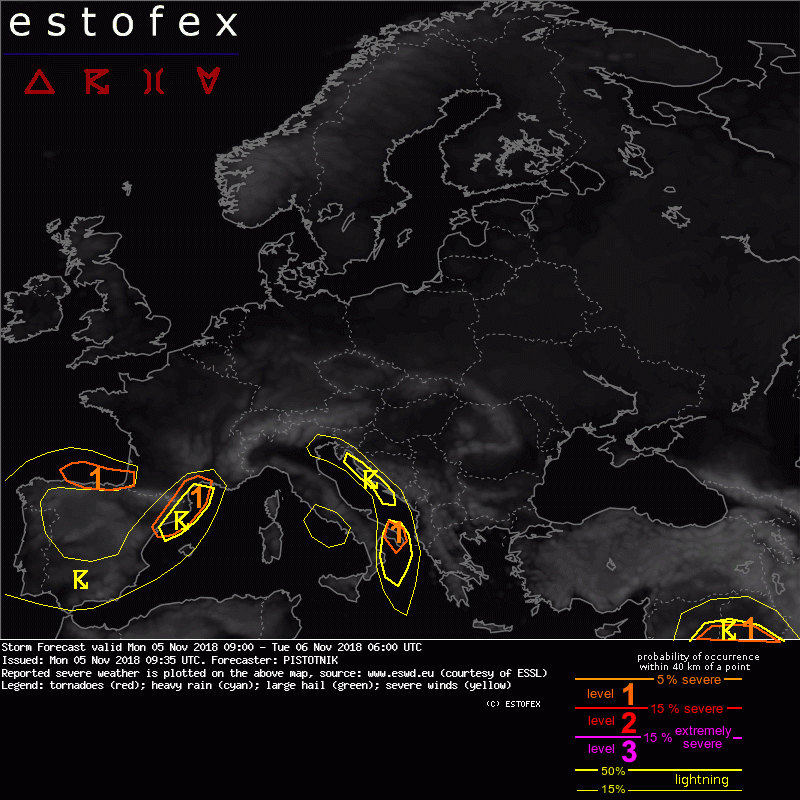 Storm Forecast
Valid: Mon 05 Nov 2018 09:00 to Tue 06 Nov 2018 06:00 UTC
Issued: Mon 05 Nov 2018 09:35
Forecaster: PISTOTNIK
A level 1 is issued for SE Italy (Apulia) mainly for flash floods and to a lesser degree (non-supercellular) tornadoes.

A level 1 is issed for NE Spain and S France for flash floods (onshore areas) and to a lesser degree large hail and severe convective wind gusts (coastal and offshore areas).

A level 1 is issued for the S Bay of Biscay and the Spanish N coast for severe convective wind gusts.

A level 1 is issued for N Iraq mainly for flash floods and to a lesser degree for large hail and severe convective wind gusts.

SYNOPSIS

An "omega" blocking pattern has established over E Europe with the center of the blocking high over Belarus. In contrast, an amplified mid-level trough over the near Atlantic Ocean cuts off over Spain. The remnants of the Italian cut-off low, which was responsible for the latest severe weather episode in Sicily, are picked up by the southerly flow and lift northward. Ahead of them, a plume of extremely warm air with 850 hPa temperatures up to 16°C and steep mid-level lapse rates (7-8 K/km) is advected across the Balkans and central Europe towards the Baltic region. However, the advanced season keeps the continental boundary layer cool and precludes convection with this feature.
Thunderstorm activity will mostly be confined to parts of the Mediterranean region, where still fairly rich low-level moisture allows a few hundred J/kg of CAPE.

DISCUSSION

... Italy and W Balkans ...

Mild and slightly unstable air remains in place, but vertical wind shear is weaker than on the previous days. The southerly flow still results in precipitation with a possibility of embedded convection where the air is forced to move onshore and upslope, e.g. along the W Balkans coast, in parts of the Southern Alps, the Ligurian Alps and the west-central Italian coast.
The thunderstorm risk is highest along the remnants of a cold front that stalls and slowly dissolves over the Adriatic and Ionian Sea. A limited risk of flash floods exists in Apulia with repeated rounds of onshore moving storms and is covered by a level 1. In addition, a few waterspouts might spin up along the convergence zone. Storms over the Adriatic Sea will mostly stay offshore, hence no threat level seems necessary there.
In the other mentioned areas, predicted precipitation amounts on the order of 50 mm / 24h may still cause problems with further mudslides, especially in the areas struck by the latest flooding and severe wind episodes. However, either only little and shallow or no instability is predicted. A contribution of deep convection is therefore too unlikely to issue lightning or level 1 areas.

... E Spain and S France ...

A pronounced vorticity maximum overruns the cold front of the Spanish low while it moves east- to northeastward. Precipitation will be mostly stratifrom in S Spain, but the possibility of included embedded convection increases along the E coast, where the prefrontal winds advect moist and slightly unstable Mediterranean air onshore. A few localized flooding events may result, especially in Catalonia in the afternoon to evening and in S France overnight. Synoptic and orographic lift is strong, hence a level 1 is issue despite limiting factors in form of mrginal CAPE and the quick progression of the cold front.
The unstable air partly overlaps with stronger mid-level winds, creating 0-3 km shear on the order of 15 m/s. Tail-end storms over coastal and offshore areas could therefore bring marginally large hail or isolated severe wind gusts.

... rest of Iberia and Bay of Biscay ...

Showers in the deeply mixed, weakly sheared polar air behind the cold front may produce a little lightning, especially in offshore and coastal areas. A level 1 is issued for a part of the Spanish N coast, where convection from the Bay of Biscay could organize into a comma feature travelling eastward from the afternoon onwards with a risk of marginally severe wind gusts. Otherwise, no severe weather is expected.

... Iraq ...

Ahead of a cut-off low over Syria, moist and warm air is advected northward from the Persian Gulf, which features CAPE up to 1000 J/kg. Synoptic lift and diurnal heating will likely allow scattered thunderstorms. A few flash floods are possible. Towards the east, 0-3 km shear up to 15 m/s beneath a departing mid-level jet could support a some better organized storms with additional risks of large hail and severe wind gusts, though poor lapse rates limit these risks somewhat.