Storm Forecast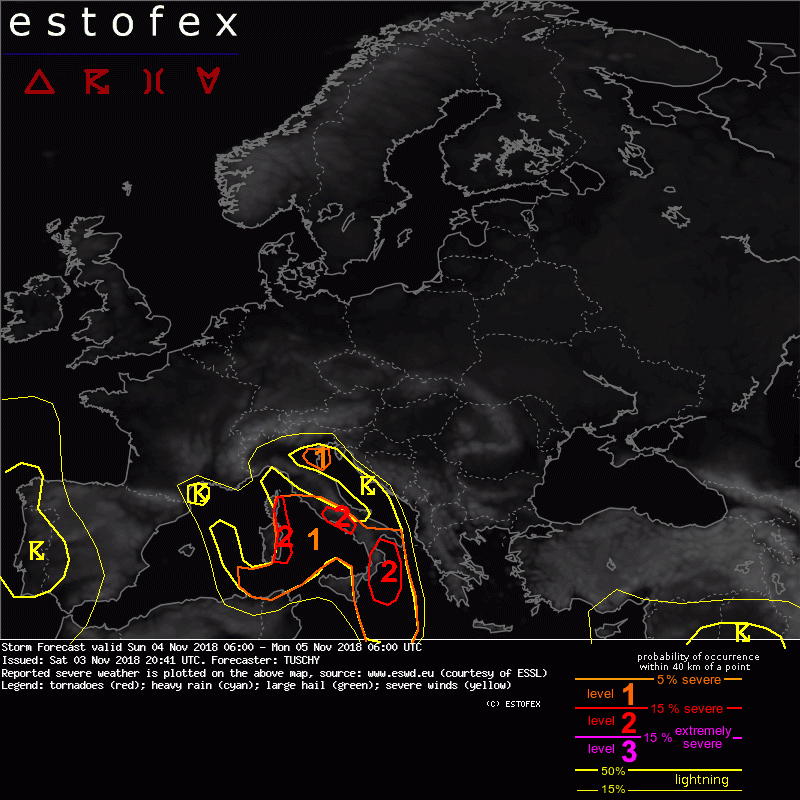 Storm Forecast
Valid: Sun 04 Nov 2018 06:00 to Mon 05 Nov 2018 06:00 UTC
Issued: Sat 03 Nov 2018 20:41
Forecaster: TUSCHY
A level 2 was issued across S-Italy mainly for excessive rain and isolated tornadoes.

A level 2 was issued across W-CNTRL Italy mainly for excessive rain and isolated tornadoes.

A level 2 was issued across E-Sardegna/Corsica mainly for excessive rain and isolated tornadoes.

SYNOPSIS

Not much change compared to yesterday when analyzing the European streamline pattern. A long-lasting upper trough over the S-CNTRL Mediterranean weakens and is in the act of lifting to the N ahead of a new upper-level trough, which approaches Portugal/Spain from the W. This amplifying trough starts to choke off of the westerlies and will be another vortex, which strays in the W Mediterranean during the following days.
Over the far E Mediterranean, another upper vortex drifts S (out of our forecast area) and later-on lifts NE but remains along the outer fringes of our forecast area. In between this trough and the Italian one a broad area with high geopotential heights covers most of E Europe. The frontal zone remains displaced far north.

The occluding vortex over Sardegna steers a leisurely eastbound moving cold front over S Italy and remains the focus for more organized thunderstorm activity. Later during the forecast an Atlantic cold front approaches the Iberian Peninsula from the NW. Otherwise no thunderstorm risk exists along synoptic-scale boundaries.

DISCUSSION

... S Italy ...

Along the eastbound moving cold front strong unidirectional shear overlaps with a prefrontal MLCAPE tongue of weakly capped .5 to 1 kJ/kg. Despite a gradually relaxing low-tropospheric flow regime (in response to the gradually filling vortex over Sardegna), the near parallel orientation of the shear vector along the front supports temporarily back-building convection with the highest risk probably over far S Italy (where orography could support enhanced LL lift beside the frontal circulation itself). A slowly eastward moving MCS (ongoing from the previous night) probably results in excessive rain in the level 2 area, before a diminishing CAPE tongue and weakening forcing result in a gradual weakening trend during the night. Enhanced LL shear within a low LCL environment also supports a few tornado events along the cold front.

... Sardegna, Corsica and the Tyrrhenian Sea ...

The constantly filling LL vortex drifts from far N Tunisia to Sardegna and repeatedly onshore moving thunderstorms along the E coasts of Sardegna and Corsica are forecast. Combined with orographic lift, an ongoing risk of excessive rain is anticipated. An isolated tornado event is still possible.

Along the coast of W-CNTRL Italy numerous showers and thunderstorms occur in an environment with gradually weakening DLS. Thunderstorms ingest weakly capped .5-1 kJ/kg SBCAPE from the SE Tyrrhenian Sea and tend to organize along a low-tropospheric confluence zone, which evolves along the coast. Especially until the afternoon hours, conditions for back-building thunderstorms with excessive rainfall amounts are good (e.g. 35 kn SE-erly flow at 850 hPa with only slighty stronger values aloft). We therefore added a small level 2, where storm motion vectors point onshore for some time. After a lull in the activity during the evening and first half of the night, another increase in thunderstorms is forecast beyond 00Z with a local heavy rainfall threat. An isolated tornado event can't be excluded.

... NW Adriatic Sea ...

Beyond 00Z, the probabilities for repeatedly onshore moving thunderstorms increase and a confined level 1 area was issued. This risk extends beyond 06 Z.

... Far NW Spain and Portugal ...

During the evening and overnight hours isolated thunderstorms can occur along a SE-ward moving cold front and in the postfrontal marine air mass (scattered in nature offshore and along the coasts). Graupel and gusty winds accompany the strongest thunderstorms.