Storm Forecast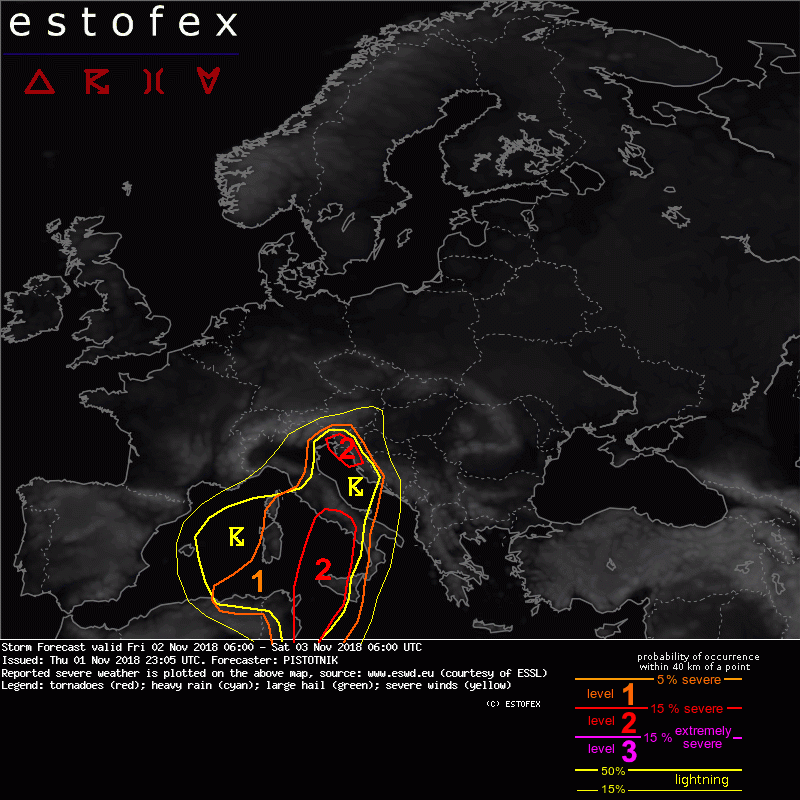 Storm Forecast
Valid: Fri 02 Nov 2018 06:00 to Sat 03 Nov 2018 06:00 UTC
Issued: Thu 01 Nov 2018 23:05
Forecaster: PISTOTNIK
A level 2 is issued for parts of Tunisia, S Italy and surrounding sea waters mainly for large hail and flash floods and to a lesser extent for severe convective wind gusts and tornadoes.

A level 2 is issued for coastal areas of NE Italy, W Slovenia and NW Croatia mainly for flash floods.

A level 1 is issued for much of Italy, Corsica, Tunisia and NE Algeria mainly for flash floods (over land) and non-supercellular tornadoes (over sea).

SYNOPSIS

A highly amplified long-wave trough at 500 hPa stretches from the Norwegian Sea to Algeria at Friday 06 UTC. Its southern part cuts off while its northern part accelerates eastward across Scandinavia. The trough is flanked by two mid-level ridges from the subtropic Atlantic to England and from Libya to the Ukraine, respectively. Another cut-off low is placed over E Turkey.
The meridional transport of unseasonably warm air far northward ahead of the trough and maritime polar air far southward behind it continues, though the surface pressure gradients relax on Friday. The long and wavy, almost stationary frontal boundary which separates these two air masses stretches from the Baltic States across the Alps to Tunisia. Another active thunderstorm day is expected along and ahead of this frontal boundary over the central Mediterranean region.

DISCUSSION

... central Mediterranean region ...

Prefrontal SE-erly winds pump plentiful moisture towards the frontal boundary. CAPE should be on the order of 500 to 1000 J/kg across wide offshore and coastal areas. Vertical wind shear is often supportive for organized storms with varying values between 10 and 20 m/s across the lowest 3 km.
Scattered thunderstorms will be active throughout the forecast period, mostly in vicinity of the frontal boundary from Tunisia to the Tyrrhenian Sea and central Italy. The dominant storm mode will likely be multicells. Flash floods are the main risk with onshore moving storms (maximized in the Italian Lazio and Campania regions in the morning), while large hail, severe wind gusts and tornadoes are possible under more discrete updrafts.
A rising severe weather risk is anticipated overnight on the sea waters between Tunisia, Malta and Sicily, when all "ingredients" increase ahead of the Algerian cut-off low, resulting in a distinct overlap of CAPE around 1500 J/kg with moderate to strong vertical wind shear and synoptic lift. Supercells may bring very large hail and later on dangerous flash floods when they impact the western parts of Sicily. The two limiting factors which preclude a level 3 are a lack of low-level shear, which keeps the risk of extreme wind gusts and strong tornadoes in check, and the general uncertainty where and when convection will initiate over open waters.

Storms will likely weaken on the Italian mainland but another upswing is expected in the N Adriatic region, where rich moisture is advected onshore. With lower CAPE and weaker vertical wind shear but decent synoptic and orographic lift, convection will likely be embedded, keeping the risk mainly confined to flash floods. A few elevated and non-severe storms might travel into Slovenia and Austria in the evening and overnight, supported by the advection of marginally unstable warm air and associated synoptic lift.

... W Mediterranean region ...

Beneath the base of the trough, a few hundred J/kg under weak vertical wind shear allow scattered disorganized storms. Localized flash floods are possible over land (Corsica, Sardegna, coastal areas of Algeria) and a few non-supercellular tornadoes on the sea. Drier and cooler Mistral winds push the unstable air gradually south beyond the line Corsica - Mallorca by nightfall.