Storm Forecast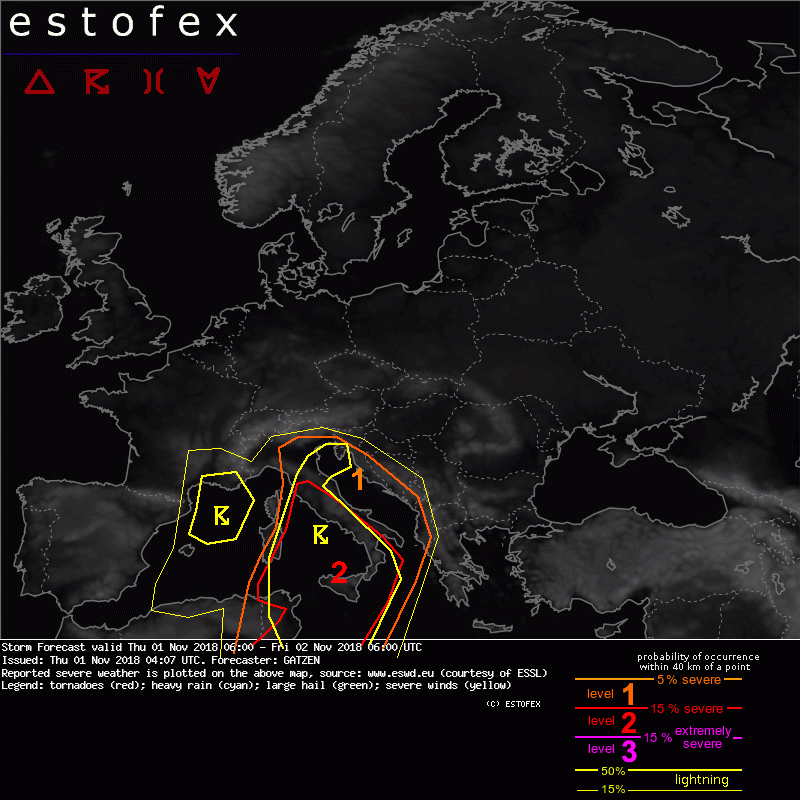 Storm Forecast
Valid: Thu 01 Nov 2018 06:00 to Fri 02 Nov 2018 06:00 UTC
Issued: Thu 01 Nov 2018 04:07
Forecaster: GATZEN
A level 2 was issued for the central Mediterranean mainly for excessive precipitation and to a lesser extend large hail, severe wind gusts, and tornadoes.

A level 1 was issued for the Adriatic mainly for excessive precipitation.

SYNOPSIS

A highly amplified trough is situated across western Europe. A strong southerly southerly flow expands from Algeria and Tunisia across the central Mediterranean. A well-developed short-wave trough embedded in the flow crosses the Alps in the morning hours. At low levels, a broad convergence zone remains across the central Mediterranean, with moist and unstable air masses on the eastern side. This moist air overlaps with steep lapse rates advected northward in the warm air advection regime ahead of the trough.

DISCUSSION

Central Mediterranean

Along the convergence zone, thunderstorms have formed that spread northward. It is expected that the convective activity will go on through-out the period, supported by low-level warm air advection and the strong low-level vertical wind shear of 15+ m/s in the lowest 3 km. Back-building storms will be capable of producing excessive rain, in particular where upslope flow is present. Furthermore, supercells are possible, given more than 20 m/s deep layer vertical wind shear. These are most likely in the southern part of the domain and could also produce large hail, severe wind gusts, and tornadoes.

West Mediterranean

In weaker vertical wind shear, storms that form close to the trough axis may produce waterspouts. The highest potential is expected in the southern parts.