Storm Forecast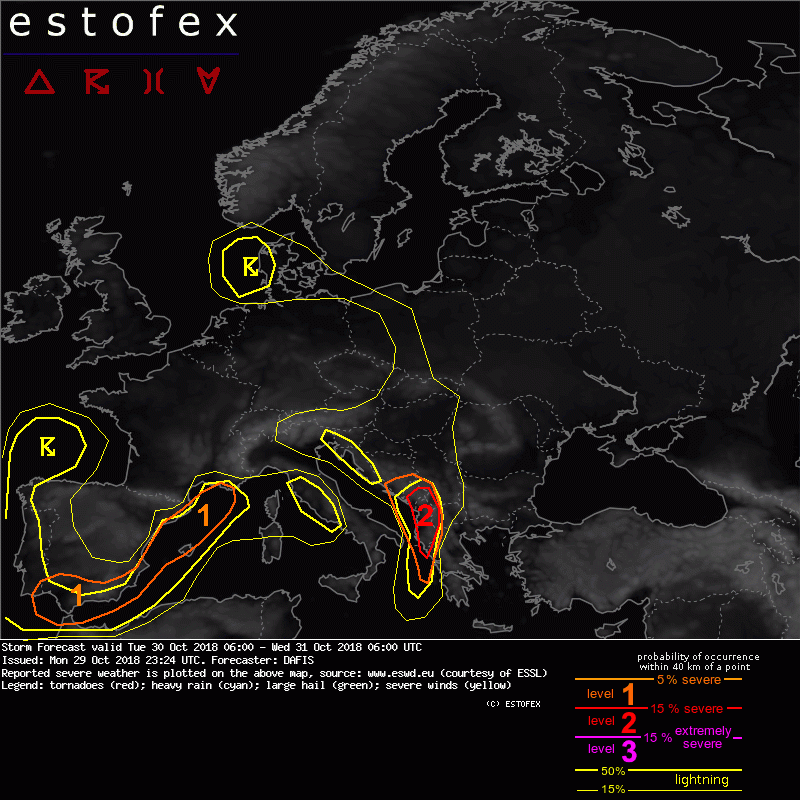 Storm Forecast
Valid: Tue 30 Oct 2018 06:00 to Wed 31 Oct 2018 06:00 UTC
Issued: Mon 29 Oct 2018 23:24
Forecaster: DAFIS
A level 2 was issued for Albania, Montenegro, NW Greece and extreme western parts of FYROM mainly for excessive precipitation and severe wind gusts.

A level 1 surrounds the level-2 area for the same threats.

A level 1 was issued for parts of Spain, S Portugal, and S France mainly for excessive precipitation and severe wind gusts.

Waterspouts are expected in SE France and N Italy.

SYNOPSIS

A broad area of strong baroclinicity has formed as a negatively tilted trough over the W Mediterranean is wrapped by a jet that exceeds 60 m/s at the 300 hPa and 30 m/s at 850 hPa. A deep low-level vortex has developed in NW Italy, dissipating fast moving NE. Torrential rainfall and damaging winds have been reported in Italy and Croatia on Monday, as a sharp horizontal thermal gradient was formed, creating a vigorous cold front which crossed Italy and the Adriatic Sea.
On Tuesday 30/10 we expect the strong south flow to continue affecting parts of the Adriatic and Ionian Seas, bringing warm and moist air masses from the Mediterranean onshore. During the second half of the day, the aforementioned dissipating trough will be of secondary importance as a new trough is approaching from the Atlantic, also reaching N Africa as the jet stream is wrapped around it.
In E - NE Europe an amplifying ridge will bring unseasonably warm air masses to high latitudes.

DISCUSSION

.... West Balkans ....

A strong south flow in Ionian and Adriatic Seas will enhance evaporation over the warm sea, filling the lower parts of the troposphere with high values of moisture. A convergence zone is about to form in SE Italy where storms will develop first, propagating NE, steered by the mid-level strong flow (> 20 m/s). NWP models forecast 20-25 m/s DLS and high CAPE values over the sea, with more than 1500 J/kg MLCAPE. Such an environment is very conducive for well-organized storms, producing excessive precipitation and severe convective wind gusts especially at the coasts of Albania and Montenegro. Thunderstorm activity should dissipate in the late afternoon as the baroclinicity is weakening as well, limiting the strength of the convergence line. Waterspouts cannot be ruled out near the coasts where LLS will be strong and veering winds may assist the formation of supercells.

.... Iberian Peninsula and S France ....

A second round of heavy rainfall is forecast for W Mediterranean, as an approaching trough from the Atlantic will provide large-scale lift of unstable air masses. Drier LL conditions than in the C-E Mediterranean, but still saturated vertical profiles in forecast soundings suggest that storms will be able to produce excessive rainfall. Instability is mostly found over marine areas, but storms will be able to move a few km onshore, driven by the strong mid-level flow. The limited CAPE values limit the threat for large hail events, but the most organized thunderstorms should be able to produce severe wind gusts.