Storm Forecast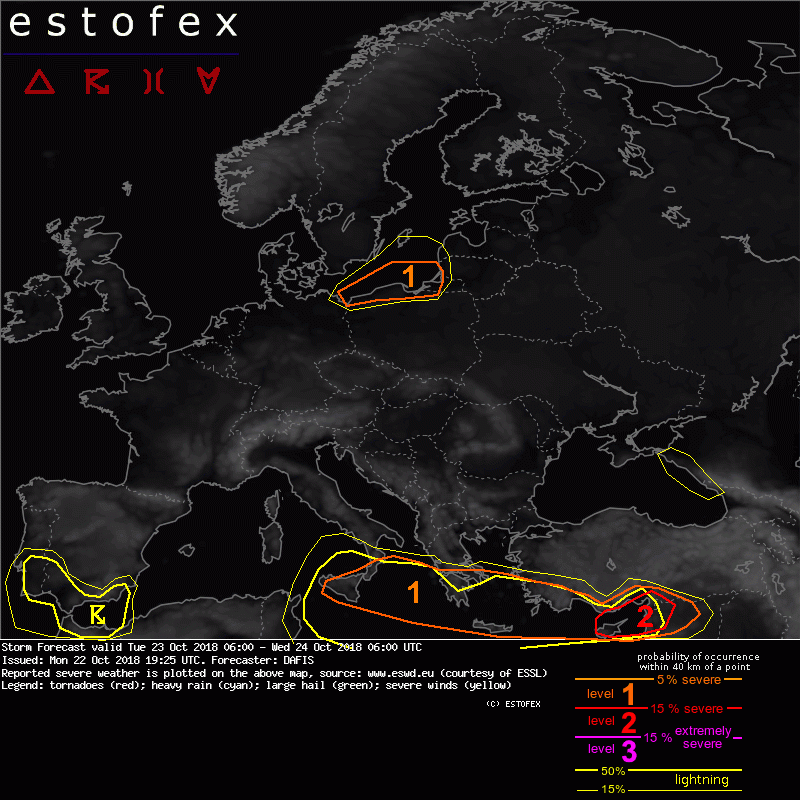 Storm Forecast
Valid: Tue 23 Oct 2018 06:00 to Wed 24 Oct 2018 06:00 UTC
Issued: Mon 22 Oct 2018 19:25
Forecaster: DAFIS
A level 2 was issued for Cyprus, S Turkey, Lebanon, and Syria mainly for excessive precipitation, large hail, severe wind gusts, and tornadoes.

A level 1 was issued for parts of Italy, Malta, Greece, S Turkey, Cyprus, Lebanon, and Syria for excessive precipitation and large hail or large amounts of small hail. Waterspouts are expected to form especially in S Italy and Malta.

A level 1 was issued for parts of NE Germany, N Poland, Lithuania and Latvia for severe convective wind gusts.

SYNOPSIS

Europe is divided into two main regions: the western parts are under the influence of a strong high-pressure system and the eastern parts are affected by several troughs. A cut-off low over Italy has produced severe thunderstorms the past two days and it is heading south, dissipating, but it can still pose a threat due to the QG lift that it is still producing over the unstable air masses of Mediterranean. Low geopotentials can also be found over N Balkans but the low moisture content and the absence of strong forcing, keep conditions rather stable. This is not the case in East Mediterranean where a strong WAA is taking place, and models show that storms may become severe in Cyprus and probably at the coasts of S Turkey. Finally, in N Europe, a vigorous low is about to form inside a strong PV envelope north of the polar front. Severe weather is expected in the Baltic Sea and the surroundings but mostly non-convective wind gusts will pose a serious threat to Poland, NE Germany, Baltic States and maybe more to the south. Finally, south parts of Portugal and Spain are under the influence of a trough with meager PVA, but steep lapse rates and high LL moisture will provide the ingredients for diurnally driven storms.


DISCUSSION

A large level-1 area is drawn in S-E Mediterranean, mostly for excessive precipitation as saturated vertical profiles in numerical outputs suggest that slow-moving or stationary storms will be able to produce flash floods. A secondary threat of large amounts of large hail is still on for S Italy as the cold drop is slowly moving south and near its core, steep lapse rates create about 1000 J/kg CAPE.

More to the east, WAA creates large amounts of CAPE in the order of 2-3 kJ/kg according to the GFS solution, overlapping with 15-20 m/s DLS. Due to the absence of strong lift and convergence zones, we expect storms to develop on the island of Cyprus, producing large hail, severe wind gusts, and tornadoes. A level-2 was issued also for parts of S Turkey and the Middle East because storms will develop as well in the early morning of Wednesday, into a favorable environment for severe weather. A very moist and warm plume will extend from the coasts of Egypt towards the Middle East with very steep lapse rates and flash floods cannot also be ruled out in Lebanon and S Turkey.