Storm Forecast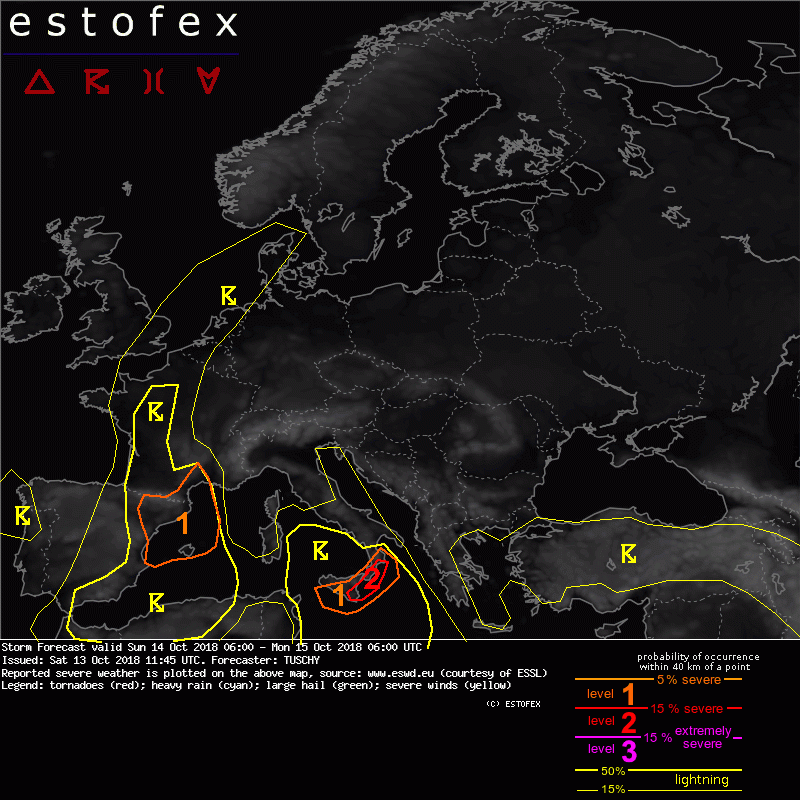 Storm Forecast
Valid: Sun 14 Oct 2018 06:00 to Mon 15 Oct 2018 06:00 UTC
Issued: Sat 13 Oct 2018 11:45
Forecaster: TUSCHY
A level 2 was issued across far S Italy mainly for excessive rain.

A level 1 surrounds the level 2 for a similar hazard with lower probabilities.

A level 1 was issued over the far NW Mediterranean mainly for excessive rain.


SYNOPSIS

An highly amplified streamline pattern exists and also persists during the forecast period. Fostered by a broad upper trough downstream and the prolonged influx of a subtropical air mass to the NE, an intense anticyclone over E-Europe is about to take over the steering stick over the European continent. Despite the strong WAA pattern an embedded atmospheric river with lots of convection and diabatic support now pushes the 500 hPa height anomaly over the Baltic States to 2-3 sigma, which means an highly anormal blocking pattern evolves.
Retrograding upper lows to its south (over the CNTRL/E Mediterranean) open up and merge with a filling long-wave trough over the Bay of Biscay, which lifts to the NE during the day. That lifting process results as downstream ridge flattens in the course of the approach of another intense short-wave, which dives SE towards the Bay of Biscay during the night and evolves into a separate upper low. This upper low, the lifting/weakening trough/low and the merging lows from the Mediterranean all cause an extensive area with low geopotential heights over W/CNTRL Europe.

Post-tropical storm LESLIE should cross Spain during the daytime hours and re-emerge over the far W Mediterranean during the evening hours. This vortex re-intensifies a bit during the night over far E-Spain and the Balearic Islands in response to the enhanced baroclinity between land/sea and due to the available warm/unstable marine air mass over the W-Mediterranean. Attendant latent heat release due to expected convection could also help to spin the vortex down into the lower troposphere. However, as the lifting trough leaves behind weak upper divergence, no significant cyclogenesis is forecast over the Balearic Islands.

Similar to the amplified upper-levels, a wavy frontal system is forecast to extend from Spain over France to Norway. Two surface vortices are embedded along this front - one over N France/the English Channel beneath the lifting trough and the other one the evolving vortex just east of Spain.

DISCUSSION

... E/NE Spain and the Balearic Islands ...

Backed LL flow (due to falling heights in response to the weakening upper trough to the north and the approaching mid-level vortex of post-tropical storm LESLIE) create a long fetch of S/SE-erly winds over the W Mediterranean. In response to the intensifying vortex of Ex-LESLIE just offshore of E-Spain, a broad confluent low-tropospheric flow regime evolves offshore. Advection of warm/moist air points towards NE Spain/SW France.
Due to the more backed low-tropospheric flow regime, a warm air mass with 850 hPa temperature in excess of 15 C advects north from the Atlas Mountains towards the Balearic Islands. Attendant weak/temporal ridging suppresses convection offshore until the late afternoon/evening before eastbound pushing cold front of Ex-Leslie breaks the cap during the evening onwards with scattered thunderstorm activity anticipated. Cold front activity (south of the Balearic Islands) occurs during the night in an environment with weak DLS and 400-800 J/kg CAPE, so depite local instances of heavy rain and gusty winds, not much severe is forecast.

Of more concern will be the area between the Balearic Islands and NE Spain - upstream and beneath the evolving/deepening vortex. Augmented ageostrophic low-tropospheric flow and influx of an unstable air mass result in clustering thunderstorms with heavy rain the main risk. Rapid development of scattered upstream convection and only moderate CAPE should temper the excessive rainfall risk along the coasts of NE Spain and SW France. However, enhanced upper divergence ahead of the digging trough over the Bay of Biscay beyond 00Z could induce an increase of convection and training and onshore convection is a possibility (e.g. Massif Central and to the south). Orographic enhancement in general also increases rainfall amounts over NE Spain.

Next to that risk scattered thunderstorms evolve beneath the vortex just offshore of E Spain in a weak shear environment. Slow storm motions may result in locally heavy rain.

Due to ongoing uncertainties regarding the final strength and track of the re-developing post-tropical cyclone only a broad level 1 area was issued for now (next to the progressive nature of that event). In case a stronger vortex emerges or evolves in this area, a regional upgrade for excessive rain may become necessary .

... France to S-North Sea ...

Influx of a moist and slightly unstable air mass is forecast ahead of the lifting trough. Combined with some diurnal heating isolated to scattered mostly non-severe thunderstorms are forecast. Therefore a far northward adjusted lightning area was issued and was kept rather broad due to ongoing timing issues of how fast the trough lifts to the NE (and attendant timing of the eastbound pushing surface front).
Sporadic/low-end severe exists over far W-France around noon with temporal overlap of 15-20 m/s DLS and 400-800 J/kg SBCAPE. Isolated hail appraoching our severe criterion can occur.

... S-Italy ...

A leisurely NE-ward tracking vortex between Tunisia and Sicily causes persistent SE-erly BL winds and ongoing advection of a moist/unstable air mass towards S-Italy. Forecast soundings and hodographs reveal deep moisture with skinny CAPE profiles and regionally enhanced low-tropospheric flow ahead of that vortex. Combined with orographic enhancement e.g. over Sicily conditions remain favorable for training convection with flash flooding a distinct possibility. We therefore extend the level 2 period also during today's forecast.