Storm Forecast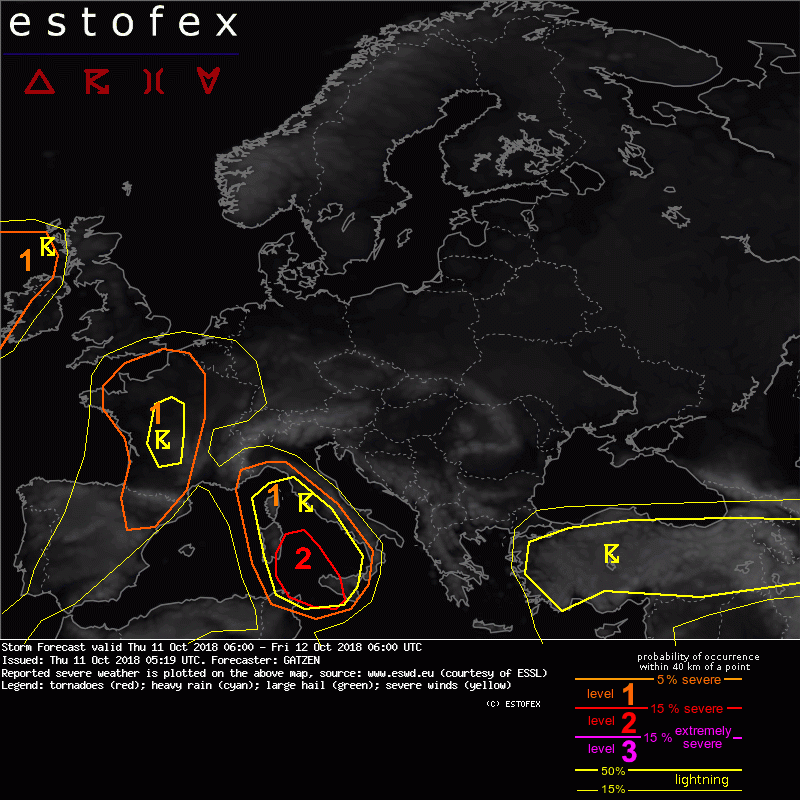 Storm Forecast
Valid: Thu 11 Oct 2018 06:00 to Fri 12 Oct 2018 06:00 UTC
Issued: Thu 11 Oct 2018 05:19
Forecaster: GATZEN
SYNOPSIS

High-over-low blocking over eastern Europe is flanked by an Atlantic trough. Embedded in a south-westerly flow, short-wave troughs ejecting from the Atlantic trough affect western Europe and the west Mediterranean. A very strong mid-level jet streak entering the trough from the back will be associated with rapid cyclogenesis over the Atlantic and ridging across south-western Europe. At lower levels, a southerly flow is still present across the west Mediterranean, associated with low-level warm air advection and a zone of rich low-level moisture. Since this moisture overlaps with steep lapse rates from the African Atlas, CAPE in the order of 1500 J/kg is expected. Furthermore, rich Atlantic moisture associated with rather weak lapse rates is advected into Iberia and France ahead of a cold front.

DISCUSSION

Tyrrhenian Sea

High precipitable water, skinny CAPE profiles with about 1000+ J/kg CAPE, low-level convergence and a tendency for back-building storms and relatively weak flow support an ongoing heavy rain threat across the Tyrrhenian Sea. Main potential will slowly shift east from Sardinia towards Italy during the period. In the southern portions of the area, an elevated mixed layer will lead to higher CAPE. In combination with 15+ m/s deep layer vertical wind shear, multicells and also supercells are expected, posing a threat of large hail and a few tornadoes.

France into Iberia

The cold front of a north-Atlantic low will slowly enter France during the day. To the east, a moist air mass is expected to become unstable due to low-level heating and some QG lift due to warm air advection. Weak CAPE is forecast to develop. Although low-level convergence is limited, scattered storms are expected in the frontal zone. Given strong deep layer vertical wind shear, rotating updrafts are likely. Given long but weakly curved hodographs and storm motion vectors more aligned with the frontal boundary, clustering of storms can be expected. With strong 0-3 km vertical wind shear, bowing lines are forecast. Main threat is therefore severe wind gusts although some supercells may produce large hail. Tornadoes are also possible, in particular in central and northern France where low-level vertical wins shear is about 8 m/s. Best potential for large hail exists in southern France where lapse rates are steepest and supercells may survive for some time. In the southern portions of the front across Iberia, mid-level ridging will limit convective initiation gradually. More isolated storms are forecast, with a rather weak potential of large hail and severe wind gusts.

Northern Atlantic into Ireland

Late in the period, intense cyclogenesis takes place across the Atlantic. The center of a strong storm will move northward west of Ireland. A mid-level front is expected to spread over rich low-level moisture and some CAPE is expected to develop. It is not ruled out that some storms can form Friday morning. With very strong vertical wind shear, small mesocyclones and bowing lines are likely to form, capbale of producing severe wind gusts and tornadoes.