Storm Forecast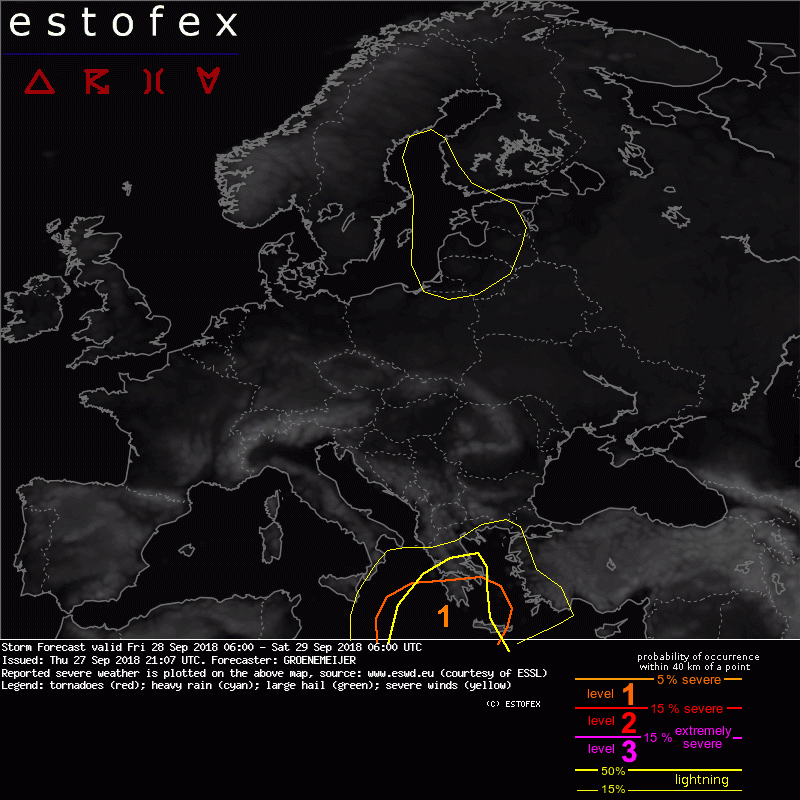 Storm Forecast
Valid: Fri 28 Sep 2018 06:00 to Sat 29 Sep 2018 06:00 UTC
Issued: Thu 27 Sep 2018 21:07
Forecaster: GROENEMEIJER
A level 1 was issued across the Ionean Sea and South Greece for severe wind gusts and extreme rainfall.

SYNOPSIS

A strong zonal flow along the 55th parallel is followed by an anticyclonic wave breaking event, leading to a cut-off over Southeast France by Saturday morning. Within another cut-off low over the Ionian Sea, tropical-like storm 2018M02 is located. With the exception of the Northern and Central Baltic Sea and the Central and Eastern Mediterranean, the troposphere is stably stratified.

DISCUSSION

Ionian Sea, Greece ...

Around the tropical-like cyclone many storms are ongoing throughout the period. Embedded in a strong wind field they may locally produce severe wind gusts and the storms northeast of the cyclone bear a low tornado risk. The primary hazard, however, will be very heavy rainfall that may begin to affect the Peloponnese Saturday morning, and more isolated storms invigorated by southerly flow over Western Crete and Attica.

For more information on the cyclone refer to the latest Mesoscale Discussion.