Storm Forecast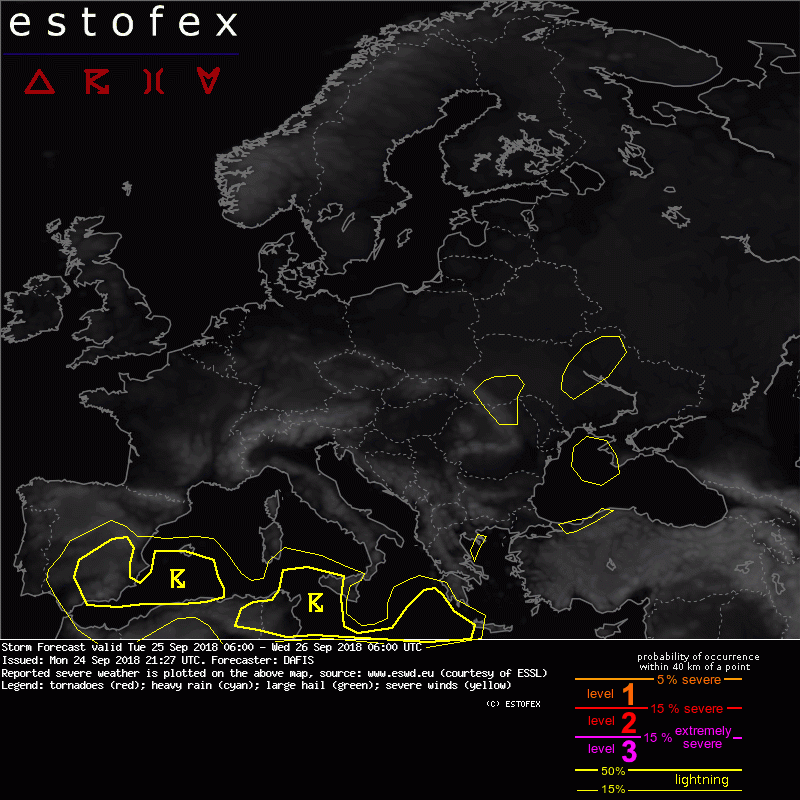 Storm Forecast
Valid: Tue 25 Sep 2018 06:00 to Wed 26 Sep 2018 06:00 UTC
Issued: Mon 24 Sep 2018 21:27
Forecaster: DAFIS
No threat levels have been issued.

SYNOPSIS & DISCUSSION

A high pressure system is building up over Europe as a cold and dry air mass (of Arctic origin) makes its way from North Europe towards the Balkans. Limited available moisture keeps thunderstorm activity weak and marginal, mostly over the warm Mediterranean Sea. Some scattered storms may also appear in Ukraine, Romania, Russia and the Black Sea where lapse rates are steep under the core of the trough with a vorticity max.

As the cold air mass moves south, several convergence zones may develop near the coasts of the Mediterranean where models forecast that thunderstorms will form under a weakly sheared environment. Nevertheless, abundant moisture and sustained north flow will feed these storms for several hours especially during the second half of Tuesday 25/09 and early morning of Wednesday 26/09.