Storm Forecast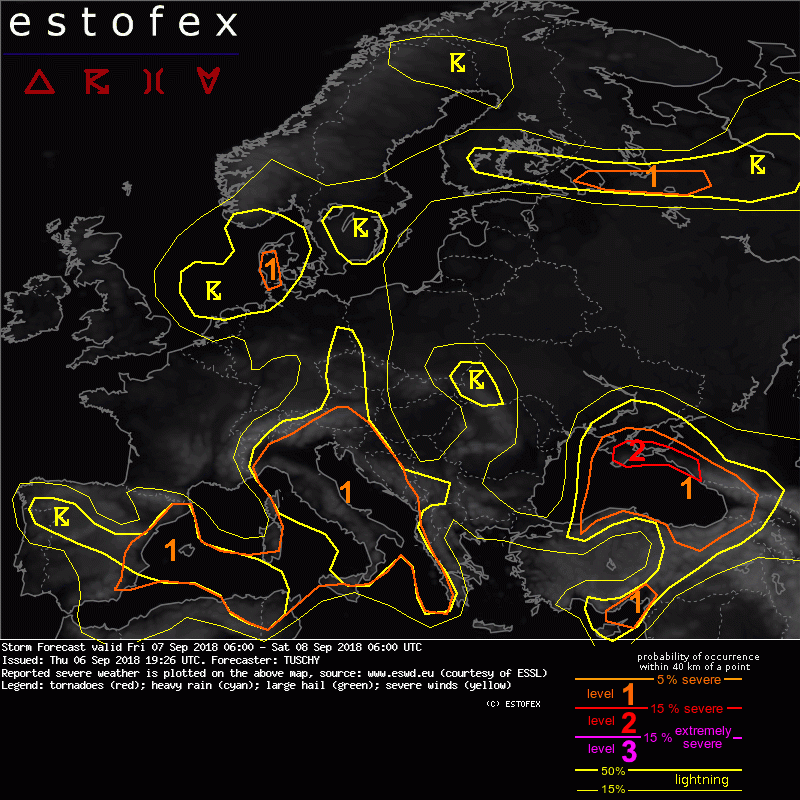 Storm Forecast
Valid: Fri 07 Sep 2018 06:00 to Sat 08 Sep 2018 06:00 UTC
Issued: Thu 06 Sep 2018 19:26
Forecaster: TUSCHY
A level 2 was issued across parts of the NE Black Sea mainly for excessive rain.

A level 1 surrounds the level 2 with a similar risk but lower probabilities.

A level 1 was issued for the far E Mediterranean mainly for excessive rain and isolated large hail.

A level 1 was issued for most of the W/CNTRL Mediterranean mainly for excessive rain, isolated large hail, severe wind gusts and a low-end tornado risk.

A level 1 was issued for W Denmark mainly for excessive rain and heavy rain.

A level 1 was issued for parts of far NW Russia mainly for isolated large hail and excessive rain.

SYNOPSIS

A cold-core low over the S North Sea lifts E/NE during the forecast and affects Denmark during the night. Models like ICON and IFS handle the BL pressure reflection of the mid/upper vortex differently with either downward extension of the vortex into the LL troposphere or a solid mid/upper vortex with no LL depression at all. This has some implications on the final overnight thunderstorm activity as a LL depression could wrap up moist/warm air towards the center, which would tend to increase the LL vortex intensity but lower the overall thunderstorm activity (with increasing cold conveyor belt jet dynamics).
A subtropical jet impacts the Mediterranean with two mid-/upper troughs - one over Turkey and another one over and just west of Portugal. Ridging in-between is first rather flat but starts to build north during the day with the gradual approach of the Portuguese trough.
Either high pressure or cool/stable air over E/NE Europe keep DMS probabilities on the lower - excluding a cold/warm front SE of Finland and S of the White Sea.

Another synoptic-scale front of interest is a weakening and southbound moving cold front over the CNTRL Mediterranean, which enters a very unstable prefrontal air mass.

DISCUSSION

... Mediterranean ...

A deamplifying progressive short-wave over Italy moves SE during the day and adds weak synoptic-scale lift to the overall setup. Otherwise a seasonable moist BL air mass beneath meager mid-level lapse rates results in 800-1200 J/kg MLCAPE. CAPE increases over the S Tyrrhenian Sea and over the Ionian Sea which reside ahead of a leisurely southward moving cold front. CIN however increases to the south with warmer 800-700 hPa. Scanning through the forecast soundings shows supportive conditions for isolated to scattered CI either fostered by local orography, sea breeze fronts, the cold front or the synoptic-scale wave. Widespread CI is forecast over the northern part of the level 1 due to nearly uncapped conditions.

DLS increases from N-Italy to Sicily from 5 m/s to 20 m/s with straight hodographs over the Tyrrhenian and Ionian Sea. Hence the severe risk will be mainly excessive rain and isolated large hail with slow moving and clustering convection over the N Mediterranean, whereas further south the risk of multicells with isolated large hail, severe wind gusts and excessive rain increases. Despite the lack of suspicious signatures in hodographs, a low-end tornado risk exists especially along the coasts due to frictional enhanced convergence.

... Black Sea and far E Mediterranean ...

A strong vortex is placed over the N-CNTRL Black Sea and is forecast to move east until 06Z. The vortex' intensity is strongest in the lowest 3 km AGL with phase diagrams supporting the idea of a symmetric shallow warm-core structure. Not suprising is the fact that the environmental air mass features deep moist profiles with PWATs in excess of 25 mm and surface dewpoins in the upper tens. Despite weak mid-level lapse rates, abundant LL moisture assists in 500-1000 J/kg weakly capped SBCAPE with peak values in the SE basin. Repeatedly onshore moving thunderstorms will be slow movers due to weak wind shear with elongated LL hodographs next to the vortex, in the level 2 area. Here, training convection with excessive rain is likely (especially with the influx of warm/unstable air from the SE Black Sea) and flash flooding could become a serious threat!

A isolated severe risk exists in the level 1 over the far E Mediterranean mainly for excessive rain and isolated large hail.

... SE North Sea and Denmark ...

Beneath the upper low, conditions improve during the night for scattered thunderstorms with a low-end waterspout risk offshore/along the coasts (SSTs of 17-19 C). Stronger storms contain graupel and bring gusty winds with heavy rain. Dependant on how strong the vortex reflection in the lower troposphere will be, a more stratiform rainfall event could evolve along the back-bent occlusion which would lower the thunderstorm threat. We added a level 1 to W Denmark for a general peak risk.

...Far NW Russia ...

A confined level 1 was issued for a warm front, which features very high CAPE (in excess of 1000 J/kg). Amount of CAPE and 25 kn deep layer flow ensure an isolated large hail and severe wind gust (downburst) threat.
The thunderstorm risk diminishes over the level 1 area but expands towards S-Finland during the night with mostly non-severe thunderstorm activiy.