Storm Forecast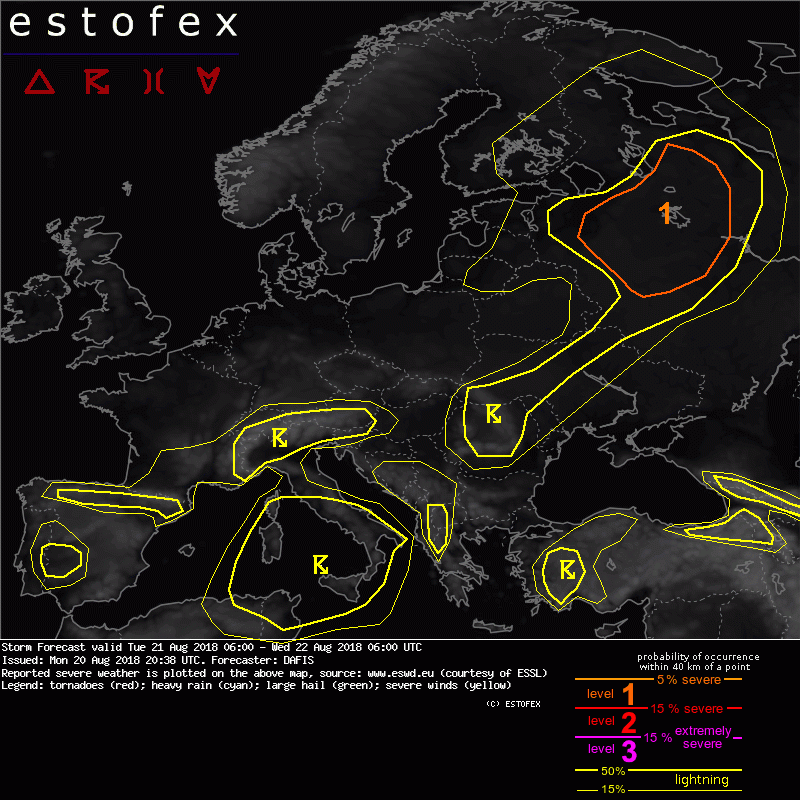 Storm Forecast
Valid: Tue 21 Aug 2018 06:00 to Wed 22 Aug 2018 06:00 UTC
Issued: Mon 20 Aug 2018 20:38
Forecaster: DAFIS
A level 1 was issued in NW Russia mainly for severe wind gusts and tornadoes.


SYNOPSIS & DISCUSSION

Low geopotentials and very moist low-level air masses in the Mediterranean Sea under a weak wind field create favorable conditions for long-lasting storms but with limited threats. The main driver of thunderstorms over land in southern Europe will be the diurnal heating, but over the sea storms are also expected in the early morning and night of Tuesday 21/08 due to several vorticity maxima which provide lift to unstable air masses. A few gusty winds and small hail events may occur in Italy and the Balkans.

In northern Europe, a short-wave trough is progressively moving east over the Baltic Sea and a low-level cyclonic vortex is forecast to develop. The synoptic lift of moist air masses will create thunderstorms in the warm sector of the cyclone and NWP models forecast an overlap of decent CAPE (500-1000 J/kg) with 15-20 m/s DLS in Russia. In case of the formation of a squall line, the main threat will be severe wind gusts as the dry air intrusion behind the cold front in mid-levels can be translated to the surface within the storms. Some tornadoes may also form because of the veering winds and strong 0-1km shear, especially at the eastern and southern parts of the level 1 area.