Storm Forecast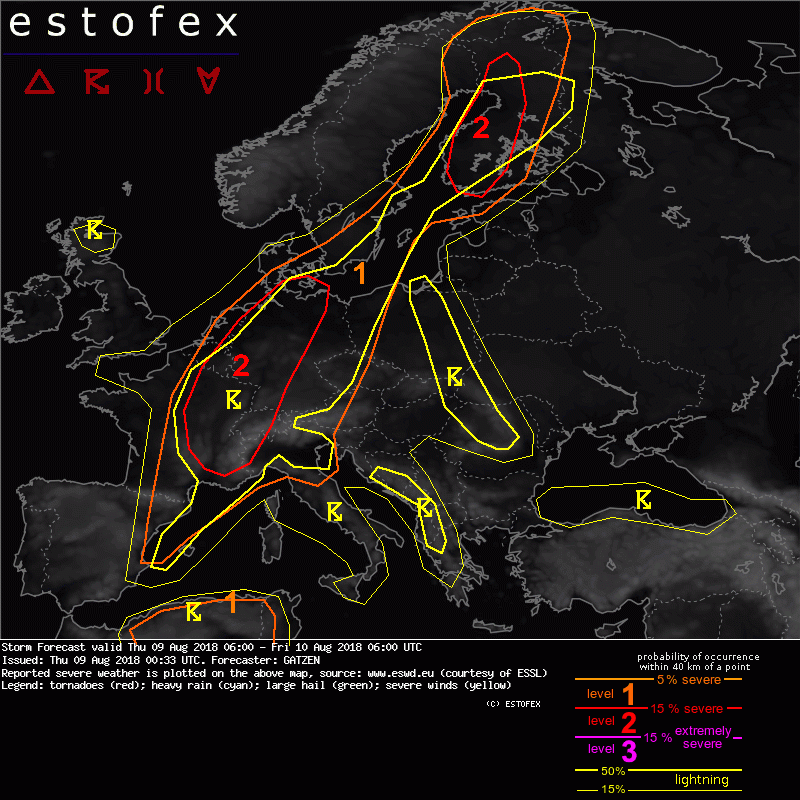 Storm Forecast
Valid: Thu 09 Aug 2018 06:00 to Fri 10 Aug 2018 06:00 UTC
Issued: Thu 09 Aug 2018 00:33
Forecaster: GATZEN
A level 2 was issued across eastern France, Benelux, and north-west Germany mainly for severe wind gusts, excessive rain, and to a lesser extent tornadoes and large hail.

A level 2 was issued across Finland mainly for severe wind gusts and tornadoes.

A level 1 was issued across north-eastern Spain, southern France, northern Italy, eastern Germany and north-western Poland mainly for large hail, severe wind gusts, and excessive precipiation.

A level 1 was issued across northern Algeria mainly for large hail and severe wind gusts.

DISCUSSION

SYNOPSIS

Between a west-European trough and the amplified east-European ridge, a strong south-westerly flow extends from the Iberian Peninsula to the North Sea and Scandinavia. An intense vort-maximum rotates around the base of this trough and crosses northern France, the Benelux countries, and southern Scandinavia as a negatively tilted short-wave trough. At lower levels, relatively strong cyclogenesis is expected by latest models, with a cold front moving eastwards across France and a warm-sector with backing low-level winds farther east. A broad area with CAPE develops from the west Mediterranean to northern Finland and will be the focus of severe weather on Thursday.

DISCUSSION

North-eastern France, Benelux, north-western and northern Germany

Ahead of the approaching negatively tilted trough, a deepening surface low is expected to move from northern France to Denmark during the period. Backing surface winds to the north of this low cause moisture return into western Germany during the morning and noon. Additionally, strengthening southerly winds in the warm sector east of the low will cause steep lapse rates to spread northward from the Alpine region into Germany. With some diurnal heating, 1000 J/kg MLCAPE may be possible over western and central Germany. Farther west, both moisture return and lapse rate increase are a bit questionable. Latest models suggest that convective storms and stratiform rain will spread northward across the Benelux countries in the morning hours, limiting the chance of SBCAPE. Nonetheless, severe thunderstorms are not ruled out capable of producing severe wind gusts, excessive precipitation, and maybe a tornado. If backed surface winds can form in the afternoon hours and SBCAPE evolves far to the west across western Germany into the Benelux countries and north-eastern France, long and favourably curved hodographs will be supportive for well-organized storms including supercells. Severe wind gusts and tornadoes will be possible if this scenario comes true.

Strong or severe winds in the wake of the developing cyclone may occur but are not included in the threat levels since convective storms will be absent.

Farther east, partly linear organized clusters of storms are forecast that quickly spread north and north-east. Although deep layer vertical wind shear is below 20 m/s, supercells are not excluded that pose a threat of severe wind gusts, large hail, and tornadoes. Over northern Germany, clusters of storms may produce excessive precipitation. With strong low-level vertical wind shear, tornadoes are also possible with embedded supercells.

Southern France into western Alps and south-western Germany

Clusters of storms will be ongoing in the morning hours and may re-intensify in the noon and afternoon across eastern France and Switzerland, moving into south-western and southern Germany. Given a hot and well-mixed air mass to the east of the mesoscale convective systems, severe wind gusts become increasingly important. Bowing lines are possible with a potential of very severe wind gusts. Farther east, weaker CAPE can result in overall weakening storm severity, although damaging wind gusts can be expected late in the period over south-eastern Germany. Large hail is most likely near the Alps with new initiating storms.

Eastern Germany

In the evening and night hours, convective activity along the main front will quickly spread east. Although CAPE and vertical wind shear are limited, well-mixed low-levels will still support a severe wind gust threat until the late night hours.

Finland

A short-wave trough moves around the sharp ridge axis across Finland. A 25 m/s 500 hPa jet follows the short-wave trough and will be located over northern Finland, but there is also very strong low-level flow of 20 m/s at 700 hPa that extends into southern Finland. At low levels, a plume of very warm air spreads into Finland from the south-west in the warm sector of a deepening cyclone that moves from northern Sweden eastwards. Rich low-level moisture is advected from the Baltic Sea, and diurnal heating is expected to lead to CAPE in the order of 500 J/kg. Initiation of storms is forecast given weak CIN and probably some lift along sea breeze convergence zones, and latest models show storms that move eastwards in the noon and afternoon.

Forecast profiles indicate curved low-level hodographs over most of Finland, and mesocyclones are expected to form. Given weak deep layer vertical wind shear in the southern portions, storms likely cluster posing a severe wind threat along with a few tornadoes and excessive precipitation (precipitable water around 40 mm). Farther north, longer hodographs may also support some long-lived supercells capable of producing tornadoes that may be strong. Large hail is also not ruled out. Over northern Finland, long straight hodographs will support fast moving storms also capable of producing severe wind gusts and tornadoes. In the wake of the cyclone, dry air is pushed into northern Finland causing storm decay. In the south, backing low-level flow and warm air advection will still be supportive for a few storms overnight. Severe threat will weaken given weakening flow.

Northern Italy

Latest soundings indicate a deep layer with plentiful moisture that overlaps with steep lapse rates. Models indicate the development of CAPE around 1000 J/kg along with rather weak CIN. Main lifting mechanism will be upslope south-westerly flow and mountain-valley circulations. Main activity is expected in the afternoon and evening when the west-European short-wave trough passes to the north. At this time, 0-6 km vertical wind shear increases to 10, locally more than 15 m/s what is supportive for multicells and a few supercells. Main threat will be large hail with the stronger storms. Local flash flooding is also expected given high precipitable water and rather slow storm motion.

Northern Algeria

At the southern flank of the mid-level polar jet, a weak vort-maximum travels east over the west Mediterranean Sea. Its right entry will pass over northern Algeria in the afternoon. At low-levels, upslope northerly flow transports moisture towards the Atlas, whereas rather strong south-westerly winds at 700 hPa advect an elevated mixed layer. CAPE in the order of 2000 J/kg will be strongly capped near the coasts. Over the mountains, CAPE but also the capping is expected to be weaker, and initiation is forecast during the afternoon. With 0-6 km vertical wind shear about 15 and locally more than 20 m/s, multicells and supercells are forecast. Main threats are large hail and severe downbursts. Storms may cluster along the cold pools and move north-east. Given weakening forcing in the evening, and large CIN farther north, storms are expected to decay soon after sunset.

Eastern Europe, Balkans

Well-mixed low-level air masses are present over most of eastern Europe. Moisture is low in the eastern portions, but increases over Poland and the Balkans, where CAPE is expected. Vertical wind shear is weak and severe potential is limited. However, due to the deep boundary layer indicated by latest soundings, severe wind gusts are not ruled out. Furthermore, across the highlighted regions over the western Balkans, Slovakia, Hungary, eastern Austria and the Czech Republic, western and central Poland, higher CAPE may support a few pulse storms, capable of producing large hail and local flash floods.