Extended Forecast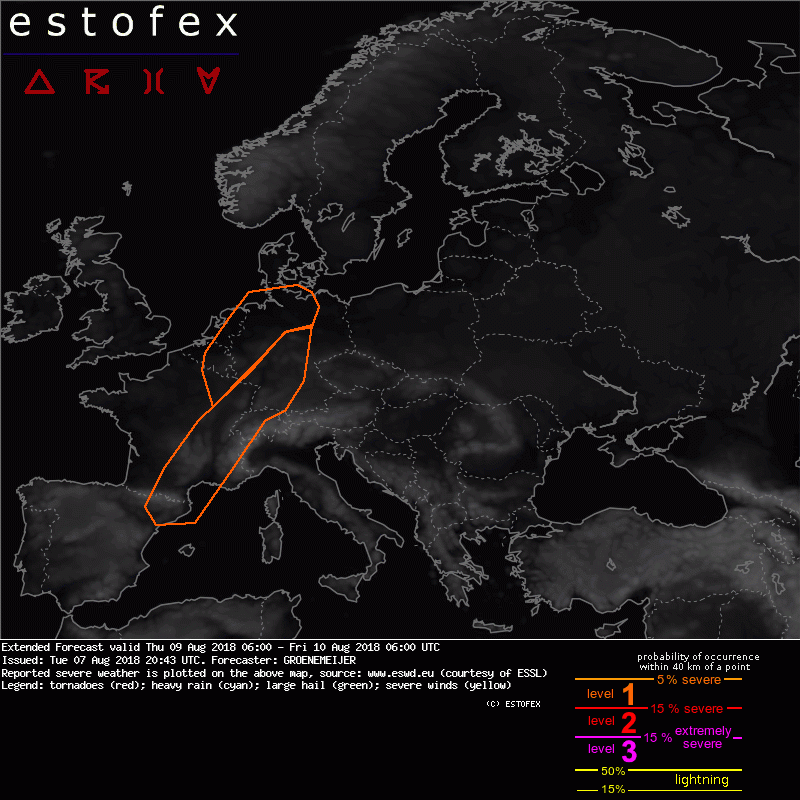 Extended Forecast
Valid: Thu 09 Aug 2018 06:00 to Fri 10 Aug 2018 06:00 UTC
Issued: Tue 07 Aug 2018 20:43
Forecaster: GROENEMEIJER
DISCUSSION

Western Europe...

A developing frontal wave is expected to move across France and the Benelux during the day and evening while the associated surface low deepens. The wave develops ahead of an approaching trough across Western continental Europe under a south-southwesterly 30 m/s mid/upper jet.

The warm sector of the wave is expected to be moderately unstable with high low-level humidity in vicinity of the frontal zone. Strong shear is expected to exist across the warm sector, with long low-level hodographs projected ahead of the low near the warm front. Near the warm and cold fronts, organized storms including supercells are expected to develop along with disorganized clustered activity.

Especially ahead of the low across the northern area, low-level shear suggests a risk for a few tornadoes will develop along with a risk of damaging winds, heavy rainfall and large hail. Across the southern area, severe storms are forecast to develop along the eastward-moving cold front with large hail, severe winds and flash floods being the main risks.