Storm Forecast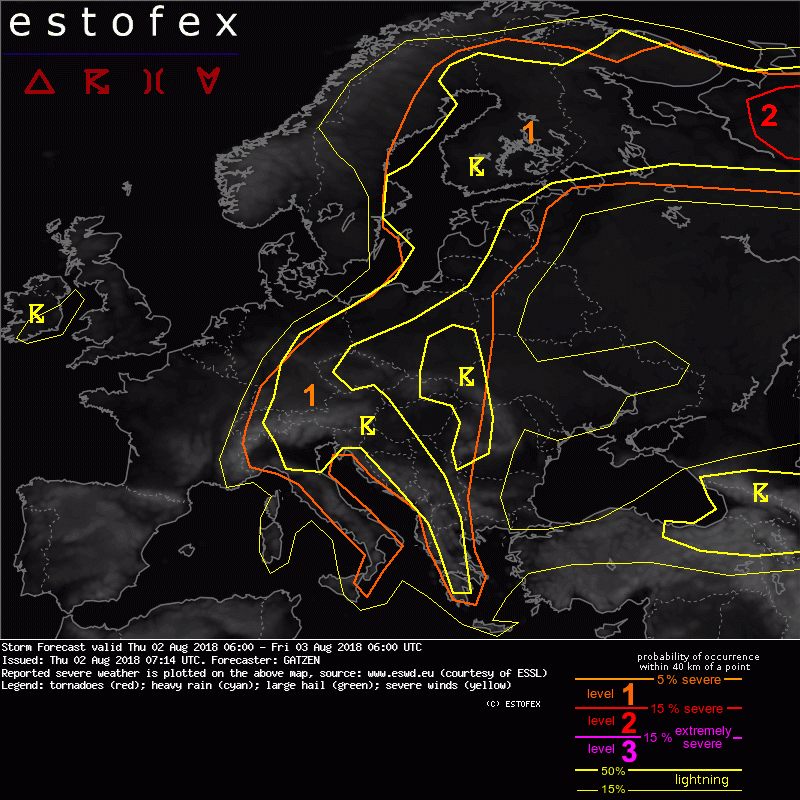 Storm Forecast
Valid: Thu 02 Aug 2018 06:00 to Fri 03 Aug 2018 06:00 UTC
Issued: Thu 02 Aug 2018 07:14
Forecaster: GATZEN
A level 2 was issued across north-western Russia for severe wind gusts and tornadoes.

A level 1 was issued across northern Europe for large hail, wind gusts and extreme rainfall.

A level 1 was issued acoss central and eastern Europe and the Balkans for extreme rainfall.

SYNOPSIS

A subtropic high over north-western Africa and the Iberian Peninsula ridges into Central Europe and farther into north-western Russia. The ridge is flanked by relatively low geopotential over south-eastern Europe with an embedded cut-off trough across southern Russia and eastern Ukraine and a polar trough over Iceland. Mid-level flow is weak except for the polar jet stream that extends across the northern British Isles and expands farther north-east into southern Scandinavia in the wake of a short-wave trough. At lower levels, plume of African hot air has spread into Iberia with near record temperatures of 30+ C at 850 hPa. Warm air is present over almost all of Europe except for the far north-west. The axis of warm air is present from the western Alps to the Baltic Sea into north-western Russia. Along this axis, low-level moisture, steep lapse rates and low-level convergence overlap, and some thunderstorm clusters are ongoing over central/eastern Germany and eastern Sweden. Some more storms are present within the mid-level trough over the western Ukraine, the Balkans, and northern Italy, where rich low-level moisture overlaps with modest lapse rates. Highest CAPE of more than 2000 J/kg can be found over northern Italy due to steep lapse rates.

DISCUSSION

North-western Russia

East of a high over the North Pole, a mid-level trough is present over central Siberia. At its western flank, a sharp short-wave trough travels south across Novaya Zemlya. The right entrance of a 30 m/s mid-level jet streak at its southern flank affects north-western Russia. At lower levels, a cold front progresses southward during the day, and a westerly low-level jet causes strong low-level vertical wind shear that increases to more than 15 m/s in the lowest kilometre in the afternoon. Forecast soundings indicate long straight low-level hodographs. The strong shear overlaps with rich low-level moisture and steep low-level lapse rates ahead of the cold front. Given limited deep layer vertical wind shear, clusters of storms are forecast that merge along the cold front to form a squall line. Current thinking is that severe wind gusts are very likely given the high CAPE of more than 1500 j/kg at low levels and strong low-level vertical wind shear. Bow echoes and mesovortices are capable of producing damaging wind gusts and tornadoes. Large hail is not ruled out. While the frontal squall line travels south-east, it is possible that a derecho forms across north-western Russia east of the forecast domain until Friday morning.

Eastern Sweden into Finland and north-west Russia

Ahead of the approaching cold front from the north, thunderstorms are forecast within the plume of warm air from the Baltic Sea towards north-western Russia, where low-level convergence if present. High CAPE of more than 1500 J/kg, high precipitable water, and limited vertical wind shear are supportive for excessive rain and flash floods. Large hail and severe downbursts are not ruled out.

Austria and Balkan states

Skinny CAPE profiles, weak vertical wind shear, and high precipitable water pose a threat of excessive rain and flash floods.

Germany into northern Poland

Some more storms are expected to form today. With weak shear, modest CAPE and precipitable water, local flash flooding is the main threat.