Storm Forecast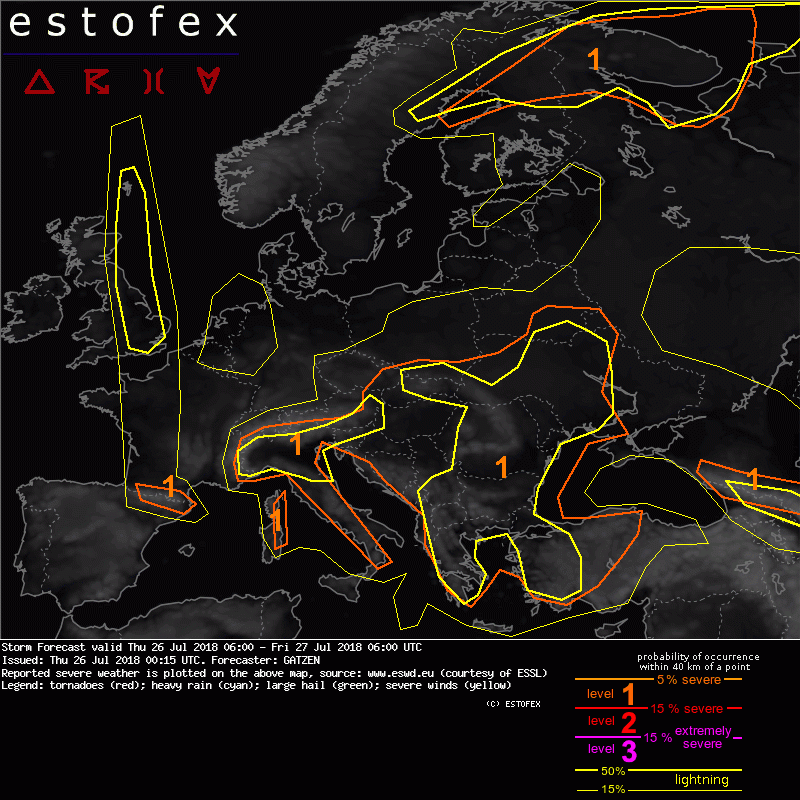 Storm Forecast
Valid: Thu 26 Jul 2018 06:00 to Fri 27 Jul 2018 06:00 UTC
Issued: Thu 26 Jul 2018 00:15
Forecaster: GATZEN
A level 1 was issued across north-east Scandinavia for severe wind gusts, large hail, and tornadoes.

A level 1 was issued across the Balkans into the Ukraine for large hail, excessive rain, and severe wind gusts.

A level 1 was issued across the Pyrenees, Sardinia and Corsica, and across the Caucasus mountains mainly for large hail, excessive rain, and severe wind gusts.

DISCUSSION

The Scandinavian high forms a new center across the western portions where intense pressure rise is expected. Downstream, a short-wave trough propagates east. Low geopotential is present over south-eastern Europe as well as west of Europe. Frontal systems will affect parts of the British Isles.

Northern Italy

West of a small mid-level trough centred across Slovenia, enhanced mid-level flow is expected and vertical wind shear will increase especially close to the Italian Alps. Affected air mass is unstable with MUCAPE around 1000 J/kg. Thundestorms are expected to form dzring the day, including some multicells and maybe brief supercells (DLS mostly below 15 m/s). Large hail is the main threat, but slow moving storms can also produce excessive rain. Strong downdraft winds are not ruled out.

Ukraine

Warm air advection is expected on Thursday. Rich low-level moisture and MUCAPE around 2000 J/kg indicate a threat of intense storms that produce excessive rain. Large hail and severe wind gusts are also not ruled out. Storms will likely cointinue through the night.

Northern Scandinavia

Along a cold front, storms will continue to move eastward during the day. CAPE overlaps with moderate shear around 15 m/s 0-3 km vertical wind shear, supporting storm organization. A squall line is expected, capable of producing severe wind gusts. Especially at its southern flank, some isolated storms are also capable of producing large hail.

Other areas

Local storms are expected across the Pyrenees, Sardinia and Corsica, most of south-eastern Europe into the Ukraine. Vertical wind shear is weak over most places. However, large CAPE supports some stronger storms with large hail. Slow moving storms counld also produce excessive rain and local flooding. Well-mixed and deep boundary layer towards the east supports a severe wind gust threat.