Storm Forecast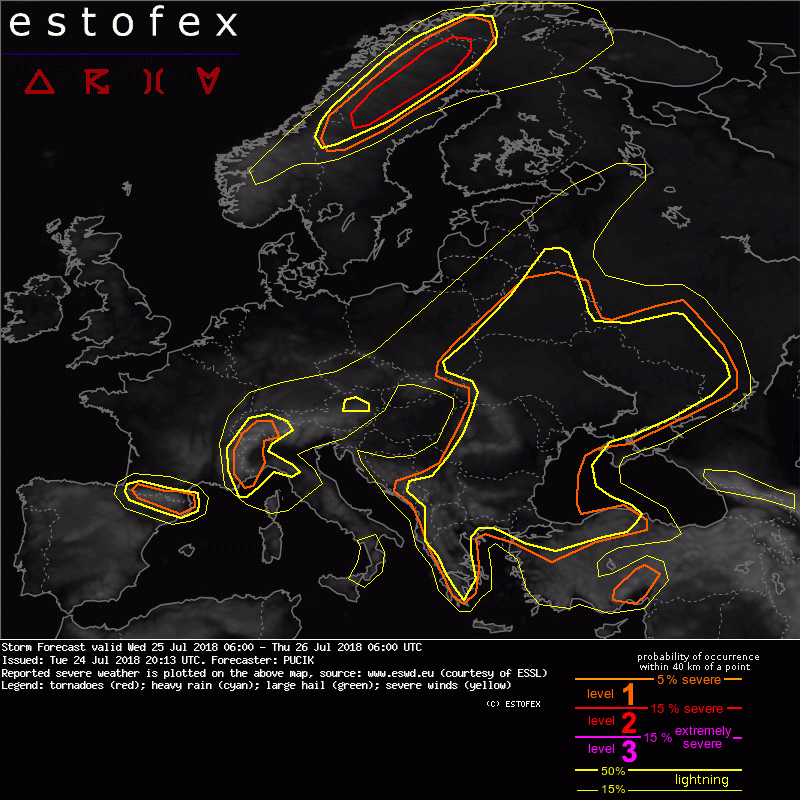 Storm Forecast
Valid: Wed 25 Jul 2018 06:00 to Thu 26 Jul 2018 06:00 UTC
Issued: Tue 24 Jul 2018 20:13
Forecaster: PUCIK
A level 2 was issued across central-N Sweden mainly for severe wind gusts, tornadoes, excessive precipitation and large hail.

A level 1 surrounds level 2 for the same threats, but with lesser coverage.

A level 1 was issued for Pyrenees mainly for large hail and excessive precipitation.

A level 1 was issued for W Alps mainly for excessive precipitation and large hail.

A level 1 was issued for much of E and SE Europe mainly for excessive precipitation and to the lesser degree for large hail and severe wind gusts.

SYNOPSIS

As of Wednesday 12 UTC, at 500 hPa, a broad trough over the Atlantic will induce strong SW-ly flow over the UK and W Scandinavia. Embedded within the forward flank of the trough, a short-wave will translate towards Norway and Sweden. Towards SE, an extensive, but shallow, cyclonic vortex will remain centered over E Balkans and the Black Sea. At its W-flank, a smaller-scale cyclonic vortex will cross Poland and Czechia to SE Austria.

Beneath the large-scale vortex, a warm and humid airmass will allow for scattered to widespread DMC in weakly sheared environment. This is reflected by a large Lvl 1 covering much of the aforementioned region, particularly for the threat of excessive precipitation given slow moving or outright quasistationary storms.

Stronger dynamics will be observed to the W. As cold front crosses Scandinavia, widespread DMC is forecast to form and deserves closer inspection.

DISCUSSION

... Sweden ...

In the extraodinarily warm airmass over Scandinavia, ahead of the cold front advancing from Norway, dewpoints will rise to around 18 deg C by 12 UTC over the area. Despite rather modest lapse rates, MLCAPE values of hundreds to around 1500 J/kg are forecast by models. At the same time, strong flow at low to mid-troposphere will ovespread the unstable airmass, resulting in favourable overlap of CAPE and shear for severe and well-organized convection.

0-6 km vertical wind shear will reach 15 - 25 m/s over a large area, suggesting a potential for supercells. With shear confined mostly to the lower troposphere, linear lift along the front and flow mostly parallel to the initiating boundary, there will be a tendency for storms to cluster quickly to a quasi-linear convective system. Bow-echoes embedded within such system may be capable of severe wind gusts as 850 to 700 hPa flow reaches up to 20 m/s. Excessive rainfall may also occur if numerous storms train over the same area, at least initially, when cold front moves more slowly. In the initial period, before the upscale growth happens, large hail may occur with supercells. Furthermore, given low LCLs, enhanced SRH and LLS reaching 10 - 15 m/s, supercells, or mesovortices embedded within a system, will also bear a risk of tornadoes. Storms will spread NE-wards during the forecast period and may reach Finland by Thursday morning.