Storm Forecast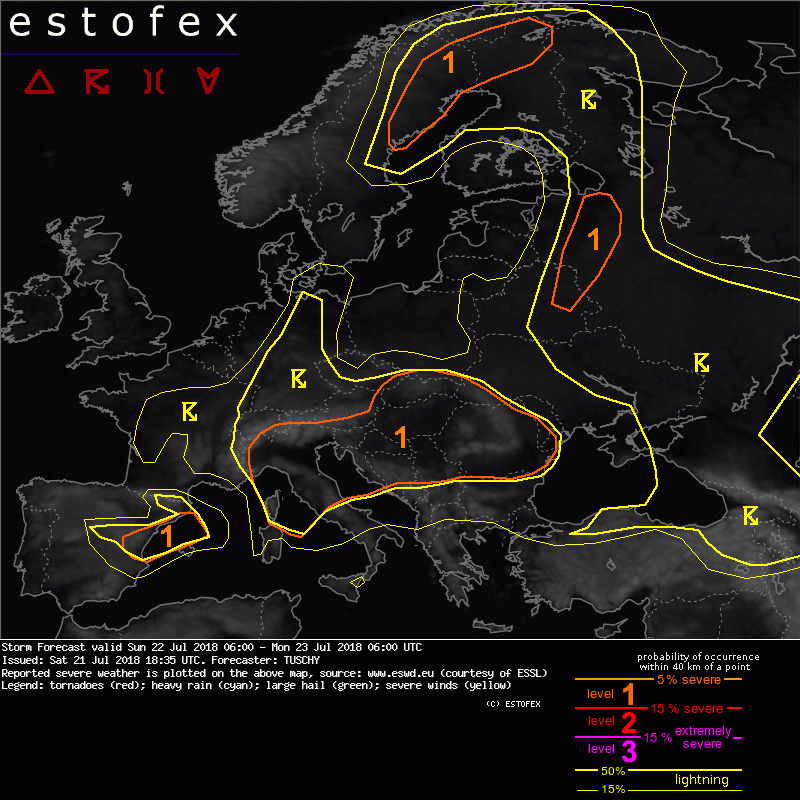 Storm Forecast
Valid: Sun 22 Jul 2018 06:00 to Mon 23 Jul 2018 06:00 UTC
Issued: Sat 21 Jul 2018 18:35
Forecaster: TUSCHY
A level 1 was issued across far E Spain and offshore mainly for large hail and severe wind gusts.

A level 1 was issued for parts of S-CNTRL Europe mainly for excessive rain, large hail and severe wind gusts.

A level 1 was issued for parts of Sweden and Finland mainly for excessive rain.

A level 1 was issued for NE Belarus and extreme W Russia mainly for excessive rain.


SYNOPSIS

A rather static pattern continues over Europe. The main feature of interest on the synoptic-scale is a pronounced positive tilted upper trough, which is situated over the W Alps and S France. This trough continues to sag south towards N/CNTRL Italy. A subtropical ridge over the far S-CNTRL Mediterranean flattens a bit but converging synoptic features result in a belt of strong westerlies over the Mediterranean and the Balkan States with a strengthening subtropical jet.
Elsewhere, an upper trough over Sweden and another one over Turkey show no signs of forward motion and remain more or less on site. The same is true for an upper low over SE Belarus which broadens during the forecast and encompasses most of the Ukraine.

The latter vortex (vertically stacked) extends all the way to the lower troposphere in shape of a broad LL depression (centered over SE Belarus and the far N Ukraine). Once again no synoptic-scale front impacts today's thunderstorm forecast.


DISCUSSION

... E Spain, Italy and the N-Balkan States ...

Downstream of the positive tilted trough an extensive EML plume advects NE towards the Balkan States and overspreads a seasonable moist BL air mass. Hence an extensive area with substantial CAPE evolves beneath the intensifying subtropical jet, so most areas see a favorable overlap of ingredients (although mainly capped). Stronger separation of ingredients exists along the N part of the CAPE plume. Therefore numerous regions see favorable ingredients for organized DMC activity with different hazards.

... E-Spain to the Balearic Islands ...

Passing upper trough adds synoptic-scale lift to this area during the daytime hours. Despite meager mid-level lapse rates, a pool of rich BL moisture results in widespread aoa weakly capped 1 kJ/kg MLCAPE. Impressive 30 m/s DLS during the start of the forecast weakens to 15-20 m/s until 18Z so kinematics remain supportive for organized DMC. Elongated straight hodographs indicate splitting multicells/supercells (possible ongoing from the previous night) with large hail the main risk. Any severe wind gust threat is bound to line-ups or bows despite only moderate 10-15 m/s 0-3 km shear. Finally caostal areas may see excessive rain with clustering thunderstorms. This activity weakens during the evening onwards as the upper trough departs east. A level 2 was considered but already onging scattered thunderstorms should limit chance for more discrete activity.

... N-Italy, Slovenia, Slovakia, Hungary to Romania ...

Placed along the N fringe of the subtropical jet, DLS relaxes rapidly to less than 10 m/s. LL mixing ratios in excess of 12 g/kg support weakly capped aoa 1 kJ/kg MLCAPE despite meager mid-level lapse rates. CI occurs either along the orography or along residual outflow boundaries from the activity of the previous night. Despite weak shear, robust updrafts may contain large hail during the discrete stage (after initiation) and a few strong to severe downbursts are well possible with that amount of CAPE and moisture. The main hazard however will be excessive rain with slow moving and clustering storms, which can produce flash flooding on a local scale. During the night, numerous slow moving clusters traverse E/SE and continue to produce excessive rain and isolated large hail/severe wind gusts.

... CNTRL Italy, Croatia and parts of the Dinaric Alps ...

A similar setup is forecast over those regions but DLS increases to 10-15 m/s. With stronger cap in place, CI occurs mainly along the orography during the afternoon and evening. Somewhat augmented shear may assist in better organized updrafts, which contain large hail. Beside that hazard, heavy rain and strong to isolated severe wind gusts are also forecast. During the night, either upscale growing convection or clusters arriving from the north impact these areas with heavy rain and isolated large hail.

... E/NE Europe ...

A plume of rich BL moisture covers a broad area. Despite warm mid-levels, expected diabatic heating should assist in widespread 400-800 J/kg with regional peaks aoa 1kJ/kg MLCAPE. Weak shear precludes organized convection so the main hazard will be heavy rain and a low-end large hail risk (especially with maximized CAPE over Georgia, S Belarus and far W Russia). Upgrades were performed where the excessive rainfall risk seems to be maximized.