Storm Forecast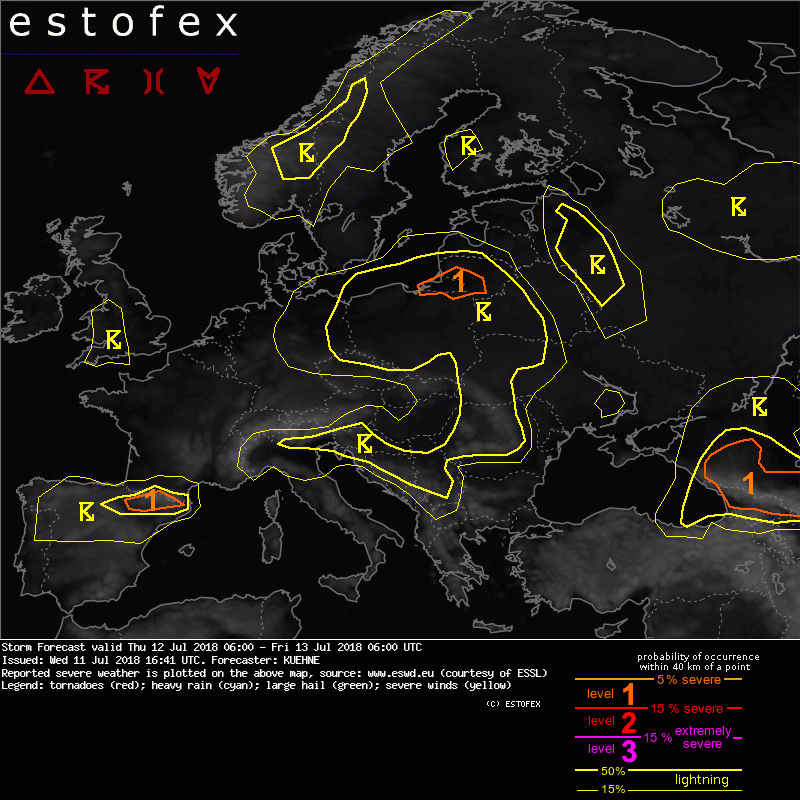 Storm Forecast
Valid: Thu 12 Jul 2018 06:00 to Fri 13 Jul 2018 06:00 UTC
Issued: Wed 11 Jul 2018 16:41
Forecaster: KUEHNE
A level 1 was issued across S Russia (Stavropolsky Kray to Dagestan), Georgia and extreme NW Azerbaijan for large hail, severe wind gusts and local heavy rainfall.

A level 1 was issued across Kaliningradskaya oblast (Russia) and S Lithuania for heavy rainfall.

A level 1 was issued across N Spain (Pyrenees) for isolated large hail and severe wind gusts.

SYNOPSIS

A large cyclonic vortex is still centered over E Germany. It steers another vortex from the northern Baltic Sea towards CNTRL Sweden. A broad upper trough remains west of Iberian Peninsula. An upper level trough crosses the Black Sea and affects Caucasus areas.

DISCUSSION

... S Russia, Georgia, Azerbaijan ...

An overlap of 500-1000 J/kg MLCAPE and 20 m/s DLS creates favorable conditions for organized thunderstorms over the Caucasus mountain ridge. Later on, storms move to the northeast. They are accompanied by large hail and severe wind gusts. Heavy rain can cause local flash floods.

... Kaliningradskaya obl. (Russia), Lithuania ...

A persistent inflow of warm, very moist and unstable air results in 500-1000 J/kg SBCAPE and repeated thunderstorm development causes an enhanced heavy rainfall threat.

... Pyrenees (Spain) ...

Favorable ingredients for large hail and isolated severe wind gusts exist due to 20-25 m/s DLS and ~1000 J/kg MLCAPE. Thunderstorms decay after sunset.

Otherwise in the rest of the lightning areas ingredients support no or only a very limited risk of local severe events such as marginal large hail and local heavy rainfall.