Storm Forecast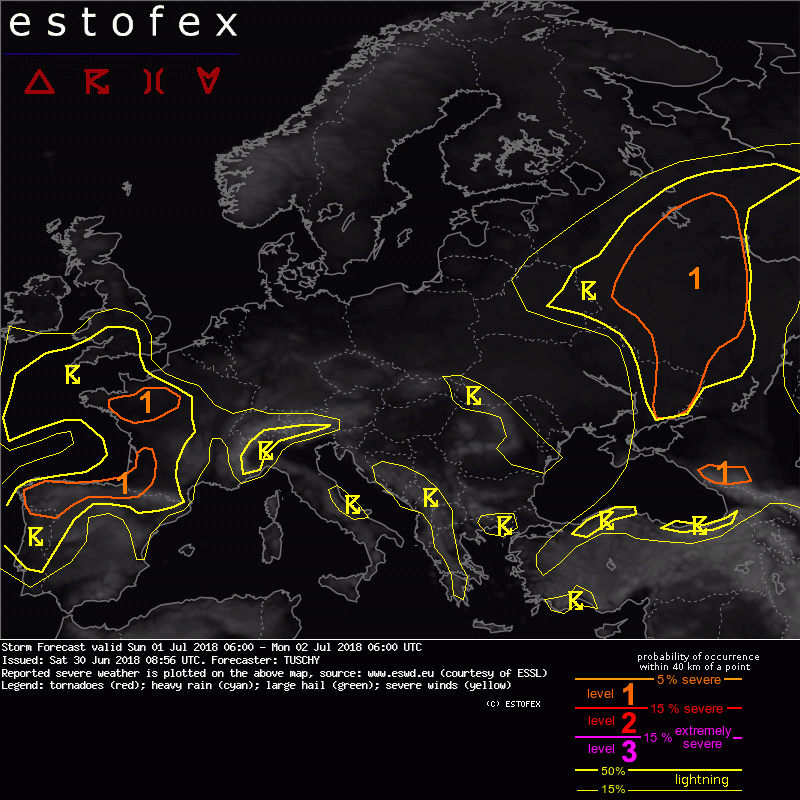 Storm Forecast
Valid: Sun 01 Jul 2018 06:00 to Mon 02 Jul 2018 06:00 UTC
Issued: Sat 30 Jun 2018 08:56
Forecaster: TUSCHY
A level 1 was issued across the N-Iberian Peninsula and SW-France mainly for isolated large hail. Localized heavy rain is possible over SW-France.

A level 1 was issued across parts of NW-France mainly for isolated large hail.

A level 1 was issued over W-Russia and the E-Ukraine mainly for large hail and severe wind gusts. An isolated tornado is possible in the northern level 1.

A level 1 was issued along the W-Caucasus Mountains mainly for large hail and severe wind gusts.

SYNOPSIS

An omega like blocking pattern persists over Europe. Two mid/upper vortices just west of the Bay of Biscay merge into a broad low pressure system and shape the western part of the blocking. The eastern counterpart is an extensive cyclonic vortex over Belarus and the W-Ukraine which loops more or less over the same area. In between both vortices a robust ridge expands from Algeria over France towards the North Sea and SW-Scandinavia. This ridge tends to weaken over W-Europe with a resulting discrete anticyclone over the North Sea and an healthy subtropical ridge over the CNTRL Mediterranean.

The lower troposphere responds to the mid/upper vortices in the shape of two low pressure areas. The western one starts out as a compact LL vortex just to the NW of the Iberian Peninsula but builds east during the night and causes a second but less defined low pressure area over the Bay of Biscay and France during the night. Models still diverge with potential numerous weak cyclonic vortices in this low pressure channel and still show various solutions with respect to their location and strength. The eastern one features a robust LL vortex, which builds west from Russia towards Belarus. Some track uncertainties exist in model data. Some convective feedback exists with LL vortex strengthening over Belarus during the night in case of lots of QPF/latent heat release in model data, which could be a bit overrated.

The depression over E-Europe is accompanied by an eastward trailing cold front, wich crosses the Black Sea and a northwestward shifting warm front between Moscow and the White Sea. Synoptic-scale fronts over far N-Europe (embedded in a more progressive flow regime) don't impact today's thunderstorm forecast.

DISCUSSION

... N-Algeria ...

In response to gradually lowering surface pressure over W/SW Europe, BL flow north of the Tell Atlas turns westerly and pushes a very moist marine air mass east and also onshore over far N-Algeria. Surface dewpoints in excess of 20°C and an hot continental air mass over N-Africa bring MLCAPE in the 1-2 kJ/kg range. This energy however remains capped by very warm 850 hPa temperatures and ongoing synoptic-scale subsidence beneath the ridge axis. EML plume with very steep mid-level lapse rates looms large by a NE-ward spreading dust plume over N-Africa and parts of the Mediterranean.

Probabilities for isolated CI exist during the night, as mid/upper flow turns more cyclonic with a flattening ridge. A belt of strong westerlies overspreads N-Algeria with DLS in the 15-20 m/s range. With a deepening marine BL layer, weak synoptic-scale lift and upslope flow along the Tell Atlas, low probabilities exist for one or two updrafts to break the cap. The very dry nature of the cap and mid/upper levels however keep this risk on the very low end side. Hence no low probability lightning area was added.

... W-France and SW-UK ...

A strong ridge is centered over SE/E France with slight weakening during the night. The general mid/upper flow turns more cyclonic betimes as the vortex over the Bay of Biscay drifts east. The low sends a marine air mass ashore over W/NW France which offsets meager mid-level lapse rates and results in 1-1.5 kJ/kg MLCAPE.

During the forenoon, a plume of elevated MUCAPE covers all of W-France and SW-UK with ongoing non-severe convection from the previous night. Graupel and wind gusts remain the main hazard. This activity, while spreading north, becomes partially surface based with an attendant increase of the gust potential (SW-UK and N-France due to a well mixed BL) and large hail (N-France only with 10-15 m/s DLS and a dry/deep subcloud layer).

Would not be surprised to see a few instances of dry thunderstorms over S-UK with thin and high based CAPE profiles in the graupel layer and a dry and deeply mixed subcloud layer. Erratic wind gusts and lightning would worsen any ongoing and potentially resulting fire risk.

For SW / CNTRL France this energy remains capped during the day although we don't want to rule out spotty mountainous convection. In case an updraft manages to survive entrainment, 10-15 m/s DLS would favor temporarily orgnized thunderstorms with isolated large hail.

Thunderstorm probabilities increase substantially over SW/W France beyond sunset, as an mid-level wave approaches from the SW. Accompanying stronger mid-level flow brings DLS in the 15-20 m/s range with MUCAPE in excess of 1000 J/kg. Elevated nature should limit the severe risk to large hail during initiation with more of an heavy rainfall threat as convection grows upscale into a large overnight cluster over W/NW France. We expanded the lightning areas towards CNTRL France as this system pushes an outflow boundary to the east. Interaction with the orography could help to spark a few thunderstorms with a low end hail and wind gust threat.

The level 1 areas cover the region with augmented severe (especially large hail). Outside the level 1 but inside the high probabilitity lightning area, isolated hail and wind gust events are also possible, but too isolated for an upgrade.

... Portugal and N-Spain ...

Portugal and NW-Spain see early CI with incoming robust upper trough. Forecast soundings show weakly capped 400-800 J/kg SBCAPE and 15-20 m/s DLS, so organized multicells bring isolated large hail and gusty winds. This activity continues during the night but remains generally sub-severe due to rapidly diminishing CAPE. Only a low-end tornado risk exists over extreme NW-Portugal and NW-Spain during the night with backed LL flow and marginal LLCAPE.

Up to 1 kJ/kg MLCAPE and 20 m/s DLS exist over NE-Spain during the day and with strengthening forcing from the W the risk for mountain convection increases during the daytime hours. Multicells with large hail and isolated severe wind gusts will be the main hazard.

... W-Russia and the Ukraine ...

A broad warm sector exists over W-Russia. Main uncertainty remains how the LL depression evolves during the forecast with respect to its deepening rate (refer to the SYNOPSIS) and attendant rate of occlusion. A mid-level wave crosses the warm sector during the daytime hours with early CI even in the open warm sector next to probably ongoing convection from the previous night along the synoptic-scale fronts. The warm sector features nearly uncapped 1-1.5 kJ/kg MLCAPE and 15-20 m/s DLS, so organized multicells and a few supercells are a likely scenario. Forecast hodographs show some better curvature next to the warm front, where an isolated tornado event is possible. Otherwise splitting thunderstorms bring large hail and strong to severe wind gusts. Upscale growing thunderstorms into an overnight cluster bring heavy rain and gusty winds to Moscow and surroundings with ongoing WAA regime. Another cluster probably evolves in the occluding part over Belarus with heavy rain the primary threat.

The level 1 was expanded towards the E-Ukraine with scattered organized thunderstorms along the eastbound moving cold front (400-800 J/kg MLCAPE and 15-20 m/s DLS) and an attendant large hail and severe wind gust threat.

... W-Caucasus Mountains ...

Deep and rich BL moisture beneath steep alpine lapse rates result in a confined area with more than 1000 J/kg MLCAPE. The western branch of the subtropical jet pushes DLS in the 20 to 25 m/s range, which supports rotating updrafts. The main limitation will be weak forcing, but upslope flow along the W fringe of the mountain range should support isolated CI. Large hail and severe wind gusts are forecast. This localized severe risk continues during the night.