Storm Forecast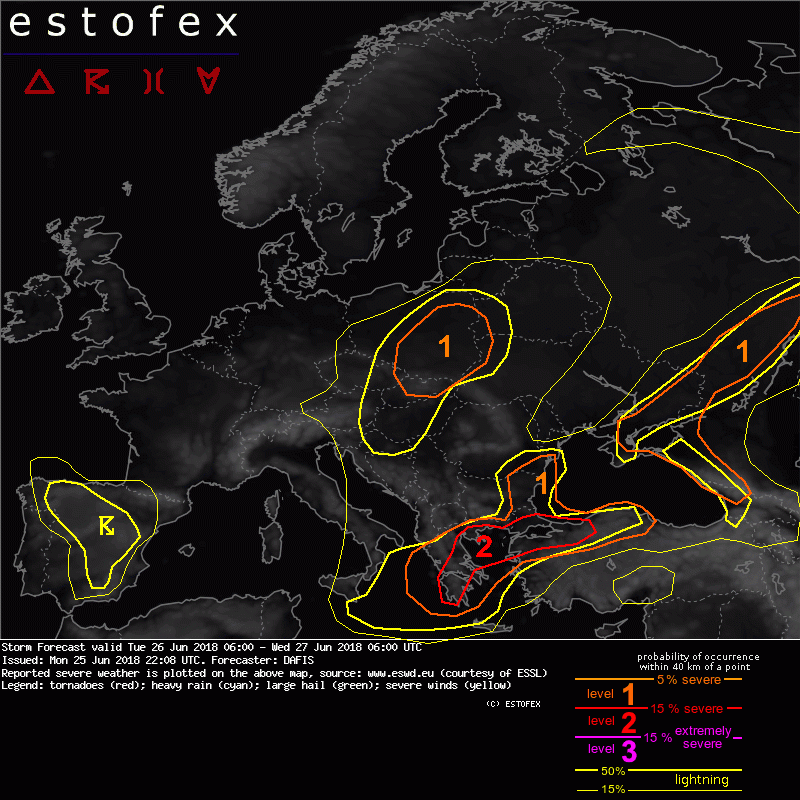 Storm Forecast
Valid: Tue 26 Jun 2018 06:00 to Wed 27 Jun 2018 06:00 UTC
Issued: Mon 25 Jun 2018 22:08
Forecaster: DAFIS
A level 2 was issued for parts of Greece and Turkey for excessive precipitation, large hail, severe wind gusts, and tornadoes.

A level 1 was issued for Greece, Bulgaria, and Turkey mainly for large hail, severe wind gusts, and tornadoes.

A level 1 was issued for Poland and Slovakia and extreme western parts of Belarus and Ukraine mainly for large amounts of small hail/graupel in elevated areas.

A level 1 was issued for SW Russia and Georgia mainly for large hail and severe wind gusts.

SYNOPSIS

An Omega-blocking pattern has been formed in Europe, where a ridge extends from NW Africa towards the North Sea and two main cyclonic systems are found at the west and east parts of the ridge. The trough on the east side creates favorable conditions for numerous thunderstorms. At the southern leading edge of the trough, a low-level vortex has been formed with a warm seclusion as storms surround its center, warming rapidly the mid-levels. Many convergence zones in NW Turkey and Greece will provide lift to very unstable air masses.
In addition, a short-wave trough over Poland brings unseasonal cold air masses, but still, the diurnal heating can lead to thunderstorms. Finally, in the Iberian Peninsula, a plume of steep lapse rates from N. Africa create a very unstable environment.


DISCUSSION

.... Greece and Turkey ....

A strong convergence zone is simulated by all the available NWP models in N Aegean Sea in the early morning of Tuesday 26/06. Very moist and warm air masses within these zones will create clusters of long-lasting storms, able to produce flash floods. In NE Greece and Turkey, steep lapse rates, enhanced shear, and high PW will also create large hail. In SW Greece, we expect excessive precipitation and severe wind gusts as the warm seclusion will approach the coasts in the afternoon.
Many waterspouts are expected, but one or two tornadic events cannot be ruled out given the high CAPE and veering winds. Convective activity will continue until the early morning of Wednesday, mostly offshore.

.... Poland and Slovakia ....

Cold mid-levels create steep lapse rates and instability. Diurnal heating and synoptic lift will initiate storm cells which will be able to produce large amounts of small hail as the wet-bulb zero height will be below 2.000m. Locally some larger hailstones cannot be ruled out.

.... Russia and Georgia ....

A stationary boundary in Russia creates a zone of convergence, within moist and warm, thus unstable air masses. Steep lapse rates producing high NCAPE and moderate 0-6km shear in the order of 10-15 m/s show the potential of some large hail events. High delta theta-e values increase the probability of severe wind gusts.