Storm Forecast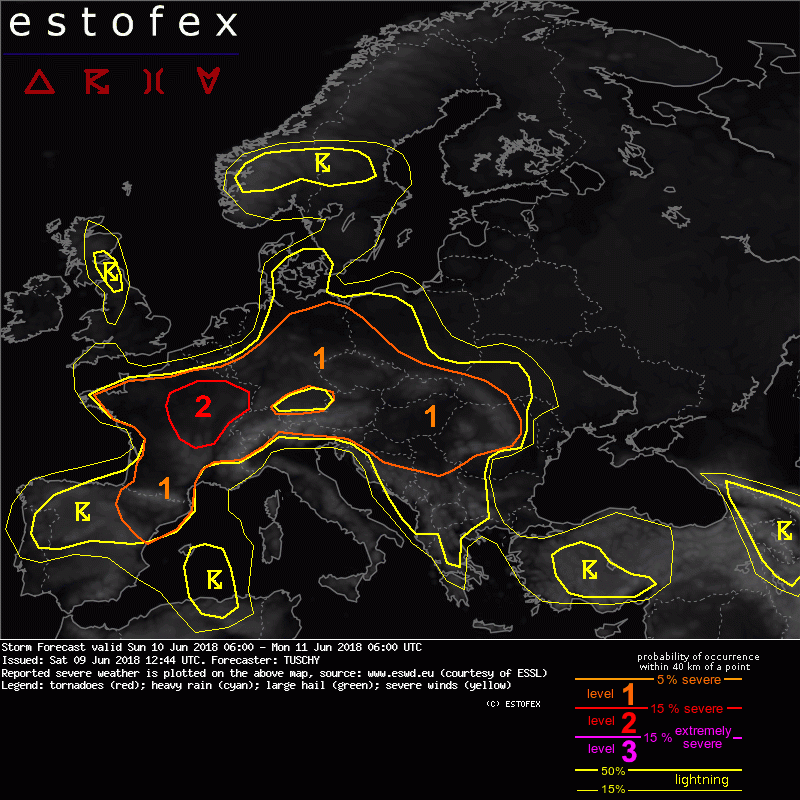 Storm Forecast
Valid: Sun 10 Jun 2018 06:00 to Mon 11 Jun 2018 06:00 UTC
Issued: Sat 09 Jun 2018 12:44
Forecaster: TUSCHY
A level 2 was issued across parts of CNTRL-France for large to isolated very large hail, severe wind gusts and excessive rain. An isolated tornado event is possible.

A level 1 was issued across NE-Spain to France to the Alps mainly for large hail, excessive rain and severe wind gusts.

A level 1 was issued for Germany to W-Romania mainly for excessive rain, severe wind gusts and large hail.

SYNOPSIS

An ongoing split flow regime continues over Europe. Aside from a deep trough over far E-Europe, numerous smaller amplitude troughs impact parts of S-/W-Europe as they rotate E/SE during the forecast. A mid-level wave over NW-Europe translates east during the forecast as it transforms into a zonally elongated mid-/upper low pressure channel over S-Norway. A broad upper trough over the Iberian Peninsula moves NE during the forecast but becomes reinforced by another mid-level impulse from the W. Finally a third upper trough over Greece migrates SE towards the Aegean Sea and far W-Turkey.
In-between all those vortices remains a broad upper ridge centered over the CNTRL-Mediterranean and -Europe. No substanial motion of the ridge axis is anticipated.

This pattern assists in an extensive area with rich BL moisture, covering all of the Mediterranean to W-/CNTRL-Germany to the Balkan States. The orography and embedded more or less pronounced convergence zones dictate the final magnitude of regionally augmented thunderstorm coverage.

A structuring vortex over NW-france may assist in a tightening temperature/moisture gradient from the Armorican Massif to the Vosges, resembling a consolidating warm front.


DISCUSSION

... France and NE-Spain ...

Placement beneath a divergent upper-level flow regime ahead of the approaching trough results in a prolonged period of synoptic-scale lift already during the start of the forecast period. Hence, temporarily weakening thunderstorm clusters from the previous night affect W-France before noon. Despite scattered thunderstorms and probably lots of cloud cover, ongoing moisture advection from the SE beneath meager mid-level lapse rates and temporal diabatic heating push SBCAPE to 800-1500 J/kg just ahead of the N/NE-ward moving cluster. Therefore the ongoing activity probably re-strengthen over N-CNTRL France beyond noon and numerous severe thunderstorms are forecast. 15 m/s DLS support organized convection with large to isolated very large hail and strong to isolated severe wind gusts. Lack of stronger 0-3 km flow lowers confidence in bow echo development somewhat, but nevertheless degree of CAPE may assist in swaths of cold pool driven severe wind gusts. Areas with highest confidence in more widespread severe were included into the level 2 area.
A structuring vortex over NW-France increases the risk for slow moving nighttime clusters with excessive rain the main risk. The final magnitude of that risk depends on how fast this vortex strengthens with ongoing large model spread (e.g. IFS showing a weaker solution).

Further E over E-CNTRL France, another day with active thunderstorm development along numerous convergence zones is forecast. More sunshine is expected which results in strong MLCAPE of 1000 - 1500 J/kg with higher values along any convergence zone. With mid-level low improving from the SW during the day, DLS increases to 15-20 m/s, resulting in rather straight but elongated hodographs. Early CI is forecast over E-CNTRL France with excessive rain and large hail the primary threat. Thereafter however, the risk of organized multicells and supercells increases to the S (W of Jura Mountains and N of the Massif Central) as more discrete storms (due to lack of forcing) evolve in an improving kinematic setup. Even a low-end tornado risk evolves during the evening with strengthening LL flow and LCLs of 800-1000m. Large to isolated vey large hail and swaths of strong to severe wind gusts are possible with forward propagating small clusters/bowing line segments. This area was also upgraded to a level 2.

Over NE-Spain 600-800 J/kg MLCAPE overlap with substantially stronger shear at all levels (25 m/s 0-6 km and 15-20 m/s 0-3 km shear). Repeated thunderstorm development occurs over the mountains due to the proximity of the upper trough and the divergent upper flow, so rapid clustering is forecast e.g. over the Pyrenees and S-France. Initiating storms bring large hail and strong to severe wind gusts before clustering and turning the main hazard to heavy rain. This activity continues well into the night over SW-France with an ongoing heavy rainfall threat.
The risk of organized multicells and a few supercells increases towards the coast of NE-Spain, where cap remains a bit stronger, assisting in more discrete thunderstorm activity. Any more discrete thunderstorm will bring large hail, severe wind gusts and heavy rain.

... Germany ...

No major changes compared to the previous days occurs with the thermondynamic setup over Germany as a moist BL air mass remains in place beneath meager mid-level lapse rates. This offers roughly 1000 J/kg MLCAPE. Hence once again, orographically driven CI is forecast next to initiation along convergence zones around noon. However, the grazing upper impulse over far N-Germany and leisurely strengthening mid-/upper level winds over W-Germany during the evening increase the propagation of thunderstorms a bit - especially over N-Germany. Therefore upscale growth into numerous clusters is expected which increases the risk of a few severe wind gusts on a regionally scale. Despite the forward motion, excessive rain remains a distinct hazard due to the high moisture content, still modest motion and merging of thunderstorms. Initiating storms also pose an isolated large hail risk. The activity diminishes during the night and exits Germany east towards W-Poland and parts of the Czech Republic. Decreasing CAPE lowers the severe risk.

... The Czech Republic, S-Poland to W-Romania ...

During the day, ridging and no substantial forcing confine scattered CI to the mountains before clustering and spreading erratically towards lowlands. MLCAPE increases from 400-600 J/kg over the W-Czech Republic to 1500-2000 J/kg over Hungary and W-Romania. Forecast soundings show fat mid-level CAPE profiles over Slovakia, Hungary and W-Romania but weak winds at all levels. Nevertheless, initiating storm should have robust updrafts with that amount of CAPE, capable of producing large hail. In addition to regionally inverted V-profiles, severe wind gusts on a local scale can't be ruled out either. Despite temporal upscale growth into slow moving clusters, the main thunderstorm activity should stay isolated in nature.
During the night, a weak mid-level impulse crosses the ridge axis while moving towards S-Poland during the night. In general mid-level heights decrease over the area of interest from NW with the passing impulse. This could support the development of a thunderstorm cluster over the E-Czech Republic during the afternoon and evening hours, which moves into the CAPE-rich environment over Hungary, Slovakia and W-Romania. A few severe wind gusts and large hail events are possible next to heavy rain.