Storm Forecast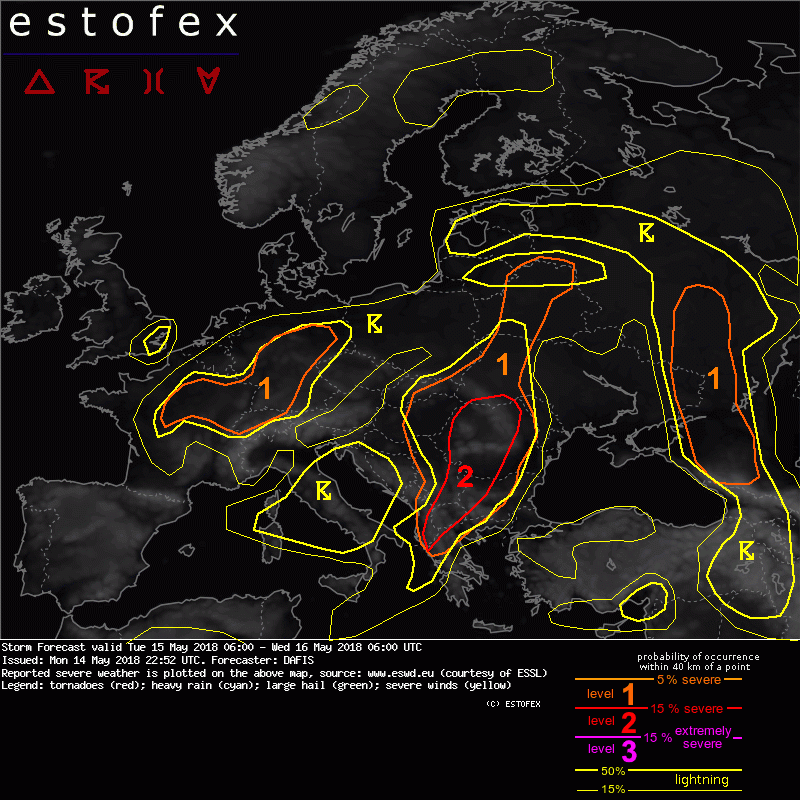 Storm Forecast
Valid: Tue 15 May 2018 06:00 to Wed 16 May 2018 06:00 UTC
Issued: Mon 14 May 2018 22:52
Forecaster: DAFIS
A level 2 was issued for the Balkans for excessive precipitation, large hail, severe wind gusts, and tornadoes.

A level 1 was issued for Belarus, Ukraine, Slovakia, Romania, Hungary, Serbia, E Croatia, Montenegro, Albania, FYROM, N Greece and Bulgaria for excessive precipitation, large hail, severe wind gusts, and tornadoes.

A level 1 was issued for France, Luxembourg, and Germany mainly for large hail and excessive precipitation.

A level 1 was issued for W-SW Russia mainly for large hail, excessive precipitation, and severe wind gusts (possible microbursts).


SYNOPSIS

Two major upper-level vortices can be seen in the current model analysis, one over W Mediterranean and the other over Ukraine. Strong synoptic lifting is expected in the Balkans Peninsula, as strong vorticity advection will take place in the afternoon of Tuesday, right after the maximum diurnal heating. Unstable air masses can be also found in Germany and France, where numerous storms will form, driven by diurnal heating. A short-wave trough will affect Belarus and the Baltic States and another weaker trough will further destabilize the unstable air masses east from the Black Sea.


DISCUSSION

.... Balkans ....

NWP models forecast the advection of warm and very moist air masses from the Ionian Sea onshore, as a cold front from S Italy will propagate fast NE. First, we expect thunderstorms to form due to diurnal heating, and these storms may not exhibit severe characteristics, but they reduce the CAPE, before the short-wave trough and the cold front trigger another round of storms. Depending on how much CAPE will be available, storms during the late afternoon could become extremely severe. A jet streak will create more than 25-30 m/s DLS and comparable 0-3km shear. Moreover, SREH0-3km may also reach extreme values, leading to a well-organized supercell traveling from Albania to Romania within a few hours. The main threat in Albania will be excessive precipitation but in FYROM, W Bulgaria, and S Romania all kinds of severe weather will be possible. GFS scenario with a jet streak also at low levels and veering winds increase the probability of tornadic events. The MCS should continue to move N-NE until the early morning of Wednesday, but with a limited threat level. A Level 1 was issued and surrounds level 2, for the same threats but with lower spatial confidence.

... France, Luxembourg, Germany ....

CAPE in the order of 1-1.5 kJ/kg will overlap with weak DLS, and storms will be driven mostly by diurnal heating. PBL is already rich with moisture and CI should begin even in the morning. Locally large hail up to 2-3cm cannot be ruled out. Larger hailstones are unlikely as no fat CAPE profiles are expected (low NCAPE). Excessive precipitation will also be a threat on Tuesday, due to slow-moving storms and saturated vertical profiles (high PWAT).

.... W-SW Russia ....

A stationary convergence zone (front) in W Russia and unstable air masses will once more lead to widespread thunderstorm activity. The wind field on the vertical axis will be weak, so storms should remain almost stationary, with limited chances to cluster. Forecast soundings show a high probability of microbursts, so severe wind gusts and excessive precipitation will be the major threats. Finally, locally steep lapse rates and more than 1 kJ/kg MLCAPE, according to the ECMWF, may produce large hail.