Storm Forecast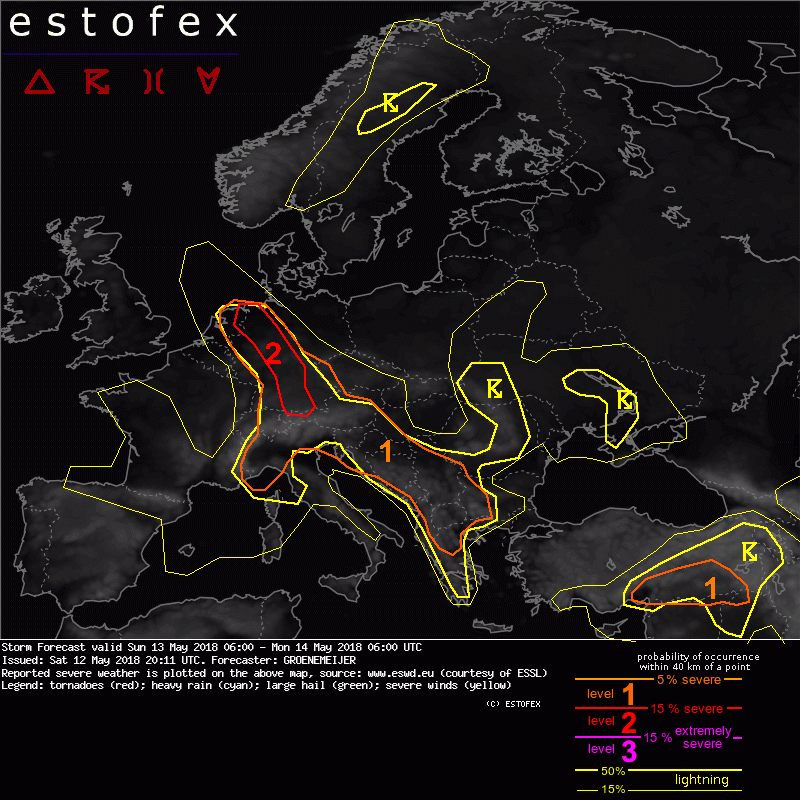 Storm Forecast
Valid: Sun 13 May 2018 06:00 to Mon 14 May 2018 06:00 UTC
Issued: Sat 12 May 2018 20:11
Forecaster: GROENEMEIJER
A level 2 was issued across parts of Germany and the Northeast Netherlands mainly for extreme rainfall, and to a lesser extent for large hail.

A level 1 was issued across large portions of Central Europe and the West Balkans for extreme rainfall and large hail.

A level 1 was issued across parts of Turkey, Syria and Iraq for isolated large hail.

SUMMARY

A mid-upper low over the Bay of Biscay cuts off from an elongated trough over the British Isles and moves toweards far Southeast France. Another low, over the Ukraine moves westward. A zone of relatively warm and quite humid air stretches from the North Sea across the Alps across the western Balkans.

DISCUSSION

Germany, NE Netherlands...

A zone of convergence will beomce established along the level 2 area with relatively weak flow parallel to the axis of convergence. Hodographs suggest the formation of training multicell systems. Given that ample humidity will be present, an important risk of flash floods will develop. Locally some severe hail (2-4 cm diameter) should be possible as well.

North Italy, Austria, Southeast Germany, West Czech Republic, Western and Central Balkans...

Fair low-level humidity and mediocre lapse rates are projected to lead to moderate instability in response to strong diurnal heating. A few isolated large (2-4 cm) hail and heavy rainfall events are likely to occur, even though the storms will probably be rather poorly organized due to limited vertical wind shear. A somewhat enhanced risk may exists along the southern Alps, where upslope flow will increase the risk for training storms somewhat.

Turkey, Syria, Iraq...

Weak to moderate instability and strong solar heating across the region might cause a few thunderstorms to produce marginally severe hail.