Storm Forecast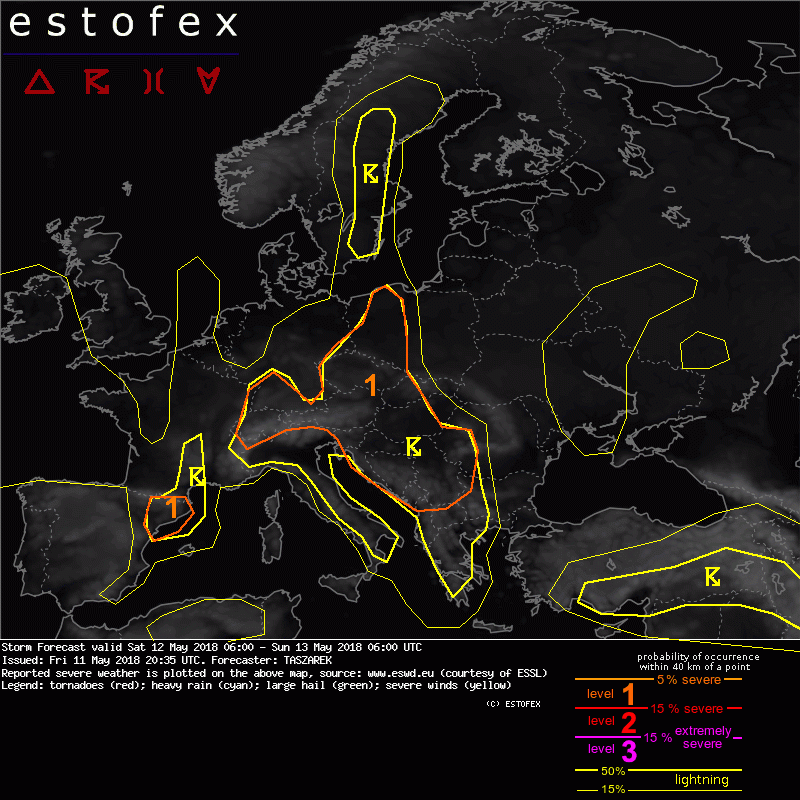 Storm Forecast
Valid: Sat 12 May 2018 06:00 to Sun 13 May 2018 06:00 UTC
Issued: Fri 11 May 2018 20:35
Forecaster: TASZAREK
A level 1 was issued for parts of CNTRL Europe and NW Balkan Peninsula mainly for the excessive precipitation and in lesser extent for the large hail and severe wind gusts.

A level 1 was issued for NE Spain mainly for the large hail, severe wind gusts and excessive precipitation.

SYNOPSIS and DISCUSSION

A broad high covers NE Europe. A cut-off travels eastward through eastern Ukraine. A long-wave stretching from Icelandic Low travels eastward with a peak of the wave moving through NE Spain and W France. In the end of the forecast validity period a cut-off disconnects from the long-wave. Such configuration over Europe promotes advection of a warm, moist and unstable air mass into CNTRL Europe. Within the support of a strong diurnal heating, evapotranspiration and moisture convergence zones, thunderstorms will be developing in the afternoon hours. Thanks to the enhanced PW (25-30mm), weak storm motion, training modes and persistent CI within converging zones, the main threat should be associated with heavy rain and local flash flooding events. This concerns especially W Poland. Locally enhanced delta theta-e values may also support downbursts responsible for severe wind gusts. Due to weak airflow and weak vertical wind shear in the consequence, a threat for supercells capable of producing large hail will be limited. Hail will occur but mostly small. Lapse rates in mid troposphere will also limit large hail potential. Nevertheless, moderate instability and wind field locally interacting with orography cannot rule out a local supercell with a large hail potential. More vertical wind shear and helicity will be available within approaching long wave and overlap with rather low instability over NE Spain. DMC is expected to develop in the afternoon hours along convergence zone within sea breeze. The main threat will be supercells with large hail, especially given enhanced lapse rates. Excessive precipitation and severe wind gusts are also possible within multicell clusters and superimposing stratiform precipitation. Small chances for severe thunderstorms involve also cut-off over Ukraine. Enhanced airflow and helicity may support linear system and severe convective wind gusts. However, given questionable instability and CI among models, only 15% lightning threat is issued for this area. Majority of thunderstorms on Saturday will develop in the afternoon hours and should fade in the late afternoon along with drop in instability. Lightning activity during nighttime is expected to be maintained by strongly forced convection over NE Spain (moving offshore) and S Germany.