Storm Forecast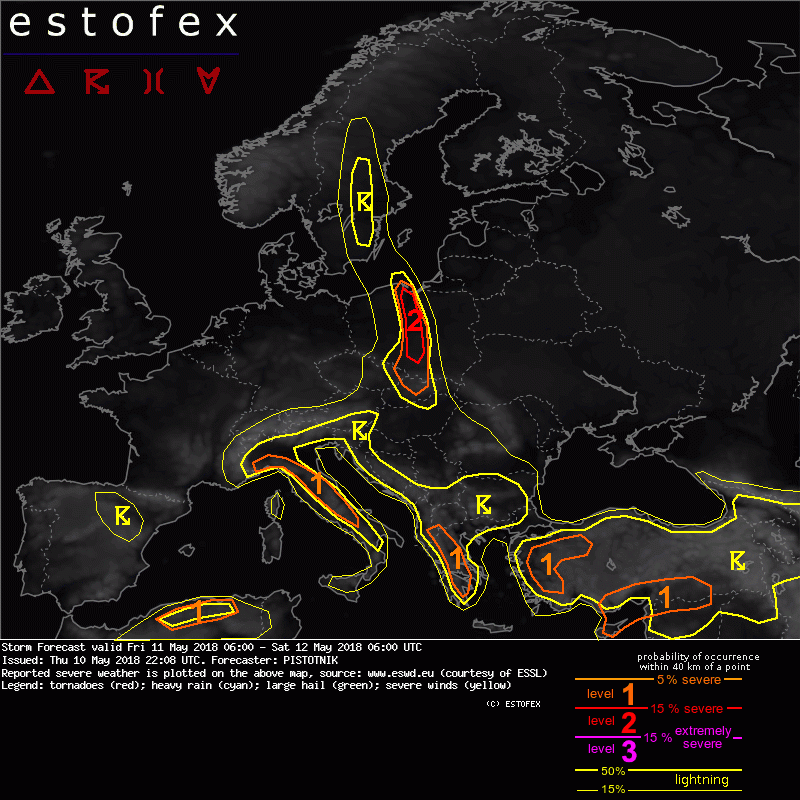 Storm Forecast
Valid: Fri 11 May 2018 06:00 to Sat 12 May 2018 06:00 UTC
Issued: Thu 10 May 2018 22:08
Forecaster: PISTOTNIK
A level 2 area is issued for central Poland and level 1 areas for parts of Italy, Albania, Greece, and NW Turkey mainly for excessive convective precipitation and to a lesser extent for large hail.

Level 1 areas are issued for S Turkey, NW Syria, Cyprus and N Algeria mainly for large hail and to a lesse extent for severe convective wind gusts and excessive convective precipitation.

SYNOPSIS

Weak pressure gradients prevail across most of Europe, especially near the surface. At 500 hPa, a cold drop enters the Ukraine from the NE and several smaller cold drops are present over the W Black Sea, Bulgaria and between Turkey and Cyprus. In contrast, a mid-level ridge stretches from Italy to Finland. Very warm, moist and unstable air is present across much of the Mediterranean region, and a tongue of it is advected far northward into Sweden at the western flank of the ridge.
Conditions gradually turn cooler over western Europe, where maritime air gains land and a pronounced mid-level trough makes a slow progress towards the continent.

DISCUSSION

... S Sweden, Poland across E-central Europe and the Balkans into Italy, Greece and NW Turkey ...

After being worked over by several days of widespread convection, the warm air mass exhibits rather poor lapse rates (barely exceeding 7 K/km anywhere) but rich low-level moisture. Similar to Thursday, CAPE in the 500-1000 J/kg range is expected to build during daytime, locally more in case of moisture pooling near convergence zones or outflow boundaries. Vertical wind shear is weak. Widespread diurnally driven storms under such conditions pose a risk of flash floods. In addition, marginally large hail may occur in initiating stages.
Level 1 areas are issued for the regions where the highest storm coverage is expected. A narrow belt in central Poland is upgraded to a level 2: Storms will fire up along a sharp convergence zone there, which is stationary and parallel to the southerly mid-level flow. Flash floods may become quite numerous and serious in this belt!

... S Turkey, Cyprus, Syria, as well as N Algeria ...

An elevated mixed layer from the Anatolian highlands spreads east- to southeastward into Syria. Mid-level lapse rates steepen as well over Cyprus under the influence of lift ahead of one of the mentioned cold drops. Robust CAPE is expected to build, probably up to 1000 J/kg over land and even more over sea waters, where it will be strongly capped, though.
Vertical wind shear is moderate at best (10 m/s across the lowest 3 km), but enough to foster hail formation in conjunction with these steep lapse rates. If convection manages to break the cap along the sea breeze front over S Turkey, in vicinity of the dryline near the Turkish/Syrian border or over the mountains of Cyprus, localized large hail is quite likely. Severe downbursts and heavy rain are not ruled out in the unlikely case that larger and more long-lived storm clusters form.

A similar setup is present over parts of the N Atlas mountains in Algeria.