Storm Forecast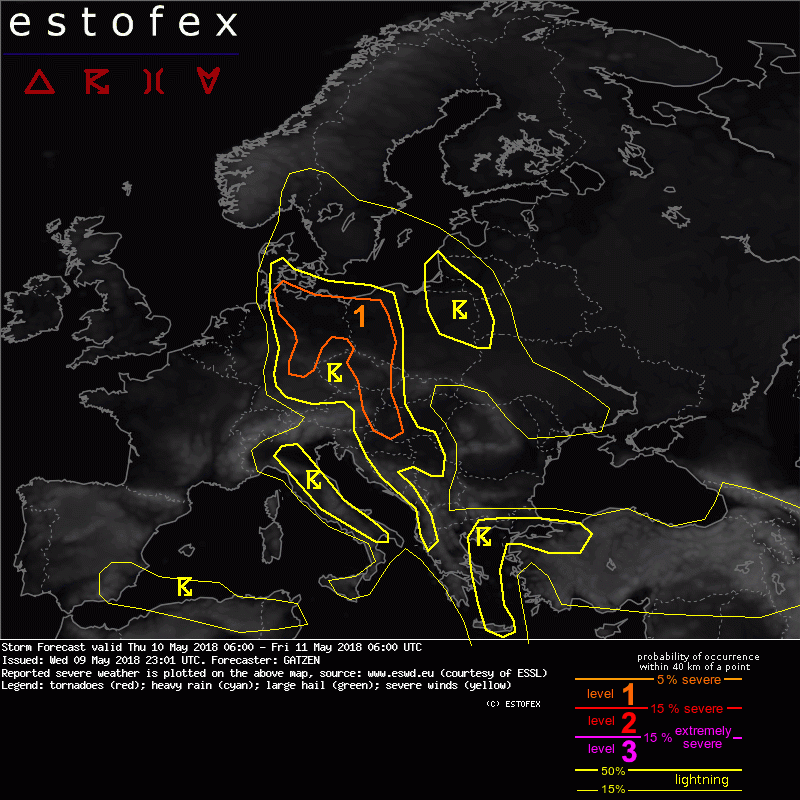 Storm Forecast
Valid: Thu 10 May 2018 06:00 to Fri 11 May 2018 06:00 UTC
Issued: Wed 09 May 2018 23:01
Forecaster: GATZEN
A level 1 was issued across central and eastern Germany into western Poland, Czech Republic, Austria, and Hungary mainly for large hail, excessive precipitation, and severe wind gusts.

SYNOPSIS

A trough is present across western Europe. To the north-east, a blocking high extends to Russia and eastern Scandinavia. Between these two pressure systems, warm air dominates from the Balkans to Central Europe and is advected into Scandinavia. Another trough is located across south-eastern Europe.

DISCUSSION

Central and eastern Germany into western Poland, Czech Republic, and Austria

A mid-level vortex initially across southern Germany will expand northward and slowly moves east on Thursday. At lower levels, a south-easterly flow is present to the east of a cold front over central Germany. A surface trough develops from Scandinavia to the Balkans during the day.

Latest soundings indicate that steep low-level lapse rates are present from Croatia and Austria to southern Poland. These lapse rates advect east into Germany where they overlap with a zone of relatively rich low-level moisture, resulting in CAPE around 1500 J/kg.

Storms are expected to initiate early in the day over south-western Europe. From noon to the afternoon scattered thunderstorms are expected. Locally, large hail and severe wind gusts are expected as storm organization will be low due to the weak vertical wind shear. However, better shear evolves close to the cold front, where about 15 m/s deep layer vertical wind shear will support multicells. Clusters of storms are forecast, with a slightly enhanced risk of severe wind gusts and excessive precipitation.