Storm Forecast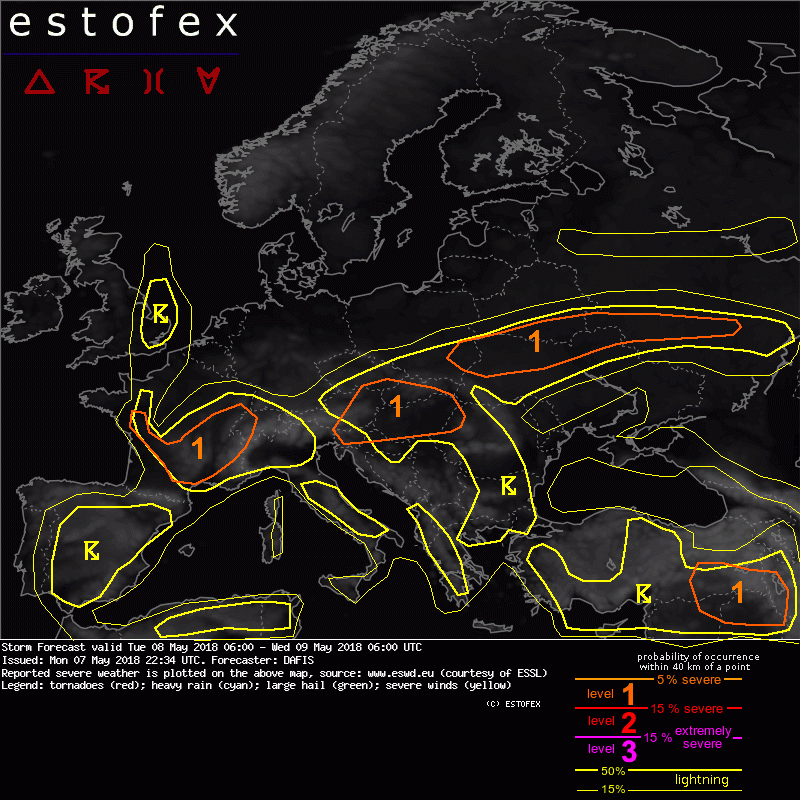 Storm Forecast
Valid: Tue 08 May 2018 06:00 to Wed 09 May 2018 06:00 UTC
Issued: Mon 07 May 2018 22:34
Forecaster: DAFIS
A level 1 was issued for France mainly for excessive rainfall and large hail or large amounts of small hail.

A level 1 was issued for parts of N Italy, Austria, Czech Republic, Slovenia, Croatia, Hungary and W Romania mainly for large amounts of small hail and/or large hail, severe wind gusts, and excessive rainfall.

A level 1 was issued for SE Poland, Belarus, Ukraine, and W Russia mainly for excessive precipitation, large hail, and severe wind gusts.

A level 1 was issued for SE Turkey, Syria and Iraq mainly for severe wind gusts.

SYNOPSIS

Several cold pools are found over the European domain, mainly in central and south-eastern parts of the continent. Two vorticity maxima in Central Europe during Tuesday will trigger widespread convection, along with diurnal heating. Another vorticity max is found over Cyprus where there ongoing convective activity, gradually moving east. A family of lows in N Atlantic travels below a trough which will cross Ireland and the UK, resulting in convective phenomena in SE England with 1-2 severe wind gusts, not verifying the level 1 criteria. Steep lapse rates and moist PBL in Central and West Mediterranean will lead to many thunderstorms on Tuesday and Wednesday.

DISCUSSION

.... France ....

A cold bubble with substantial vorticity is moving towards France on Tuesday from the east, where steep lapse rates and very moist PBL guarantee widespread CI. NWP models forecast about 1.5 kJ/kg MLCAPE but weak DLS. Thunderstorms will struggle to organize into MCSs but we mostly expect single cells, able to produce severe weather events, mostly excessive precipitation.

.... Central Europe ....

A more organized upper-level low is found over Central Europe, where 15-20 m/s DLS will overlap with 1-1.5 kJ/kg. Storms will be able to cluster and one long-living MCS may form, producing excessive precipitation. The main threat will be large amounts of small hail but big hail may also form (2-3cm). High delta-theta-e values also increase the probability for severe wind gusts. Thunderstorm activity should continue during the night of Tuesday.

.... East Europe ....

A stationary front is found in the area where the Scandinavian anticyclone meets the low-pressure system in the Middle East. Very moist and warm PBL below steep lapse rates will create a favorable environment for widespread thunderstorm activity. High CAPE but weak wind shear makes it difficult to define the main threats, but slowly moving storms will be able to cause flash floods. High PW and dry mid-levels also suggest that hail may form, especially more to the west of level 1 area.

.... Middle East ....

A cold pool over the East Mediterranean creates steep lapse rates and the jet-stream increases the DLS to very high values (up to 30 m/s). Even though CI is questionable due to dry low-levels and dry mid-levels (according to GFS), every storm that will form into this environment will be able to produce severe to damaging wind gusts. We have not used a level-2 area due to the low confidence of widespread CI.