Storm Forecast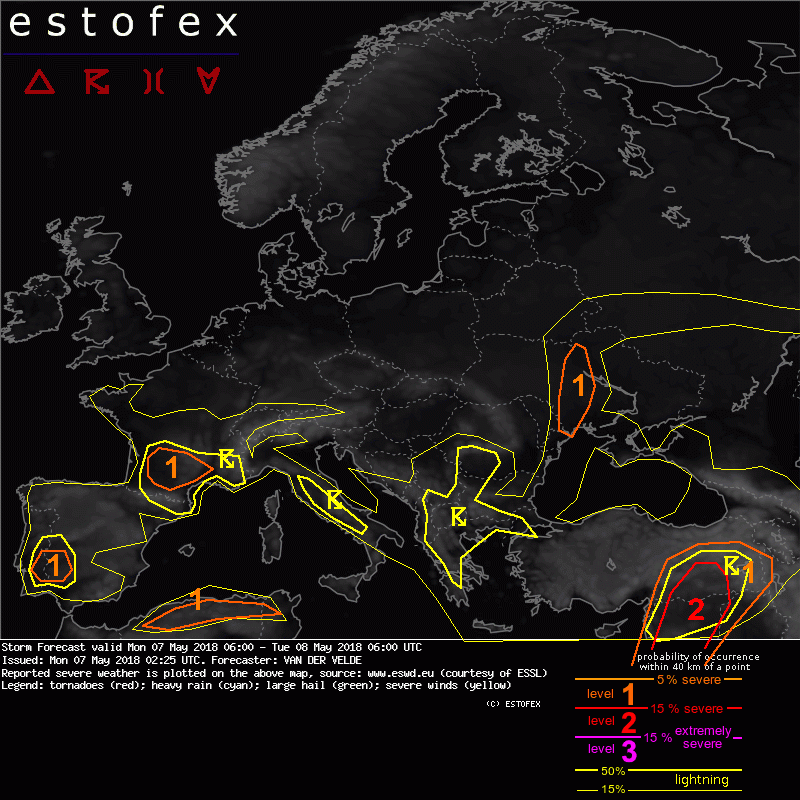 Storm Forecast
Valid: Mon 07 May 2018 06:00 to Tue 08 May 2018 06:00 UTC
Issued: Mon 07 May 2018 02:25
Forecaster: VAN DER VELDE
A level 2 was issued across N Israel, Lebanon, Syria and SE Turkey mainly for severe convective wind gusts, large hail and tornadoes.

A level 1 was issued across SW France mainly for large hail and heavy rainfall.

A level 1 was issued for SW Iberian Peninsula mainly for large hail.

A level 1 was issued for N Algeria mainly for large hail and wind gusts.

A level 1 was issued for central Ukraine and E Moldova mainly for large hail and tornado chances.

SYNOPSIS

High pressure centered over southern Scandinavia and central/western Europe separates strong western flow over Scandinavia from remnants of low pressure over southern Europe with convective weather conditions. Easterly upper flow carries a cold pool over western Ukraine, a weaker one over the Alps/France, where a mid level cold front should stimulate enhanced convective development over S/SW France.
The most significant system is a low over the eastern Mediterranean Sea with a strong jet stream aloft over the Middle East, where a cold front should trigger strong convective developments.

DISCUSSION

...Middle East...

GFS indicates over 30 m/s DLS and 300 m2/s2 0-3 km SREH supporting supercell development. The cold front as a linear trigger likely will force a linear MCS with severe wind gusts and sand storms as main threat. The embedded or isolated supercells likely produce large hail, gusts and tornadoes are possible thanks to strong 0-1 km shear as well.


...S and SW France...

Vertical wind shear is borderline moderate at 10 m/s 0-6 km. If more than 1000 J/kg MLCAPE indeed forms - which is questionable since model soundings need 13-14 g/kg BL mixing ratios, where 10-11 g/kg have been observed so far - the chances of large hail may in that case be enough to warrant a level 1. The concentration of storms is likely enhanced thanks to the mid level cold front pushing westwards, although the theta-e seems more associated with very dry air in the mid levels than a temperature decrease.

...SW Iberia..

15 m/s DLS but weak triggering, an isolated supercell may form and produce large hail, also helped by 2000 m high LCL.

...N Algeria...

A narrow zone where convective initiation is possible under strong SREH can allow supercells with chances of large hail and severe gusts.

...Ukraine/Moldova...

A westward moving warm front appears under the influence of upper winds around the cold upper low to the west, with enhanced DLS (10-15 m/s, 15-20 m/s 1-8 km) and LLS (10 m/s). Slight chances of large hail and tornadoes exists if a supercell would form.