Storm Forecast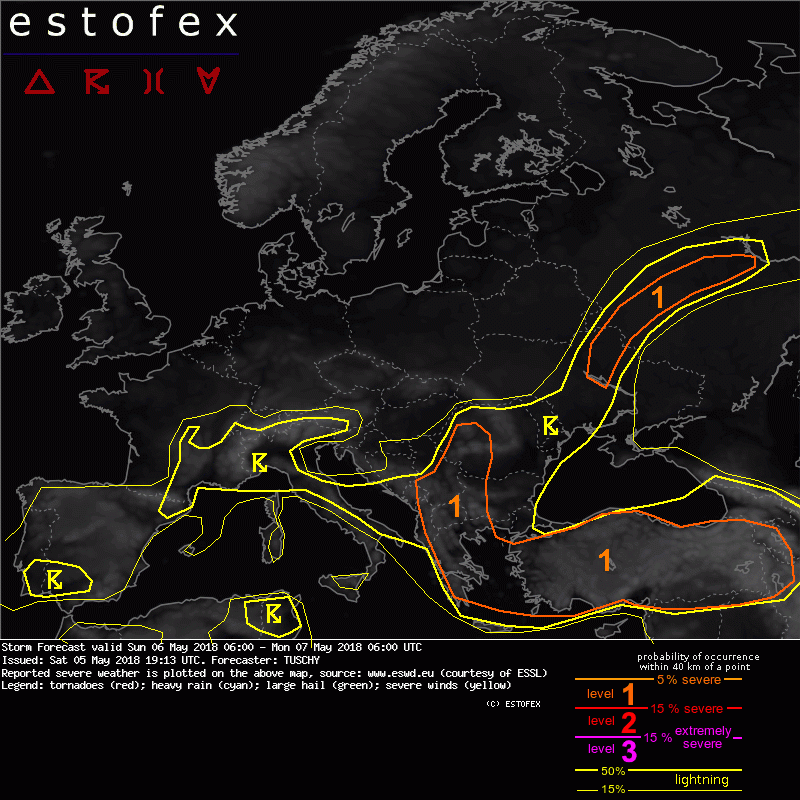 Storm Forecast
Valid: Sun 06 May 2018 06:00 to Mon 07 May 2018 06:00 UTC
Issued: Sat 05 May 2018 19:13
Forecaster: TUSCHY
A level 1 was issued across most of the Balkan States mainly for excessive rain and isolated large hail / severe wind gusts.

A level 1 was issued for Turkey mainly for excessive rain, large hail and severe wind gusts.

A level 1 was issued for parts of the Ukraine and Russia mainly for large hail, severe wind gusts, excessive rain and a low-end tornado risk.

SYNOPSIS

A progressive pattern remains established over far NW-Europe as another significant trough skirts Scotland and lifts towards the Norwegian Sea during the night. Ongoing deep WAA bolsters a ridge over W-/CNTRL-Europe with its center building east towards N-Germany during this forecast.
Apart from those features, upper geopotential height field becomes rather messy as a major vertically stacked vortex just north of NE-Algeria/N-Tunisia opens out and stretches to the E and W. Global models converged with the handling of numerous smaller-scale vortices and showed one part to drift east, becoming absorbed by a structuring cyclonic vortex over SE-Europe. The other part sheers west as a consequence of the now dominating ridge and its anticyclonic flow regime to the north. Hence most of S-Europe experiences some sort of impact of those upper-level disturbances.
Finally an upper-level cold-core low moves from Belarus south towards W-Ukraine with its intensity remaining more or less steady state.

Aside from a quasi-stationary frontal boundary, which stretches from CNTRL-Ukraine into W-Russia, no synoptic-scale fronts will play a role in today's thunderstorm forecast. Instead, the mesoscale dictates where and when CI occurs.


DISCUSSION

... The Iberian Peninsula ...

Forcing arrives manifold as an inverted trough crosses Spain during the daytime hours from NE to SW, a weakening upper vortex deforms into an E-W aligned channel of low geopotential heights while impacting E-Spain and finally as another upper low approaches the Iberian Peninsula from the subtropical regions. All those forcing mechanisms are weak in nature, but add enough synoptic-scale lift to push the lower/mid-troposphere closer to CI.
Otherwise BL moisture it a tad higher with prevailing and strengthening easterly low tropospheric flow and mid-level lapse rates a tad steeper with cooling mid-levels compared to yesterday. This pushes all mountain areas over the Iberian Peninsula into the focus for scattered to isolated CI (as first storms already fired yesterday in a more hostile environment). Weak DLS (10 m/s or less) with skinny CAPE profiles (400-600 J/kg SBCAPE) result in pulsating convection with marginal hail and gusty winds - the latter risk may approach severe limits on a spotty occasion with deep/well mixed and dry subcloud layers.
Smaller storm clusters may form over SW-Spain and S-Portugal with most supportive ingredients and an isolated large hail event can't be exluded next to strong wind gusts and heavy rain.


... S-France, S-Switzerland/Austria and Italy ...

Most of the day, residual outflow boundaries from the previous night and the local orography result in CI. Yesterday's 12Z soundings captured the environment well, favorable for pulsating and slow moving convection. This environment persist today with DLS of 10 m/s and moderate BL moisture (improving especially over France) but meager mid-level lapse rates. Therefore only 200-600 J/kg capped MLCAPE are forecast over W-France, 400-800 J/kg MLCAPE over S-France and about 1000 J/kg MLCAPE over NW-Italy (as an Alpine EML overspreads the moist BL). Expect the majority of the convection to start early over the mountains with erratic storm motions (generally trending to the W) beside isolated CI along residual outflow boundaries. Slow storm motion poses a risk of heavy to locally excessive rain and large amounts of small hail. We excluded W-France (highlighted in GFS) as most models keep this area free of convection as mid-levels warm a bit during the afternoon/evening. This activity vanishes after sunset over most of Italy and France exluding S-France, where isolated convection continues in a weakly capped and slightly unstable environment. Lowland thunderstorm activity may occur late in the afternoon or evening hours when mountain convection moves off the orographically favored areas.

N-Italy also experiences an increase in DMC activity during the evening and night with the approach of a short-wave, crossing Austria during the day and impacting far N-Italy until 06Z. Hence mountain convection over S-Austria probably grows upscale into a cluster with enhanced lift and drifts SW towards NW-Italy. Heavy rain and isolated large hail remains the main hazard.

... Balkan States ...

A similar setup compared to the previous days is forecast. Active convection of the previous days may result in convective overturning and some damping of the mid-level lapse rates. Good BL moisture beneath modest mid-level lapse rates is adequate for 500-1000 J/kg SBCAPE with peak values over far W-Romania. CI occurs with re-strengthening convection of the previous night, residual outflow boundaries and the orography. Widespread CI is forecast and DLS of 10 m/s or less once again favors slow moving and clustering convection. Heavy to isolated excessive rain, strong wind gusts and isolated large hail are forecast. The more robust CAPE prompted us to issue a broad level 1.

A structuring cyclonic vortex over SE-Europe may push DLS and 0-3 km shear in the 15 m/s range, enough for more organized convection and a large cluster is forecast to cross Greece towards the S. Limited CAPE precludes a more organized severe event with heavy rain the main hazard.

... Turkey ...

Beneath a gradually consolidating upper low, widespread CI is anticipated. Less than 10 m/s DLS but 400-800 J/kg MLCAPE support slow moving thunderstorms, which grow upscale into numerous clusters. Initiating storms bring large hail and localized severe downburst gusts but the main hazard then shifts to excessive rain beneath slow moving clusters. Complex orography may support temporal training with potential flash flood problems. Main limiting factor for upgrading W/NW-Turkey is early CI of showers/thunderstorms before noon and hence limited diabatic heating and low chances for discrete activity.
A significant increase in DLS over SE-Turkey may add a supercell risk to this area, but warmer low/mid-levels insert enough capping to prevent storms from firing until the later afternoon hours. Then, diabatic heating and approaching forcing from the SW probably result in scattered CI. Large hail and severe wind gusts will be the main hazard.

... CNTRL-Ukraine to SW-Russia ...

The synoptic-scale front is the focus for highest BL moisture content beneath steep mid-level lapse rates. DLS oscillates around 10 m/s but may exceed 15 m/s over far SW-Russia. Hence organized multicells with a heavy rain, isolated large hail and severe wind gust risk will be the main hazard with scattered thunderstorms. We don't want to exclude an isolated tornado event along the front with augmented LL shear. This activity weakens during the night.