Storm Forecast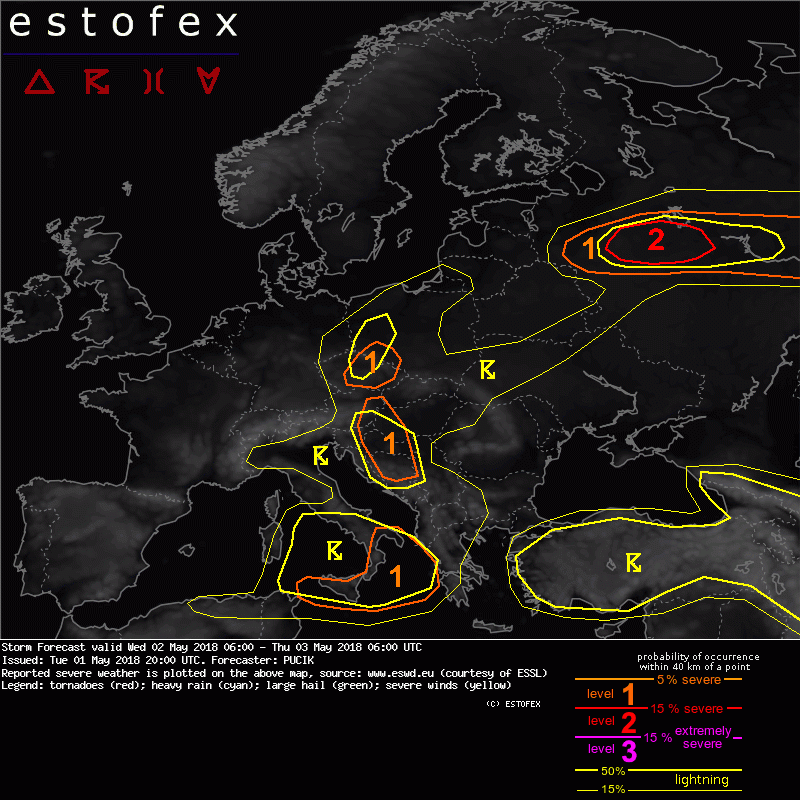 Storm Forecast
Valid: Wed 02 May 2018 06:00 to Thu 03 May 2018 06:00 UTC
Issued: Tue 01 May 2018 20:00
Forecaster: PUCIK
A level 2 was issued across W Russia mainly for large hail, severe wind gusts and to the lesser extent for tornadoes.

A level 1 was issued across Russia mainly for large hail and severe wind gusts.

A level 1 was issued across N-Central Czech Republic and S Poland mainly for large hail and severe wind gusts.

A level 1 was issued acroos E Austria, Slovenia, W Hungary, parts of Croatia, Bosnia mainly for large hail and severe wind gusts.

A level 1 was issued across Sicily and S Italy mainly for excessive precipitation, severe wind gusts and tornadoes.


SYNOPSIS

At 12 UTC, Wednesday, a deep trough will stretch across France into the W Mediterranean with a rapidly moving short-wave trough at its base that is forecast to eject from N Africa and translate towards Sicily and S Italy. At the same time, a broad area of WAA advection, from Balkans all the way towards N Poland and Ukraine is forecast. West of here, a wavy cold front will slowly move E-wards during the forecast period. Another frontal system will pass W Russia with attendant short-wave trough crossing Finland.


... Russia ...

NWP is in good agreement regarding the positioning of the frontal system and in favourable overlap of abundant lower tropospheric moisture and moderately steep lapse rates. Given the strong flow at mid to upper troposphere, a favourable combination of CAPE (around 1000 J/kg) - DLS (around 20 m/s) is forecast for severe and well organized convection. Linear hodographs will favour splitting supercells and line segments initiating along the cold front. Large hail and severe wind gusts will accompany the stronger cells. Tornadoes will be possible in the northern part of the Lvl 2 given low LCLs and LLS around 10 m/s. A complicating factor may be the remnants of overnight convection and lingering cloudiness that could limit the overall potential.

... Balkans into Poland ...

A rather questionable setup will evolve over the region under a WAA regime. Abundant high cloud cover and lack of initiating mechanisms may seriously limit the coverage of convection. Otherwise, over the whole area, a potential will exists for isolated severe storms capable of severe wind gusts and/or large hail. Lvl 1 was issued for Central Czech Republic into S Poland, where NWP is consistent in simulating a convergence zone. Futheremore, DLS will favour better organized storms than over the rest of the area. Another Lvl 1 is issued for a belt from Bosnia into E Austria, where NWP consistently shows signals for initiation. While other areas remain only under 15% prob lightning line, trends should be monitored for increased chances of both thunderstorms and accompanying severe weather.

... Sicily and Southern Italy ...

A synoptically strongly forced setup is forecast. Under the zone of synoptic-scale lift from the approaching short-wave, a band of thunderstorms will develop in a tongue of moister airmass ahead of the cold front. Forecast hodographs reveal very strong lower tropospheric flow, suggesting a potential for tornadoes, particularly if supercells manage to develop. So far, the most likely convective mode seems to be a quasi-linear convective system paralleling the prevailing flow. This may somehow decrease the tornado risk, but enhance the risk of excessive precipitation and/or of severe wind gusts.