Storm Forecast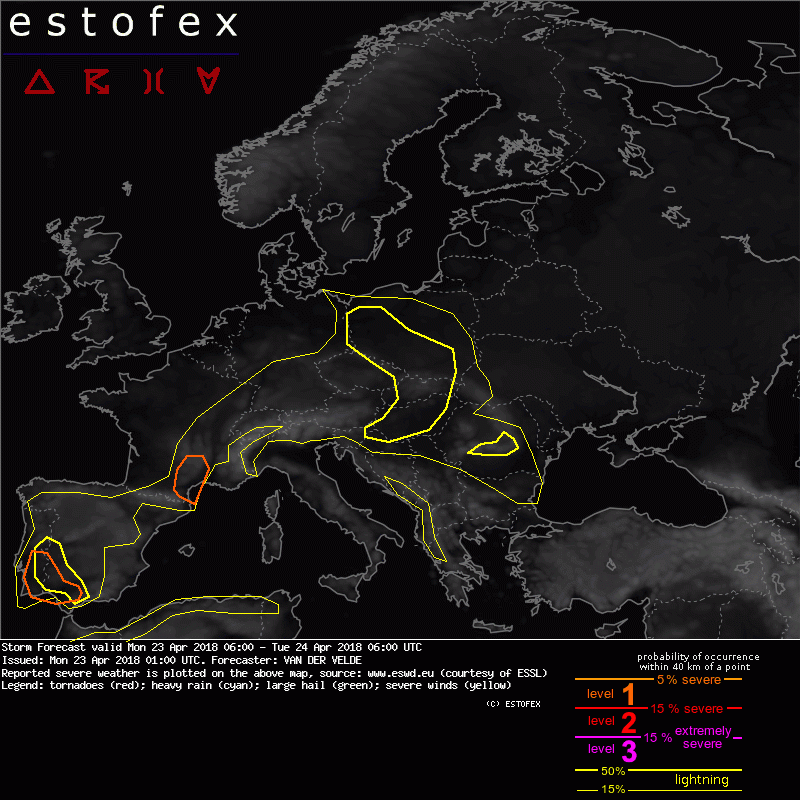 Storm Forecast
Valid: Mon 23 Apr 2018 06:00 to Tue 24 Apr 2018 06:00 UTC
Issued: Mon 23 Apr 2018 01:00
Forecaster: VAN DER VELDE
A level 1 was issued across SW Iberian Peninsula mainly for large hail.

A level 1 was issued across S France mainly for large hail.

SYNOPSIS

A cold front belonging to a low pressure system over the Norwegian Sea replaces warm central European airmass by cool maritime polar air. From France to Poland thunderstorms will likely develop, but wind shear and CAPE are generally too weak for severe phenomena, except around Austria-Hungary-Slovakia where 1000 J/kg MLCAPE can be reached. While linear convective systems can develop in particular between Hungary and Poland, storm motion is not fast enough for organized wind gust threats nor slow enough for excessive precipitation threats, although an event cannot be excluded. Some 15 m/s DLS and 8 m/s LLS will arrive over Poland but behind the convergence line at the surface and out of phase with the larger CAPE.
An upper cut-off low off the Morocco coast creates an unstable region over Spain and Portugal with northeasterly low-level flow and significant vertical shear.

DISCUSSION

...SW Iberian Peninsula...

Over 1000 J/kg MLCAPE predicted. Spots with SREH approaching 300 m2/s2 and broader region of marginal 10-15 m/s 0-6 km shear suggest potential for an isolated supercell, largest potential is for large hail given strong buoyancy in upper levels and LCL around 1500 m. Isolated tornado could not be excluded with some 10 m/s LLS patches.

...S France...

Between the eastern Pyrenees and Massif Central a band with stronger deep layer shear (15 m/s 0-6 km, 22 m/s 1-8 km) crosses a zone with slight CAPE. It appears also (GFS) that a small shortwave trough passes the area. Supercell mode is possible and can be accompanied by isolated large hail.