Storm Forecast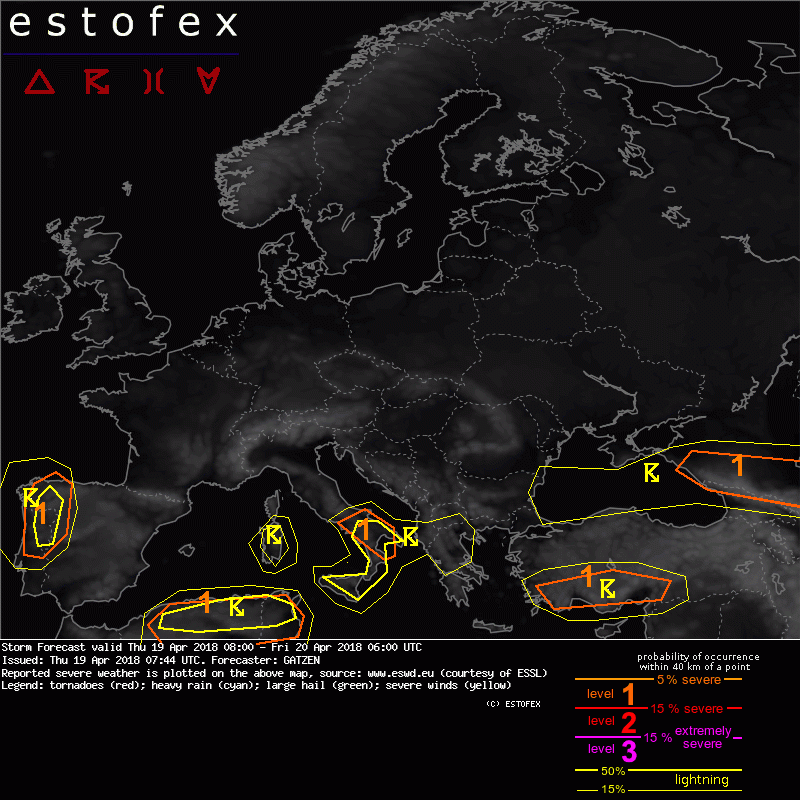 Storm Forecast
Valid: Thu 19 Apr 2018 08:00 to Fri 20 Apr 2018 06:00 UTC
Issued: Thu 19 Apr 2018 07:44
Forecaster: GATZEN
A level 1 was issued for northern Tunisia, northern Algeria, southern Italy, south-western Turkey, parts of the Pyrenees, and north-western Spain and northern Portugal mainly for large hail and to a lesser extent excessive precipitation and severe wind gusts.

SYNOPSIS

High-over-low blocking affects Europe with a relatively weak mid-level trough over northern Tunisia / Algeria. Upstream, a sharp amplified trough cuts off west of the Iberian Peninsula. Across eastern Europe, a polar trough amplifies rapidly and spreads into the Black Sea region at the end of the period.

DISCUSSION

Black Sea region

Increasing lapse rates will partly overlap with a moisture band along the cold front what could result in local thunderstorms embedded in a narrow cold-frontal rain band in a highly-sheared environment. However, the set-up is marginal with very weak CAPE, weak low-level convergence, and also limited low-level vertical wind shear over the Black Sea. Main threat is severe wind gusts along the narrow cold-frontal rain band. Best potential exists to the east of the Black Sea with higher CAPE over southern Russia.

Northern Algeria and Tunisia, Sardinia, Sicily, southern Italy, northern Greece area

From northern Algeria and Tunisia to the central Mediterranean and farther to northern Greece, cold mid levels are present along the axis of low geopotential. Weak CAPE can form over regions with strong diurnal heating due to modest low-level moisture. Thunderstorms are expected in the course of the day, especially due to lift along sea-breeze convergences and mountain-valley circulations. Weak flow is present and storms will be weakly organized and slow moving. Main threat is excessive precipitation over complex terrain across northern Algeria and Tunisia, Sardinia, Sicily, southern Italy, and northern Greece. Storms will rapidly decay in the evening.

Central Italy

A marginal set-up for organized storms is indicated across central Italy. Weak CAPE will form during the day. Although initiation is somewhat questionable due to latest models, showers and thunderstorms may form over the mountains in the afternoon. Given about 20 m/s deep layer vertical wind shear due to stronger easterly mid-level flow, multicells could form, with a slightly enhanced risk of large hail and severe wind gusts. Limiting factor is marginal CAPE that is weaker compared to the area farther south.

Southern Turkey

Further storms are forecast over south-western Turkey. These are partly affected by a mid-level jet stream that expands north-east in the afternoon. QG lift at the cyclonically sheared exit of the jet will result in steepening lapse rates. Therefore, CAPE will increase to about 1000 J/kg. Additionally, deep layer vertical wind shear is forecast to become more favourable for storm organization in the afternoon and evening, when 0-6 km vertical wind shear is close to 20 m/s. Locally large hail and excessive precipitation is possible. Additionally, a severe wind gust is not ruled out. During the evening and night, storms are expected to spread east along southern Turkey.

Pyrenees and north-western Spain and northern Portugal

A few isolated storms are not ruled out over the Pyrenees, north-western Spain, and northern Portugal today. Low-level moisture is modest at the south-western flank of the European high and ahead of a frontal boundary approaching over the Atlantic. This moisture will overlap with diurnally driven steep lapse rates. Storms will especially form over lower mountains with strong diurnal heating and associated mountain-valley circulations as well as along sea-breeze convergence lines that move inland. Although coverage of storms is limited given marginal QG lift indicated by slowly decreasing mid-level heights. However, vertical wind shear in the range of 15 m/s will support storm organization. Multicells are not rules out, with a weak risk of large hail. Storms over western Iberia may spread off-shore and go on in the evening and night due to low-level warm air advection above the stable maritime boundary layer.