Storm Forecast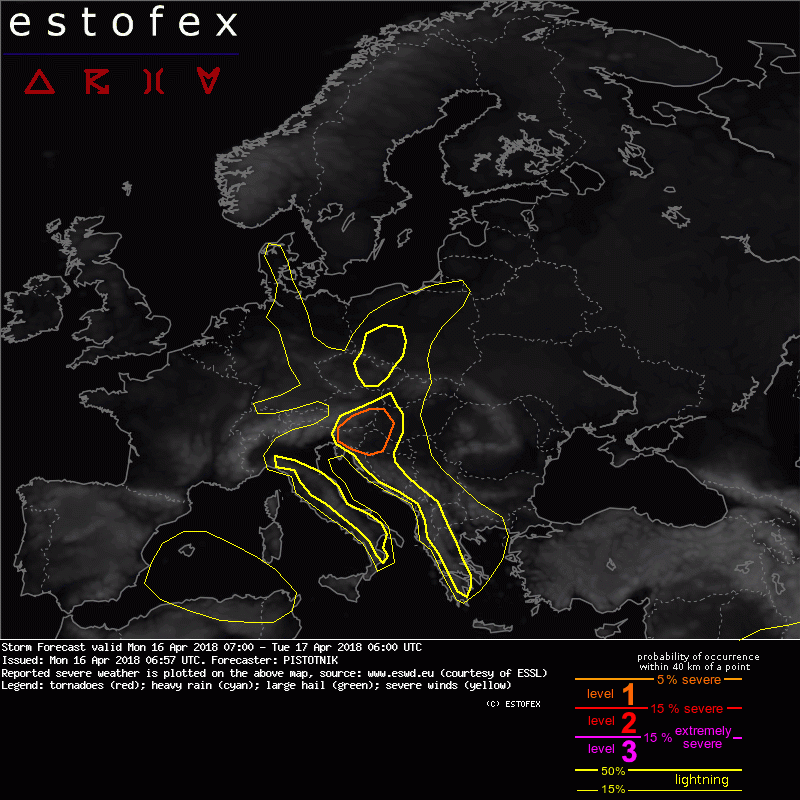 Storm Forecast
Valid: Mon 16 Apr 2018 07:00 to Tue 17 Apr 2018 06:00 UTC
Issued: Mon 16 Apr 2018 06:57
Forecaster: PISTOTNIK
A level 1 is issued for parts of Slovenia, Austria, Hungary and Croatia mainly for large hail and excessive convective precipitation.

SYNOPSIS

A mid-level trough leisurely moves eastward across central Europe. It splits into two separate tips that move from Italy to Greece and from Spain to NE Algeria, respectively. Further downstream, a broad (though weakening) mid-level ridge stretches from Turkey to Scandinavia. Particularly warm and partly moist air moves far northward ahead of the advancing trough, while cooler, temperate air is present in its range and wake.

DISCUSSION

... belt from Greece across Slovenia to Poland ...

Lift ahead of the trough and diurnal heating allow scattered to widespread afternoon thunderstorms. The belt with positive CAPE lags behind a southerly mid-level jet, hence vertical wind shear is absent across lower levels and only increases to 10-15 m/s deep-layer (0-6 km) shear. Single cells, multicells and storm clusters will be capable of locally producing 2-3 cm sized hail, large amounts of small hail, or heavy precipitation. A level 1 is issued for Slovenia, SE Austria, SW Hungary and N Croatia, where the highest CAPE magnitude is predicted (400-700 J/kg). Expected secondary maxima of storm activity are over SW Poland and from Albania into W Greece. Storms will weaken after sunset, but a few may continue overnight under the influence of weak synoptic lift.

... other thunderstorm areas ...

Afternoon storms are expected over Italy and to a lesser extent Germany. A few elevated storms may also accompany the western trough tip on its path across the western Mediterranean Sea. Limited CAPE and weak vertical wind shear make severe weather unlikely in either case.