Storm Forecast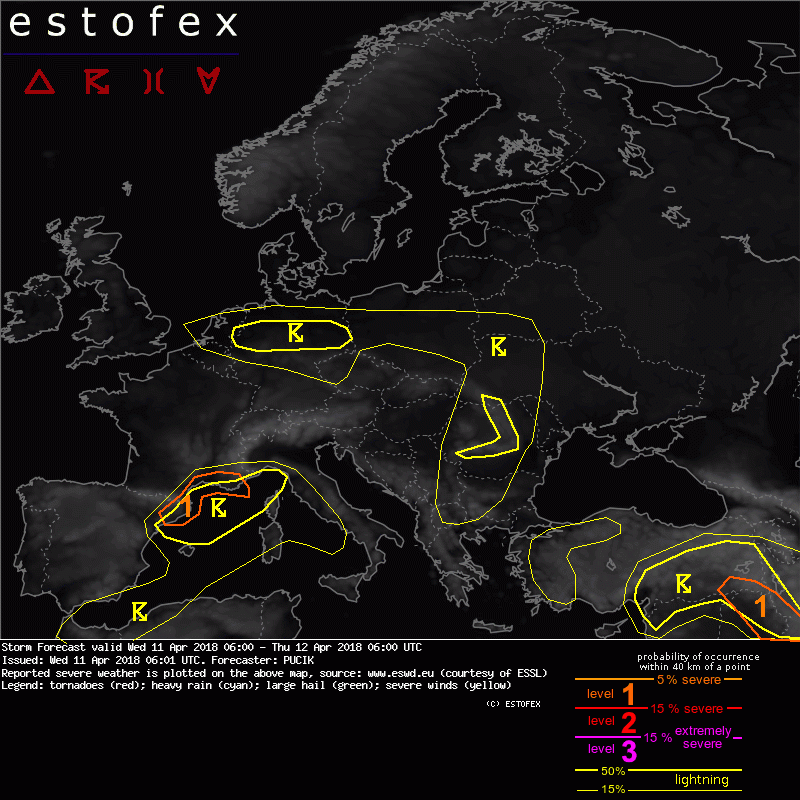 Storm Forecast
Valid: Wed 11 Apr 2018 06:00 to Thu 12 Apr 2018 06:00 UTC
Issued: Wed 11 Apr 2018 06:01
Forecaster: PUCIK
A level 1 was issued for NE Spain and S France mainly for excessive precipitation.

A level 1 was issued for N Iraq and S Turkey mainly for large hail and severe wind gusts.

SYNOPSIS AND DISCUSSION

A number of thunderstorm areas have been drawn over the forecast map in a complex scenario evolving over Europe. A deep mid to upper tropospheric low resides over the NW Mediterranean, only slowly shifting NE-wards. In a tongue of enhanced low-level moisture, impinging upon the coastlines, marginal instability will develop. At the same time, strong lower tropospheric flow perpendicular to the coastline will secure strong lift and heavy precipitation with embedded convection, yielding a Lvl 1 for the region.

Towards the north, a less pronounced trough / low at the mid-troposphere is currently centered over SE Germany and will progress NE-wards. To the north of it, in the region of PVA and WAA in the lower troposphere, isolated to scattered thunderstorms are forecast. Threat will be relatively marginal, but sub-severe hail appears likely with stronger multicells forming in 10 to 15 m/s of DLS.

Isolated to scattered thunderstorms, with very little severe threat will develop along the warm front over Poland and over the orographic regions over Ukraine and Romania.

The region with the highest potential for severe, well-organized convection, will be confined to the extreme SE of the forecast domain, over Iraq and SE Turkey. Here, ahead of the deep low in the mid-troposphere, moderate CAPE (around 1000 J/kg) will combine with DLS of 15 to 20 m/s, yielding decent chances for large hail in multi or supercells. Deep boundary layers with large T-Td depressions at the surface also highlight a severe wind gust risk.