Storm Forecast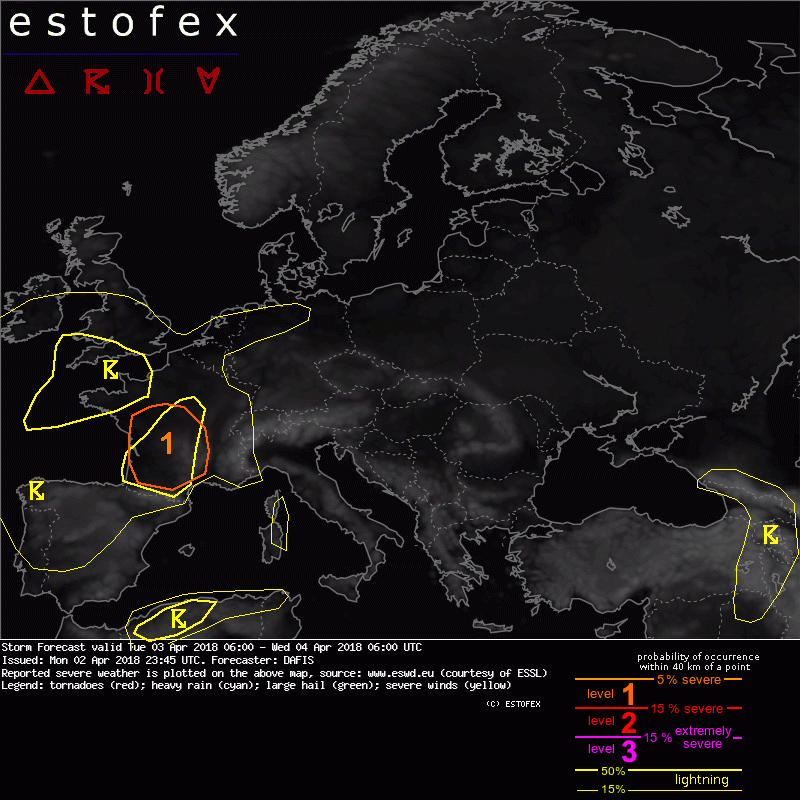 Storm Forecast
Valid: Tue 03 Apr 2018 06:00 to Wed 04 Apr 2018 06:00 UTC
Issued: Mon 02 Apr 2018 23:45
Forecaster: DAFIS
A level 1 was issued for France mainly for large hail, severe wind gusts, and tornadoes.

DISCUSSION

A wide ridge has built-up in Europe, with its axis from Central Mediterranean towards South Scandinavia. Two main troughs have formed at the two edges of the ridge, one reaching North Turkey and the other one is approaching from the Atlantic. It is the second trough that will create conducive conditions for DMC in Europe on Tuesday 03/04. At the surface, a high-pressure system lies in C-E Mediterranean, while northern and western parts of the continent are under the influence of low-pressure systems. A major cyclonic system in the Atlantic will reach the NW coast of France by the early morning of Wednesday, under the jet stream which intensifies.

DISCUSSION

.... France ....

Steep mid-level lapse rates and warm/moist low-level troposphere create some hundreds of CAPE in S France which according to GFS may exceed 1000 J/kg (MLCAPE) during the maximum diurnal heating. Strong wind shear in the layer 0-6 km overlaps with unstable air masses, increasing the probability of severe convective events. High-resolution NWP models forecast convergence zones in SW France between 12-15z which may provide enough lift for the initiation of convection if diurnal heating is limited due to cloudiness. Storms will be able to cluster and create MCSs or supercells, as 0-3km shear and SREH are also enhanced. The main threats will be large hail from isolated storms cells and severe convective wind gusts mostly if storms cluster in a linear system propagating NE. Moreover, enhanced LLS and SREH0-1km in the afternoon and night of Tuesday increase the probability of tornadic events.