Storm Forecast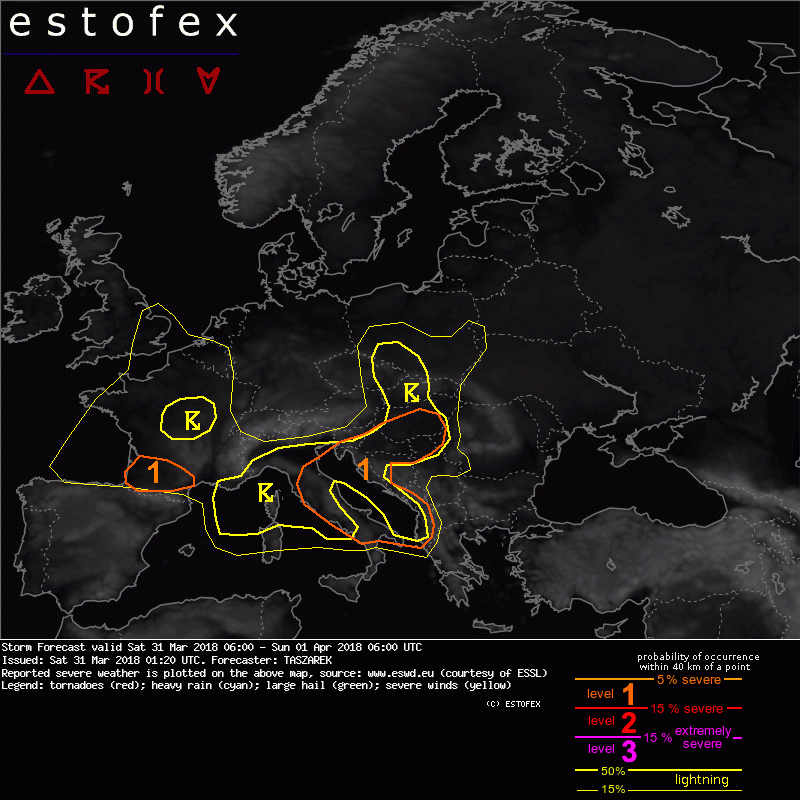 Storm Forecast
Valid: Sat 31 Mar 2018 06:00 to Sun 01 Apr 2018 06:00 UTC
Issued: Sat 31 Mar 2018 01:20
Forecaster: TASZAREK
A level 1 was issued for CNTRL Italy, parts of W Balkan Peninsula and SW Hungary mainly for severe wind gusts, excessive precipitation and in lesser extent for large hail and tornadoes.

A level 1 was issued for SW France mainly for severe wind gusts.

SYNOPSIS

A peak of a large long-wave with cold arctic airmass travels through W and CNTRL Mediterranean. A Serly advection of moisture and steep lapse rates is taking place on its E flank. A broad exit of the jet stream is located over Balkan Peninsula and parts of SE CNTRL Europe. Surface lows develop over SW Poland and N Italy. Under the support of strong QG-lift, diurnal heating and favourable BL moisture, thunderstorms should form ahead of the approaching trough. Within the high vertical wind shear there is a potential for better organized storms capable of producing severe weather. Isolated thunderstorms are also possible at the rear side of the trough as the instability develops under steep lapse rates and poor BL moisture.

DISCUSSION

...CNTRL Italy, parts of W Balkan Peninsula and SW Hungary...

Serly advection of 7-8 g/kg MIXR with favorable > 7 K/km lapse rates and the support of diurnal heating provides ML CAPE of 400-800 J/kg. In the morning hours thunderstorms will be mostly located over N-CNTRL Mediterranean and N Italy. In the afternoon hours new cells should develop in the warm section of the surface lows over W side of Balkan Peninsula, Hungary, W Slovakia, E Austria, E Czech Republic and SW Poland. These storms as being surface based and under 25-30 m/s DLS and 15-20 m/s MLS may have the best potential of severe weather phenomena, primary severe wind gusts. Developing storms should cluster into multicells and (given 200-300 m2/s2 SRH next to the surface lows) low-topped supercells capable of producing large hail up to 2-4 cm. Rather limited instability should prevent from larger hailstones. Curved hodographs and strong LLS create chances for tornado event within isolated supercell, especially in the late afternoon hours when LCL will drop. Although PW values will be rather low (20-25 mm), excessive precipitation seems to be one of the main threats, as the convective rain from multicell clusters will superimpose with stratiform precipitation. Level 1 denote area where the overlap of shear and instability is the most prominent, and where the accumulated precipitation may exceed 50 mm.

...SW France...

In the environment of poor BL moisture but impressive > 7.5 K/km lapse rates at the rear side of the trough, isolated thunderstorms should develop in the afternoon hours. Although small instability and lack of good QG-lift should limit severe weather potential, an isolated event of severe wind gust cannot be ruled out as the strong vertical wind shear may provide better organization of some cells.