Storm Forecast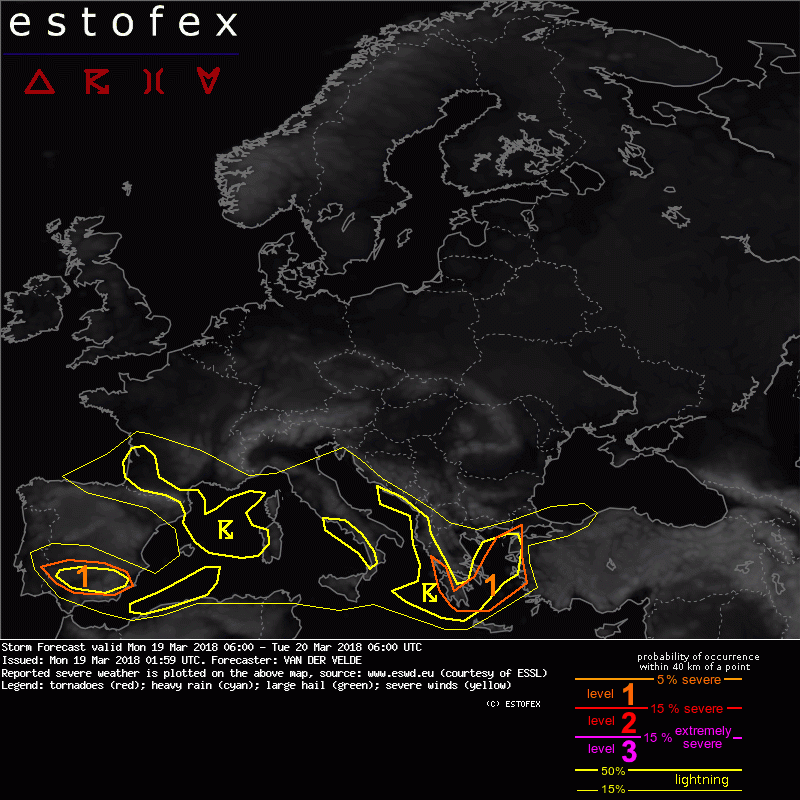 Storm Forecast
Valid: Mon 19 Mar 2018 06:00 to Tue 20 Mar 2018 06:00 UTC
Issued: Mon 19 Mar 2018 01:59
Forecaster: VAN DER VELDE
A level 1 was issued across the southern Iberian Peninsula mainly for chances of tornadoes and convective wind gusts.

A level 1 was issued across Greece and W Turkey mainly for tornadoes, severe convective wind gusts and large hail.

SYNOPSIS

A low pressure system over southern Europe with cores over Bay of Biscay, later N Balearic Sea, Adriatic Sea and Aegean Sea brings more unstable weather to the region. While CAPE is modest, weak capping and strong low-level forcing will cause widespread convection.
The Biscay low will send a cold front across the Iberian Peninsula, with a significant drop in temperature and freezing level. The wrapping of the front around the Pyrenees will produce a convergence line between the Catalonia coast and N Balearic islands, which will occlude around a new low pressure center in the NW Mediterranean Sea at night.

DISCUSSION

Low-level warm air advection into Greece and southern Iberian Peninsula generates veering wind profiles ahead of a cold front, with significant storm-relative helicity and 0-1 km shear over 12 m/s which may help isolated mini mesocyclonic storms with chances of producing a tornado. Severe gusts are also possible with nearly 25 m/s winds in the low levels. The Greece/Turkey level 1 situation has larger CAPE (300-500 J/kg) and orographic lifting so the potential is larger than in the Spanish level 1.