Storm Forecast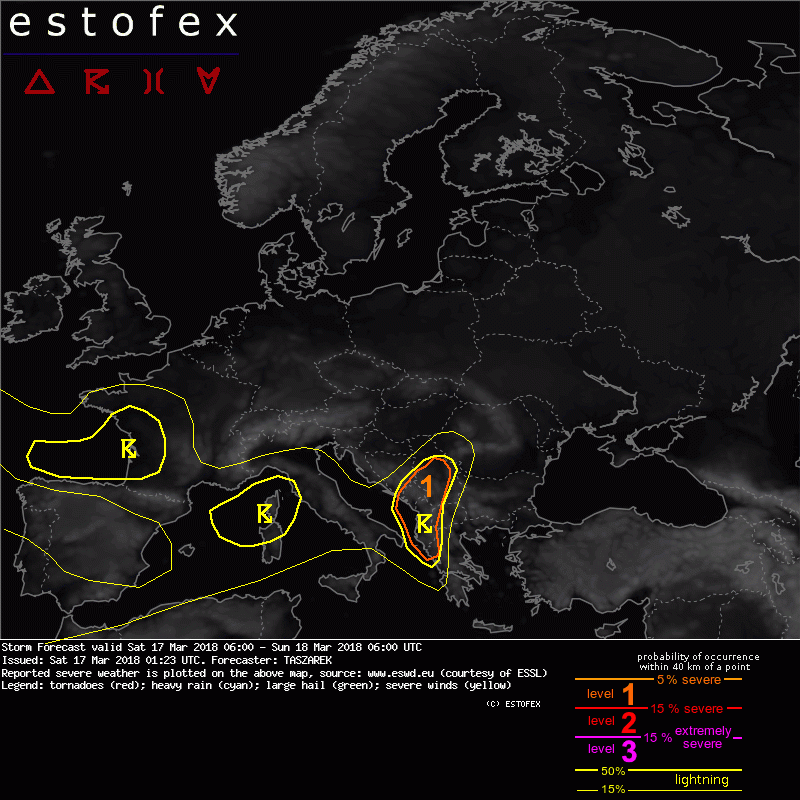 Storm Forecast
Valid: Sat 17 Mar 2018 06:00 to Sun 18 Mar 2018 06:00 UTC
Issued: Sat 17 Mar 2018 01:23
Forecaster: TASZAREK
A level 1 is issued for W parts of Balkan Peninsula mainly for severe wind gusts, tornadoes, marginally large hail and in lesser extent for excessive precipitation.

SYNOPSIS

Broad high with very cold arctic airmass on its E and S flank covers Scandinavia, British Isles and parts of CNTRL and NE Europe. Long-wave with a cold polar marine airmass travels through SW Europe and W to CNTRL Mediterranean. Cyclogenesis is taking place over S-CNTRL Mediterranean at the beginning of the forecast validity period. Rich BL moisture is located ahead of the wave over CNTRL and E Mediterranean. Steep lapse rates originating from EML over Africa are located mainly over SE Europe and within cold air advection at the rear flank of the trough located in France. Within the passage of a shallow low ahead of the long-wave and support of a jet-streak, severe thunderstorms are possible over W parts of Balkan Peninsula. Isolated shallow thunderstorm activity is also possible in the rear side of the long-wave (Bay of Biscay) as the steep lapse rates provide instability. Similar case is also for N-CNTRL Mediterranean as the developing shallow low and PVA may trigger shallow thunderstorm activity starting in the late evening hours through nighttime.

DISCUSSION

...W parts of Balkan Peninsula...

A southerly advection of rich BL moisture (8-9 g/kg MIXR) is taking place ahead of the approaching long-wave. A low is developing over S Italy and moves NE during forecast validity period. Within the support of a diurnal heating a CAPE of 200-400 J/kg should develop in the afternoon hours ahead of the low. Although orographic lift and PVA should easily trigger convection, a real amount of instability (and convective inhibition) remains uncertain as various NWP models do not agree on the scenario with thunderstorm development. However, if DMC will take place, an impressive kinematic field (MLS ~ 20 m/s) may evolve convective cells into low-topped supercells capable of producing severe wind gusts, marginal large hail (2-3 cm) and even tornadoes as LLS ~ 10-15 m/s and 0-1km SRH exceeding 250 m2/s2 will create chances for such event. Most of the thunderstorms should develop in the afternoon hours and remain active until late evening. Superimposing stratiform precipitation and diversified orography may support excessive precipitation and local flash flooding event but this should be the secondary threat as PW values are rather low (< 20 mm).