Storm Forecast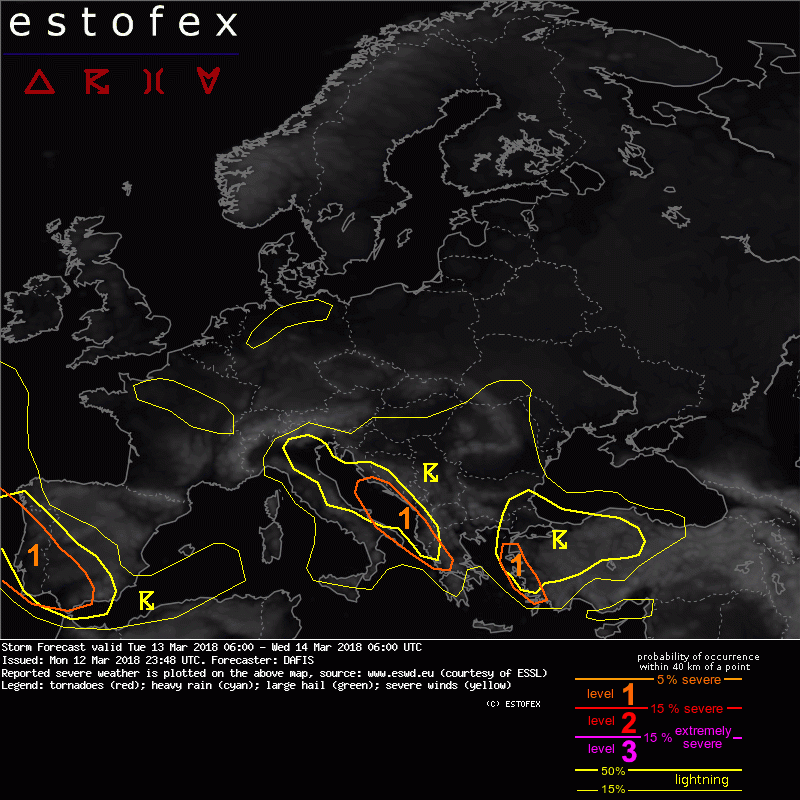 Storm Forecast
Valid: Tue 13 Mar 2018 06:00 to Wed 14 Mar 2018 06:00 UTC
Issued: Mon 12 Mar 2018 23:48
Forecaster: DAFIS
A level 1 was issued for Portugal and parts of Spain mainly for excessive precipitation and large hail.

A level 1 was issued for parts of Italy and West Balkans mainly for large hail, severe wind gusts and tornadoes.

A level 1 was issued for parts of E Greece and W Turkey mainly for large hail or large amounts of small hail, severe wind gusts and tornadoes.


SYNOPSIS

A wide low-pressure system at the surface affects Central and South Europe under a long-wave trough which is surrounded by several short-waves. The jet stream is wrapped around the system to the south, increasing the DLS to very high values over the Mediterranean, where we expect DMC. During Tuesday, a ridge is about to form in W Europe as another deep low is approaching from the Atlantic by the morning of Wednesday. Cold mid-levels and diurnal heating result in several single storm cells in France, Germany and N Balkans.

DISCUSSION

.... Portugal and Spain ....

As the ridge is forming, low-level westerly flow from the Atlantic brings very moist air masses with more than 10 g/kg mixing ratios according to GFS, and combined with mid-level steep lapse rates and 15-20 m/s DLS, any storm into this environment may become severe. Even though CAPE is not going to exceed 600 J/kg according to GFS (less in ECMWF), models show a dry intrusion entering the Iberian Peninsula during the maximum diurnal heating, something that may enhance convection. Large hail is expected inside the level 1 area and excessive precipitation in the southern parts of the countries.

.... Italy, Croatia, Serbia, Montenegro, Bosnia and Herzegovina, Albania, W Greece ....

A very complex set-up takes place over C Mediterranean basin, where a parade of several short-wave troughs is expected. Diurnal heating and orographic lifting over land and large-scale synoptic lift due to positive vorticity advection will create several cells of DMC, more organized inside the level 1 area. Enhanced LLS, DLS and 0-3km SREH suggest that storms may cluster and produce MCSs or supercells able to produce all kinds of severe weather threat. Convective activity should be reduced after 21z on Tuesday, but it will continue during the night.

.... E Greece and W Turkey ....

As a cold front crosses N Greece, it will enter Turkey the following hours, producing locally downpours and small hail. More to the south of level 1 area, strong DLS and high SHREH0-3km may enhance the probability of large hail in the morning of Tuesday. A second round of DMC is expected during the night, as a short-wave trough will cross the area. Strong LLS increase the chances of tornado events or near the coasts of the Greek islands and the coast of Turkey.