Storm Forecast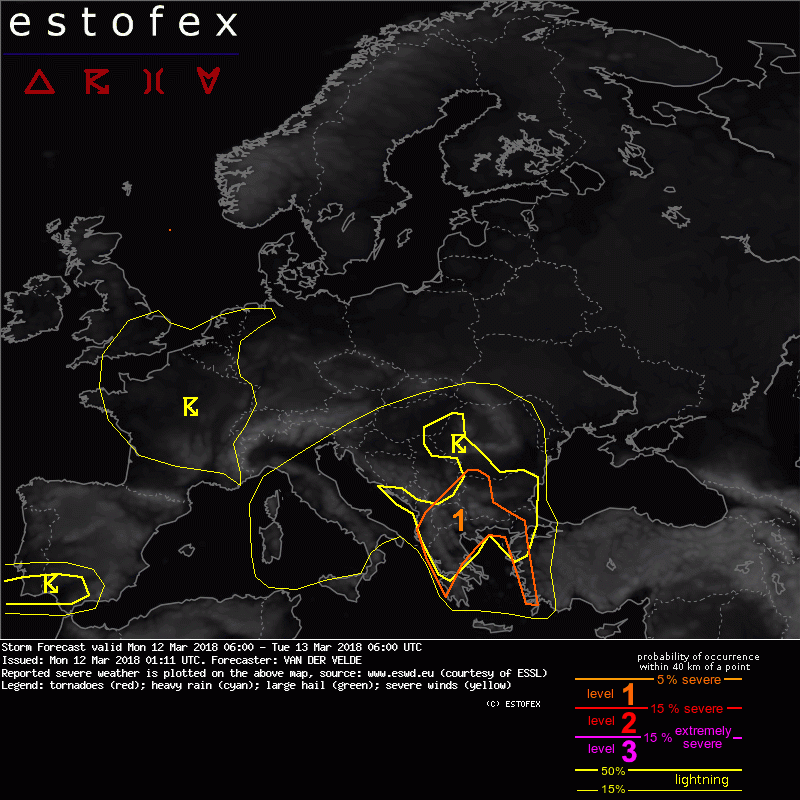 Storm Forecast
Valid: Mon 12 Mar 2018 06:00 to Tue 13 Mar 2018 06:00 UTC
Issued: Mon 12 Mar 2018 01:11
Forecaster: VAN DER VELDE
A level 1 was issued across the southern Balkan and west coast of Turkey mainly for chances of severe convective wind gusts and large hail.

DISCUSSION

A large double core low affects most of Western and Central Europe with mild air mass near the surface but cold upper levels, producing marginally unstable conditions with easy deep convective development over land thanks to diurnal heating. A cold front separates slightly warmer air mass over the Balkan. Along this front, strong lift should trigger organized convection in a strongly sheared environment.

...Albania, Greece, FYR Macedonia, Bulgaria, S Romania, W Turkey...

Strong flow and vertical shear create a potential severe weather setup. SREH over 200 m2/s2 and DLS over 25 m/s can produce supercells with large hail, while Corfidi vectors indicate storm motion of 25 m/s with similar wind gusts. Tornado chances are a bit reduced in comparison because of modest 0-1 km shear vector magnitude. If this were paired with a solid area of moderate CAPE this setup could be scaled as level 2 or higher. But seeing patchy 300 J/kg MLCAPE, a short time frame for diurnal heating, limited moisture, possible cloud cover and weak capping (immediate energy release) in narrow regions, despite a strong trigger, a more likely outcome is a relatively limited severe weather potential with isolated large hail and severe wind gusts.