Storm Forecast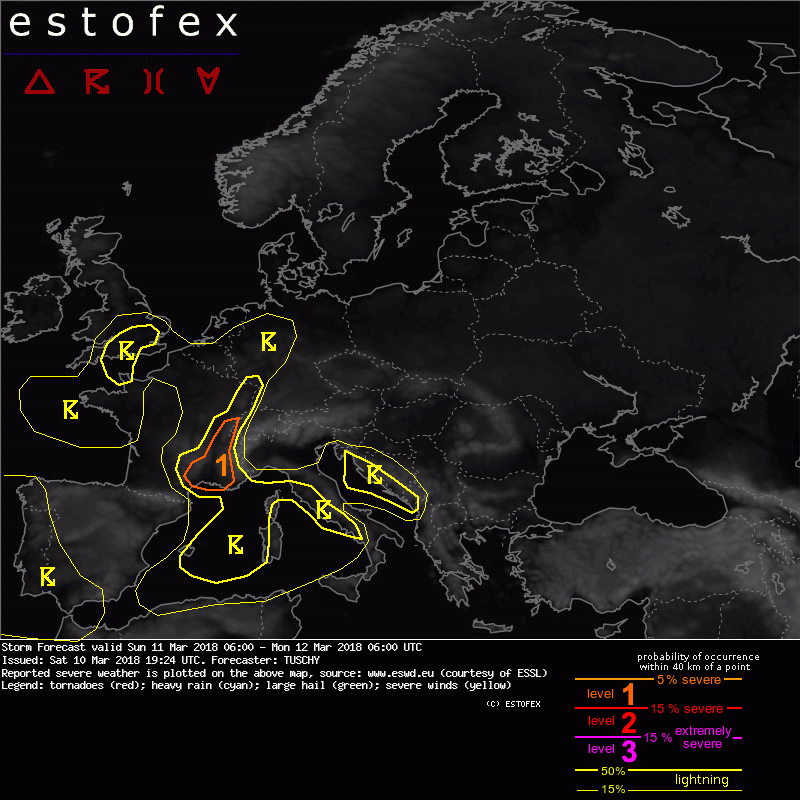 Storm Forecast
Valid: Sun 11 Mar 2018 06:00 to Mon 12 Mar 2018 06:00 UTC
Issued: Sat 10 Mar 2018 19:24
Forecaster: TUSCHY
A level 1 was issued across S-France mainly for isolated large hail.


SYNOPSIS

An amplified flow pattern persists as a deep upper trough over the far E-Atlantic/ the Bay of Biscay faces a progressive ridge from the CNTRL-Mediterranean to S-Scandinavia.
An extensive area of low MSLP with numerous embedded LL depressions encompasses most of our western outlook area with the strongest vortex crossing the Bay of Biscay during the forecast. This system still features a warm core structure - although weakening and shallow in nature. Nethertheless a back-bent front will bring a tight surface gradient and strong near BL winds to NW-Spain and the S-Bay of Biscay.
As the upper trough shifts east towards the CNTRL-Mediterranean an increased vertical temperature gradient over the Mediterranean and lift result in scattered to widespread thunderstorms over a broad area.

DISCUSSION

... UK, France to the W-Mediterranean ...

With the Mediterranean wide open, effective moisture advection towards France and Benelux is anticipated. This moisture plume outruns better mid-level temperature profiles (e.g. best mid-level lapse rates), but bound to some mid-level forcing in terms of low-amplitude waves, thunderstorm probabilities extend far north.

Most robust MLCAPE forecast is expected from S- to E-France where 7-8 K/km lapse rates overspread the marine air mass. An active period for CI is probably bound to a passing wave during the daytime hours and scattered thunderstorms are forecast. 15 m/s DLS is enough for a few stronger updrafts to acquire temporal organization with an isolated large hail threat. Some LL veering (although not overly strong) and low LCLs could support a low-end tornado risk with more isolated cells, but rapid clustering/messy thunderstorm dispersal lowers the confidence in anything more than isolated. During the night, departing forcing and lowering CAPE limit the onshore thunderstorm risk.

Further north, daytime driven low-end CAPE results in isolated thunderstorm probabilities all the way to S-UK and Benelux/W-Germany. Despite 15 to regioanlly up to 20 m/s DLS, thin CAPE profiles and limited vertical extend of uprafts probably keep most of the activity below the severe threshold. Would not rule out an isolated large hail event approaching our severe criterion due to low WBZ heights and enhanced shear. The following forcing support exists for certain regions, promoting a isolated to scattered thunderstorm risk:

UK:
Evolving weak coupling of two upper jets assists in enhanced mid-/upper level lift atop intersecting northward lifting occlusion beneath thinning plume of neutral/slightly unstable mid-level profiles/lapse rates - everything during partially diabatically driven prime time (despite lots of clouds).

Benelux to W-Germany:
Differential temperature advection steepens mid-level lapse rates a bit atop confluent moist low-tropospheric flow regime. This configuration offers some MUCAPE with isolated spots of low-end MLCAPE. Passing low-amplitude wave in meridionally aligned flow regime and approaching upper jet should assist in a few elevated storms with a few claps of thunder and graupel. Not sure about any substanial orographic support yet due to ongoing snow cover of mountain tops. Due to the diffuse nature of forcing, a broad low-probability thunderstorm area was added. Higher probabilities sneak into far W-Germany as deacying storms from France could survive all the way to Germany, given more elevated and hence daytime independent nature.

During the night, lowering mid-level temperatures overspread the W-Mediterranean and result in widespread 400-800J/kg SBCAPE. A deep trough, circled by numerous smaller-scale waves offers ample lift for scattered thunderstorms. Most of the time, best DLS is displaced from most robust CAPE. A swath from the Balearic Islands to CNTR-Italy and the E-CNTRL Adriatic Sea may see a temporal overalp with a few organized storms possible. Isolated large hail and a low-end waterspout risk accompany strongest storms. Confidence in a region with level-1 probabilities remains too low for issuing one right now.