Storm Forecast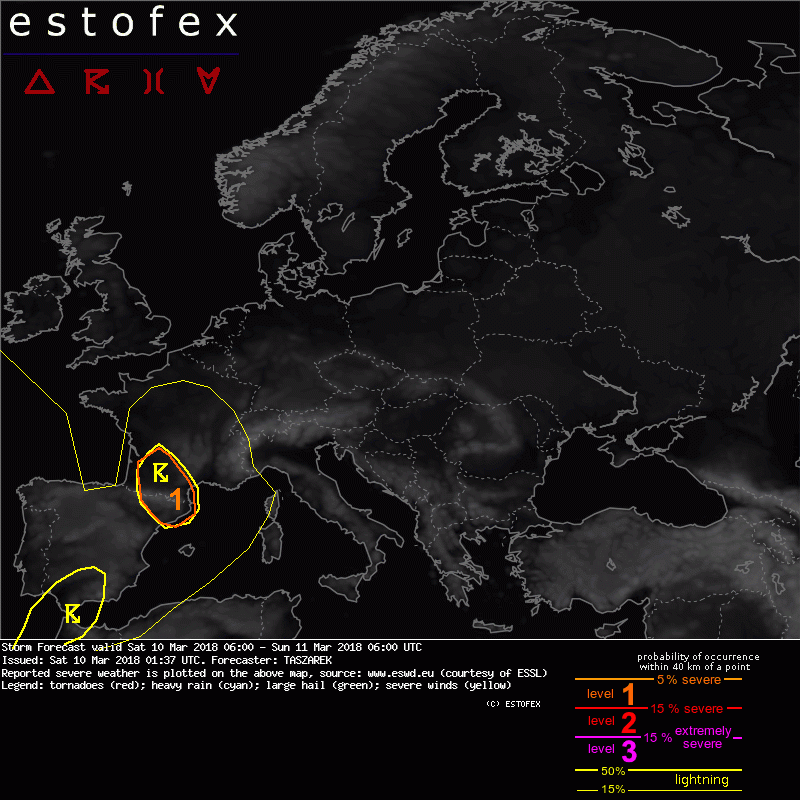 Storm Forecast
Valid: Sat 10 Mar 2018 06:00 to Sun 11 Mar 2018 06:00 UTC
Issued: Sat 10 Mar 2018 01:37
Forecaster: TASZAREK
A level 1 was issued for SW France and NE Spain mainly for excessive precipitation, severe wind gusts and in lesser extent for large hail and tornadoes.

SYNOPSIS

A broad cyclone enters W Europe and pushes warm and moist polar air on its far E flank towards CNTRL and N Europe. High with cold arctic airmass spreads over NE Europe. Frontal boundary between these two synoptic features extends from N British Isles through North Sea, Denmark, S Baltic Sea and Ukraine. The best SWerly moisture advection is taking place ahead of the trough in the axis along France, E Spain and Morocco. In the combination with an increased spring-time diurnal heating and upper-level divergence the best chances for thunderstorms cover France and E Spain. Jet stream which U-shapedly encircles trough over its S flank may locally enhance severe weather potential, mostly over SW France and NE Spain where overlap with instability will be the most promising.

DISCUSSION

...France and Spain...

In the morning hours, a broad stratiform precipitation will pass CNTRL and E France, then a warm-air advection will take place. In the environment of moderate lapse rates (6.7-7.0 K/km), plentiful low-level moisture in the warm sector and consistently increasing diurnal heating under clear sky, ML CAPE will develop up to 400-600 J/kg. Supported by PVA, convection should fire up in the afternoon hours and involve almost entire France, mostly its SW part where the best kinematic conditions will be available. Most of the thunderstorms should remain weak but under 10-15m/s MLS and 100-200 m2/s2 SRH, thunderstorms with rotating updrafts (supercells) and a potential of producing large hail and severe wind gusts will be possible over SW France and NE Spain, even though CAPE will be rather low. Severe thunderstorm potential in this area will be also supported by the orographic lift, developing convergence line and lapse rates exceeding 7 K/km in the lee side of Pyrenees. LLS locally enhanced to 8-12 m/s and lowering LCL towards late afternoon hours cannot rule out tornado event, especially under curved hodographs developing over NE Spain. Kinematic conditions are good enough to allow multicell storm clusters which under 20-25 PW may have a potential of producing excessive precipitation. Local flash flooding event in the hilly part of the terrain is thus possible, especially when superimposing stratiform precipitation will occur. Under enhanced QG-lift, storms over S France and NE Spain should maintain lightning activity up to nighttime hours, along with new storms developing over NW Mediterranean. In the morning hours of Sunday, a cold front will enter W France and N Spain.

Another portion of rather isolated thunderstorms is possible over W part of Iberian Peninsula and within the cold sector over warm waters of Atlantic Ocean W of Portugal. In both cases low-level moisture will be low (5-6 g/kg) and in the combination with rather poor lapse rates will provide ML CAPE only up to 100-300 J/kg. Although shear values will be decent, poor instability and low-level moisture will limit severe weather potential. Most of the storms should remain weak and isolated. A few events of severe wind gust however cannot be ruled out under strong pressure gradients. The main threat should involve excessive precipitation as indicated by NWP models in the accumulated precipitation fields for whole Iberian Peninsula, especially NW parts where overlap with stratiform precipitation will take place.